Sunday March 9 2008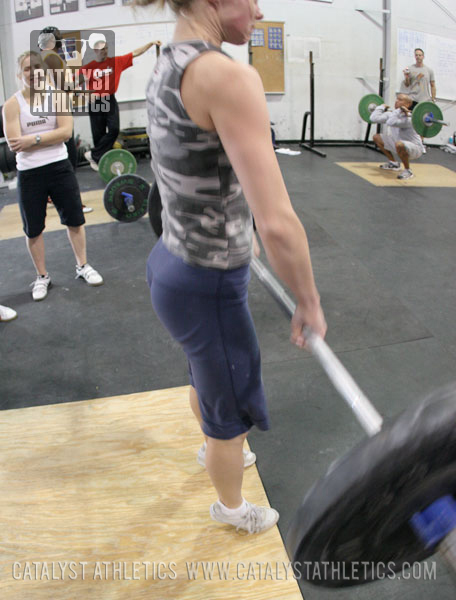 5 Comments
Dan
2008-03-09
3-9-08
BW 194

All 3 x 10
Dislocators
OHS
S. Stretch
Push ups
Scap push-ups
Supermans
Wall slides
Crunches
Hip Ext
Leg raises

PM WOD = off so I did the optional WO
Optional Workout:

Snatch - 60% x 1 x 4
95lbs x 1 x 4 sets

Clean & jerk - 60% x 1 x 4
135 x 1 x 4 sets (did split jerks but couldn't stand up after without hitting ceiling.)

Light ab work of choice
Later I'll do something

CF WOD
Probably do a short one tonight
dave
2008-03-09
Greg,

what can you say about the lifter doing a little reverse wrist curl towards the body right before the bar begins its ascent? can this help the bar come back towards the lifter?
Greg Everett
2008-03-09
Dave -

That wrist flexion will occur naturally during the 3rd pull of the snatch and clean - doing it intentionally will usually cause problems.
prochargedmopar
2008-03-09
3/9/08

f/7/45

Jumping ring dips
5# db presses
med ball BW squats

7 rounds in 15min

M/38/175

G.A. warmup
rounds in 15 min of

3x Hang SQ C&PP 165#
3x Chinup 45#
3x Bar Dips 55#

6 + 3 HC&PP

Fruit smoothies for both.


Matt Wichlinski
2008-03-09
greg, thanks for the nutritional feedback yesterday.
Workouts Menu
Workouts Home
Read This First!
Workouts Help & Info
Exercise Library
Training Programs
Starter Program
Tomorrow's Workout
Text Only
Custom Program Design
---
---
Advertise With Us