Monday March 10 2008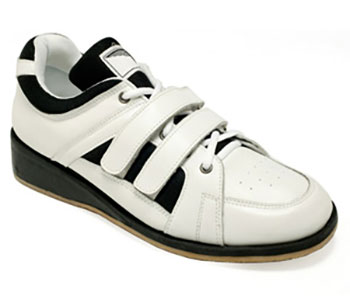 Please
login
to access our training programs.
Registration is FREE!
Questions? Get answers here or post in comments.
15 Comments
Please login to comment!
Dan
2008-03-09
I just oedered my shoes 2 days age! It sucks because I would have rather ordered from you! Next pair
ken c
2008-03-09
I got my vs oly shoes from you guys. they just got here and i can't wait to try them out. got this crossfit total competition out of the way down here in texas this weekend and now its more oly lifting from here on out.
kevin
2008-03-09
i have both a pair of do wins and a set of the vs ones, the do wins are by far a faster shoe but the vs does great for everyday training, you wont be dissapointed with them. only thing i did to alter them a little bit is get a leather punch out to make more airholes in the toe... they kinda skipped on the air conditioning a lil
kevin
2008-03-09
an additional point here, with the double strap you may find that you get a bit of a pinch if you come up on your toes like me instead of staying relatively flat footed. i just cross the strps in an x when i tie down instead, makes them alot more comfortable
Dan
2008-03-09
Thanks for the info Kevin
Butch
2008-03-09
These will be my first oly lifting shoes. How can I make sure I order the right size so I don't waste time and $ on returning them for another size? Can I trace my feet and send the traces via email
Greg Everett
2008-03-09
Butch - Send us an email and we'll help you figure out a size.
Megan
2008-03-10
Are the sizes listed men's sizes? I just ordered a pair and realized I should have verified that before I did so.
Greg Everett
2008-03-10
Megan - Yes.
Dan
2008-03-10
3-10-08 - What's on deck for today
BW: 200


Back Squat: 2 x 5 sets
135 x 5
225 x 3
275 x 2
315 x 2
325 x 2
340 x 2
350 x 2

I have some vids of these. I get them posted ASAP


PM WOD

Snatch - Take to a heavy single
65 x 3
95 x 1
115 x 1
135 x 1
145 x 1 but ulgy
155 x miss
Have some videos here too

Clean & Jerk - Take to a heavy single
185 x 1
205 x 1
215 x 1
230 x 1
Have all these on video

Front squat - heavy single; drop 10% for 2 more singles
185 x 1
225 x 1
250 x 1
275 x 1 (stopped here I was running out of time)

Pull-ups - 3 x max (if times an issue these will be dropped first) Skipped to do WOD

CF WOD
Samantha "21-15-9"
Press/Push Press/Push Jerk @ 85lbs (7 of each, then 5, then 3)
Pull-ups

Made sure I did this because Dr G called me out
TIME: 3:04 All straight sets

Craig Snyder
2008-03-10
Snatch, heavy single: hang, 65#x4, 85x2, 105x2, 120x1, 125x1, 130 mx1, x1
C&J, heavy single: hang, 115#x2, 135x1, 140x1, 145x1, 150x1, 155x1, 160x1 (PR)
FSq, heavy single, -10% for 2 singles: 135x3, 155x2, 175x1, 160 1x2
Pull ups: 11, 10, 8

prochargedmopar
2008-03-10
3/10/08

M/38/175
G.A. Warmup

Sn 95x3,115x2,135x3
C&J 135x3,185x2,205,225f
FSQ 225x3,245,275
Chin +40# 8,6,7

2 turkey sausage links
1 Salmon filet w/cheese
Bowl of Cali style veggies and ricotta cheese
5 scoops plain yogurt
3 onions and broc floret chunks
Large glass "Nature L" milk
Large strawberry
handful of macadamias,cashews, and almonds
ken c
2008-03-10
snatch 155 pr
clean & jerk 210
front squat 275x1 250x2

so used my new VS oly shoes. the heel kinda feels like it's pushing me forward a little bit. may take some getting used to. snatch felt pretty good then when i got to the c&j it felt like i was spent. form was just shot. have never done these two lifts together in a workout. is this common for things to fall apart like that for a beginner? max c&j is 235 just for a reference.

did helen and lynne yesterday so i was all pull uped out.
Greg Everett
2008-03-11
Ken -

You'll get used to the shoes. I don't know if I'd chalk up your exhaustion to snatching and clean & jerking together, or to having done helen and lynne the day before - much more likely the latter. That's why you don't see those kinds of workouts on here.
Eric Jones
2008-03-12
Happy to be back in it!
BW: 160lbs

Snatch: up to 155lb, missed at 160

C&J: up to 195 no problem

Front Squat: up to 205lb x1x4 no problem

then, did the Rogue Fitness WOD:
AMRAP in 20 min;
500m Row
5 HSPU
10 L-Pullups

Completed 5 rounds



Get the App!
Catalyst Athletics programs are available through our exercise.com app. Unlimited access to all programs for only $10/month, or purchase programs individually for only $10 each!
Join the Group
Buy Programs
---
Tag Us!
Tag us on social media when you post videos and photos of your workouts!
#catalystathletics
Instagram: @catalystathletics
Twitter: @cathletics
Facebook: @catalystpm
---
Workouts Menu
Workouts Home
Read This First!
Workouts Help & Info
Exercise Library
Training Programs
Starter Program
Tomorrow's Workout
Text Only
Custom Program Design
Get the App
---
---