Wednesday March 12 2008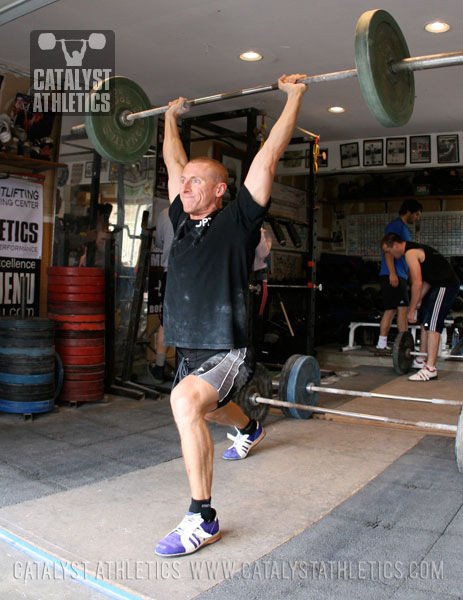 Snatch - 80% of Monday's best x 1 x 5

Clean & jerk – 80% of Monday's best x 1 x 5

Back squat – heavy single
3 rounds for time of:
6 D-ball power clean + push press + slam – 20% BW
16 1-arm KB swing – 30% BW
26 kipping pull-ups
Post numbers and questions to comments.
Questions? Get answers here or post in comments.
15 Comments
Dan
2008-03-11
Can I sub a duffle bag with 30%BW for the metcon? Don't have a 40lbs ball.

Thanks
pd
2008-03-11
No you cannot not!!!! If you do, all of your strength gains will be negated from now and through eternity!!!!!!!!!!!!!!
Dan
2008-03-11
I may try a bumper plate
Greg Everett
2008-03-11
Dan -

Yes, duffle bag will work fine.
Tom
2008-03-11
We our beginning our first PM WOD tomorrow. Our group worked up to our 1RM squat today (for Burgener's squat program).

Would you suggest subbing another leg exercise for the Wed WOD or taking out the third component all together?
Greg Everett
2008-03-11
Tom - Just drop the squats.
Geoff Aucoin
2008-03-11
That's som good form!!
Danny
2008-03-11
How am I reading posts for March 12th on the 11th? Will someone from the future please tell me how the stock market did today?
Matt Wichlinski
2008-03-11
in case you didn't see my question yesterday( i posted late ), what is the difference between jerks and push jerks? And do you recommend doing box jumps as high as possible as a training tool to enhance O lifting skills?
Matt Wichlinski
2008-03-12
Skip that last question, answered yesterday, thanks
Tom
2008-03-12
Greg -
We are trying to determine where in the macrocycle you are right now, and are a little confused. It seems you are in the Bulgarian Mesocycle - so are you in weeks 5-8 or 13-17?

Any help is appreciated
Greg Everett
2008-03-12
We're in week 7 - so next week will be the last week of the first Bulgarian mesocycle of the current macrocycle.
kevin
2008-03-12
time of 5m47s
sn 55k
cj 65k
bs 315# (sooooooo bad with my squat lately :( )
Eric Jones
2008-03-12
Rogue Fitness WOD:
then,

Snatch: 5x1 @ 135lbs

C&J: 5x1 @ 165lbs

Too smoked for Back Squats :(
Adc (CFS)
2008-03-13
Snatch
50kg
1,1,F,F,F

C&J
65kg
1-1-1-1-1

No Met Con
Was Toast did "Tommy V" in the am,thought I would be suitably recovered for heavies by pm but sad to say no,Snatch totally off,and C&J shaky and slow
Workouts Menu
Workouts Home
Workouts Help
Exercise Library
Training Programs
Starter Program
Tomorrow's Workout
Text Only
Custom Program Design
---
---
Advertise With Us