Friday March 14 2008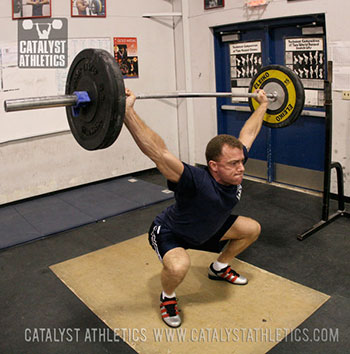 Please
login
to access our training programs.
Registration is FREE!
Questions? Get answers here or post in comments.
14 Comments
Please login to comment!
Bradford Green
2008-03-13
Here's a little snatch technique work... love to hear comments, rip it apart of you please... Greg especially! Gracias

http://www.youtube.com/watch?v=xj6e5qp8ZXE
Greg Everett
2008-03-13
Bradford -

Good pull from the floor. Work on smoothing out that transition - getting a little slow-don/pause as you scoop. Let the scoop take care of itself - only concern yourself with keeping the weight just in front of your heels, the bar in close, the arms long and turned out, and extending the hips and knees as violently as possible when that bar hits about mid-thigh.

You jump forward a bit - looks like a combination of not quite enough layback at the top (very minimal), and the bar swinging out during the 3rd pull. Really work on rotating the elbows out during the lift to keep the bar close as you pull under.
Dan
2008-03-14
Greg,

I have a question about something I've read in PM Journal. What does the set/reps scheme mean for this Weighted Rope Climb: 10% x 2 x 10? Up a rope 2x for 10 sets? How high? I subbed rope pull-ups. I used the rope from the tower and used a high/low gip and switched it each rep while hanging. Is that a suitable sub?

Thanks
Aimee
2008-03-14
Dan-
Yes that's what it means; 15 ft rope climb, so maybe 6-10 rope pull-ups.
Yes good sub.
Dan
2008-03-14
Thanks Aimee!
Bradford Green
2008-03-14
Greg-

Thanks for the eval, the pause at the scoop is something I have to focus on daily; it gets more pronounced at heavier weights. Can you elaborate on the rotating out of the elbows or point me to an article/picture that might help explain?
IamDT
2008-03-14
Greg,

Thanks for the advice about OH Squats and my warm-up. I am off to try it out.
pd
2008-03-14
is that just the angle of picture, or are that guy's arms really long?
Aimee
2008-03-14
Bradford-
With rotating out your elbows you want to rotate them out as much as possible while still keeping your wrists neutral. Basically, your elbow (the bony part) needs to be facing the plates, and the inside bend of the elbow (where you see all your veins) needs to be facing your body
Here are some pictures to help:
here is Norik, in the first pull, nice long arms, elbows rotated out: http://www.performancemenu.com/daily/images/030808-norikCln1st.jpg

here is a side view of me, elbows pointed out towards the plates:
http://www.performancemenu.com/daily/images/122407-aimeeSn1st.jpg

Here is another side view of sage, good long arms, elbows rotated: http://www.performancemenu.com/daily/images/030608-sageCln1st.jpg

good one of casey: http://www.performancemenu.com/daily/images/022608-caseySn2nd.jpg

Here is one of Sarena (sorry Sarena) which shows not enough rotation: http://www.performancemenu.com/daily/images/020508-sarenaSn.jpg

I hope this helps. Sorry, I am not as good as explaining it as Greg, but he is on a plane to Florida, so I thought I would try and help you out...




sarena
2008-03-14
Hey Aimee, no worries there; pics are worth a thousand words is sure true. That was a great pi to show what needs to be learned and corrected!. I look at that pic and cringe now!!

My form has improved so much in the last 2 months that it is really unbelievable. My coach has been so invaluable to me in my development as an athlete!! However, he is moving in the next 10 days to the Puget sound area, Bainbridge Island specifically. I highly recommend him to any and all!

Luckily I hooked up with some great coaches to continue with. I will be working with Nick Curry and Gary Valentine. I am also meeting and training with Gwen Sisto and Ivan Rojas next Sunday!! Wahoo!!
Dr. G
2008-03-14
Greg/Aimee,
At my USAW seminar, I was taught to flex the wrists (in combo with turning the elbows out) in the starting position of both lifts.

Do you guys jive with that, or do you teach neutral wrists the whole time?
Aimee
2008-03-14
Dr. G
you want to always keep your wrists neutral. Never flex the wrists back and never flex them forward to bring the bar closer to you. Your wrists will flex on their own when and only when they need to. To prematurely flex the wrists is the same as premature arm bending which will suck up the force of the second pull. NEVER think about flexing your wrists ALWAYS think about keeping them neutral

Bradford Green
2008-03-14
Aimee,

Crystal clear! I'll let you know how things go.

Adc (CFS)
2008-03-14
Snatch
40kg

C&J
Double Clean
50kg

Weighted Chin Ups Alt Grip
+25kg
5x 3reps
Get the App!
Catalyst Athletics programs are available through our exercise.com app. Unlimited access to all programs for only $10/month, or purchase programs individually for only $10 each!
Join the Group
Buy Programs
---
Tag Us!
Tag us on social media when you post videos and photos of your workouts!
#catalystathletics
Instagram: @catalystathletics
Twitter: @cathletics
Facebook: @catalystpm
---
Workouts Menu
Workouts Home
Read This First!
Workouts Help & Info
Exercise Library
Training Programs
Starter Program
Tomorrow's Workout
Text Only
Custom Program Design
Get the App
---
---