Sunday March 23 2008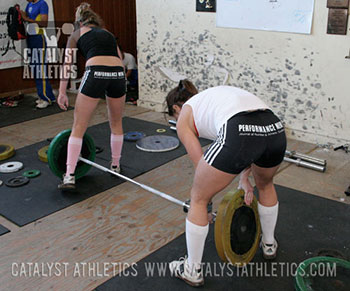 9 Comments
Matt Wichlinski
2008-03-23
So, some time ago i head out to get a few kettlebells to play with, and quite a bit of fun is to be found, indeed. However, the more I play with them, juggling swinging snatching cleaning, TGU's windmills, etc...the more i find that i am missing the one thing that i love most in my workouts. Sure, we all love to sweat and get the feeling of wonderful achievement and accomplishment after a session, but swinging my bells has yet to give me that one most desirable sensation I long for when I'm getting after it. I grew up with a football back ground and in college i earned the cheesy nickname of the "Claymont Cannonball" by Sports Illustrated for pummeling through defenses when i ran the rock. I was never a big guy, but i always trained like one, so I thought.Now we all know that Crossfit is a different kind of big boys play time. And, when you get a new toy, we all like to play with it til it breaks or you just get bored. well, I haven't yet gotten bored with my bells but i haven't yet had an extremely explosive workout yet either. What I'm trying to say is, I love my bells for some variety in my training, but I can't understand how some RKC dude could preach how they are all you need to get super strong and be in the best shape of your life, yada yada yada. They're fun, they mix things up, they get an amazing metabolic response, but don,t come close to unleashing the beast like some heavy squats, dead's and uber fast snatches. That's why you gotta love this site, it's no BS, no one day a week nonsense. Get hard, get after it, get explosive.Thanks for the effort and giving us something to look forward to... another great big snatch. Happy easter
Prochargedmopar
2008-03-23
Very Motivating
Thanks
Jason Ackerman
2008-03-23
I am sure this has come up before but I'm really not good with searching. I am a CF affiliate and love my CF WODs. But, I'd like to get into more Olympic Lifts and am going to the training in August. I stick pretty strictly to 3 on 1 off with CF WODs, would adding these PM WODs be too much? Even if I only did one of the lifts? Any opinions thoughts would be great!
Greg Everett
2008-03-23
Jason -

If you're able to add these WODs to the CF WOD, you're doing something wrong. It's way too much. You may want to use an MEBB-type schedule. Day one some light snatch tech work and a CF WOD; day 2 heavy snatch, med CJ; day 3 light CJ tech work and CF WOD; day 4 rest. Next time around, switch the heavy lift on day 2.

Also read this.
Jason Ackerman
2008-03-23
Greg,

Thanks so much for the response, that's kind of what I was thinking...both would mean I'm not putting any effort in. I'll read that article, that is exactly what I was looking for. With what you suggested is Day 1 always light snatch or does that switch depending on what the day 2 lift is?

Thanks again, I look forward to meeting you in August.
claude l
2008-03-23
I see that a lot of the wods are set on percentages....prior to starting the ca wods...do i need to have a max day on snatch, c and j, etc so that i know where to start from? thanks for any input
Greg Everett
2008-03-23
Jason -

Yes, alternate the day 1 and 3 lifts.


Claude -

Almost every Saturday will essentially a max day for the snatch and CJ, and sometimes for squats - so you can wing it the first week until you have a better idea after the first Saturday if you want.
claude l
2008-03-23
quick question....for the snatch and c and j....do yall suggest the use of a belt? thanks again for any help
Greg Everett
2008-03-23
Claude -

I recommend the use of belts only with squatting, cleaning and jerking with loads of about 90% and up.
---
Workouts Menu
Workouts Home
Read This First!
Workouts Help & Info
Exercise Library
Training Programs
Starter Program
Tomorrow's Workout
Text Only
Custom Program Design
---
---