Tuesday March 25 2008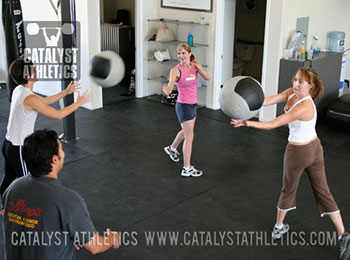 Please
login
to access our training programs.
Registration is FREE!
Questions? Get answers here or post in comments.
17 Comments
Please login to comment!
sarena kopciel
2008-03-24
Greg at what point would you tell an Olifter to start wearing a belt? I have been told yes by one coach and not necc. by another. My FS is at 63.5kg and BS at 82kg on last max attempts within past 2 weeks! But my CJ is still only at 40kg (yet) as I have been working technique excessively!! Thanks, appreciate your input and feedback!
Greg Everett
2008-03-24
Sarena -

No belt for you! Keep training without one as long as you possibly can. And even when you start wearing one (IF you start wearing one), only on squats, cleans and jerks over 90%.
Jen
2008-03-25
Sweet! I love this sandbag stuff! I can even do this with one arm!
sarena kopciel
2008-03-25
Thanks Greg! When do you recommend them? Just for curiousity!
Derek Simonds
2008-03-25
Man it is just like Robb said 3 to 1 women to men in Chico!
Ron
2008-03-25
Looking for help on the kick backs (couldn't find any demos) - are they the "donkey kicks" I saw the volleyball girls doin' in the patch workout? So, I'll do 1 push-up immediately followed by 3 kick backs, then repeat 9 more times?

Thanks so much. I've been CrossFitting and am new over here.

ken c
2008-03-25
greg

it seems obvious to me that a person is limited in how much they can full squat clean by how much they can front squat. but i don't want to assume anything in area where i'm only a novice. am i correct in thinking this and if so, is there some target percentage of a front squat to be shooting for in the clean? (e.g. my max front squat is 295 and my max clean so far is 235)

also, great information the other day about integrating the oly lifts into the crossfit programming. much appreciated.
Greg Everett
2008-03-25
Sarena -

No formula or anything - just judgment on an individual basis.

Ron -

After the push-up, jump your feet up to your hands like you would for a burpee, then jump them back into the push-up position. Repeat that 3 times for each push-up.

Ken -

Yes, although there will be quite a bit of variation among athletes in terms of the gap between the two. Technically proficient athletes will be able to clean 90% + of their best FS. So the general theme is that the more experienced the athlete, the smaller the gap will be.

Derek -

What are you doing in Chico? Make sure Robb and Nicki take you to Tacos De.
ken c
2008-03-25
thanks greg.
Djay
2008-03-25
Who qualified for the olympics? Did Casy Burgener?
Dr. G
2008-03-25
Tuesday 3/25/08: Today was my OL "technique" day, so the CA WOD as rx'd was a perfect fit!

Joint mobility
Ext. Mod. Burgener warmup, incorporating split style as appropriate

All sets done on 2 minute interval
Muscle snatch (55% x 2 x 3): 39kg x 2 x 3
3-position snatch floor/knee/mid-thigh (70% x 4 sets): 52.5kg x 4 sets
Tall clean + push jerk (60% x 2 x 3): 57.5kg x 2 x 3

Cleaned up the bar and bumpers, then went immediately into today's metcon, with modifications to include more split/lunge training (and to work with the fact I don't own a sandbag nor a box to jump on!). As the metcon I did was technically more "work" than the rx'd, I was short on time, and didn't want to fry myself, I cut it short at two rounds and added some wheelbarrow walking. It was also my first time ever doing a metcon in my OL shoes. Everything seemed just fine!

MODIFIED 2 rounds for time of:
MODIFIED 20 DB power snatches, caught in opposite side split squat (10 each side): 45# DB (25% BW)
MODIFIED 10 hurdle tuck jumps to inseam height
10 push-up + kick backs (1 + 3)
11:03

Finished with a 1/4 mile wheelbarrow walk with 109kg of bumpers.
Derek Simonds
2008-03-25
Unfortunately not in Chico. I was just quipping on the demographics of the photo on the front page.

I am going to make a pilgrimage to NorCal sometime this year. Especially since it was named one of the best gyms in the country.
Aimee
2008-03-25
DJay-
We do not have our olympic trials until May. We do not know who will be on the Olympic Team for the Men or Women until then. The purpose of the Pan Ams was to earn Olympic spots for the men. 4 US women will go and 2 US men will go.

Sarena- what is your infatuation with belt usage? As greg said, right now you don't need to use it. Many people think it will magically make you stronger and increase your lifts. While it is or can be an aid in keeping your back tight and upright, it does not work magic. My advice is to try and train without it.
Aimee
2008-03-25
Sarena-
p.s. good job on getting your squats up! that is awesome!!
Craig Snyder
2008-03-25
First work out in about 2 weeks. Feels good to be back, but I am really weak and deconditioned. It felt like I was starting all over again back in January.

Muscle Snatch, 55% 2x3: 65#x3, 70# 2x3
3 position Snatch, 70% x4: 90#, missed 1st Sn 3rd complex, reset started over.
Tall clean + push jerk, 60% 2x3: 95# 2x3

Met con: subbed 2 rounds for 3 rounds
Subbed DB cleans (1st round) and DB snatches (2nd round) for sandbag suitcase power cleans: 30# 10 each arm
10 mid thigh box jumps
10 push ups + kick backs (1+3)

1 minute rest b/n the two rounds completed. 8:22

sarena
2008-03-25
Hey Greg and Aimee, thanks for your advice! I am not infatuated at all; it was merely suggested to me by a former Olympian Olifter that saw me on the platform one day. That is why I asked--simple as that! My thoughts I guess were why anyway since I feel pretty OK with my squats and they seem pretty decent weight wise as well!

I started with a new coach today, Nick Curry, and just got home extremely pleased. I really like him and his training environment. Oh and I got a PR on a rack jerk too!!

Aimee, back to the squats thanks!! Oh and the coach said he easily sees me CJ at 55ish within a few short months!! Yeah!
ec
2008-03-25
not sure why - but botched the %'s and erred 5-10% too light each lift

mu sn - 55#
3 pos sn - 75#
t cln + pj - 85#

did my own spin on the metcon - need to get those ultimate sandbags asap
4 rnds, 15 barbell pwr cln (95#), 40 double unders, 15 pushups - 16 min even
Get the App!
Catalyst Athletics programs are available through our exercise.com app. Unlimited access to all programs for only $10/month, or purchase programs individually for only $10 each!
Join the Group
Buy Programs
---
Tag Us!
Tag us on social media when you post videos and photos of your workouts!
#catalystathletics
Instagram: @catalystathletics
Twitter: @cathletics
Facebook: @catalystpm
---
Workouts Menu
Workouts Home
Read This First!
Workouts Help & Info
Exercise Library
Training Programs
Starter Program
Tomorrow's Workout
Text Only
Custom Program Design
Get the App
---
---