Friday April 4 2008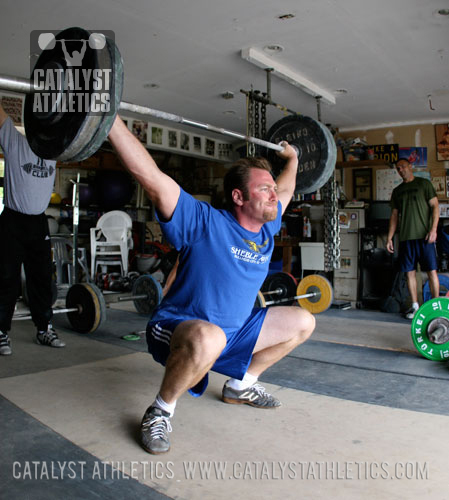 Power snatch + snatch balance - 60% (of snatch) x 3 sets

Power clean + push press + jerk – 55% (of clean) x 3 sets
Overhead squat - 80% of snatch x 2 x 3

4 rounds for time:
100 m sprint
8 box jumps - mid-thigh height+
Post numbers and questions to comments.
Questions? Get answers here or post in comments.
6 Comments
Kramer
2008-04-04
95 lb snatch (slight heave on balance, couldn't just drop), balance was good...lifted toes...good hint. Pwr snatched 115 for fun.

135 lb clean, press, split jerk...all solid and jerk came easy

135 lb OHS (power snatched into position) the 2nd squat in each set was stronger than the first, fell out once, regrouped and had a rock solid 3rd set

Metcon:
Ran hard in place for 30 seconds, then 8 jumps as high as I could...well over mid-thigh height.

4 rounds in 3:45.
Jason Ackerman
2008-04-04
85lb. Snatch and Balance
115# OHS

Skipped the clean, press, jerk because I did "Gwen" from CF first.
prochargedmopar
2008-04-04
4/4/08

M/38/174/70"

135# C&PJ

15x 2:18
5min rest
12x 1:18
5min rest
9x 0:37

That was interesting.
ec
2008-04-04
pwr sn, etc - 75#
pwr cln, etc - 90#
ohs - 95#

ended up doing cfb wod - filthy fifty. 32.58 with 20# wb. still hate burpees.

Adc (CFS)
2008-04-04

Snatch
40kg
C&J complex
47kg

OHS
45kg
claude
2008-04-04
power sn, sn bal- x3 105lbs
pwer cln, pp, jerk- x3 140lbs
ohs- 140lbsx2x3

metcon rxd..3:17
Workouts Menu
Workouts Home
Workouts Help
Exercise Library
Training Programs
Starter Program
Tomorrow's Workout
Text Only
Custom Program Design
---
---
Advertise With Us