Sunday April 6 2008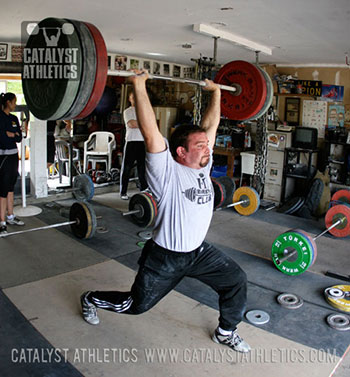 6 Comments
prochargedmopar
2008-04-06
4/6/08

M/38/70"/174
M/13/65"/112

Modified FGB

Tire Sled Drag +25#
Dips
T-Bar Swings 60#/30# respectively
Chins
HSPU

First round smoked us both so we did 3 more rounds using a 30sec protocol (2.5min rounds)



Dried
2008-04-06
Hi Greg,

I'm exploring the idea of integrating weightlifting into crossfit like you described in the Jan issue of PM. I figured I would be a "weightlifting crossfitter" and I have been gravitating towards the idea of crossfit-weightlifting-crossfit 3-day cycles. In the article you mention an option of doing high volume training on the weightlifting days with strength work afterwards. What do you consider high volume? I'm still uncertain about how much is too much or too little when dealing with the olympic lifts.
Greg Everett
2008-04-06
Dreid -If you're doing an ME-type approach with CF surrounding a lifting day, you're going to be relatively limited in what you can do. So you'd be able to do a high volume of light Oly technique work followed by a strength lift or possibly a couple. We're talking about partial lifts/drills/complexes in the 50-70% range or so. You'll have to experiment to see what you can handle. Start with maybe 2-3 tech exercises each session and 1-2 strength exercises and see how you respond.
Dreid
2008-04-06
Greg,

Would those ME-type days between the CF end up looking similar to the programming you have during the strength cycles, somewhat like the Mondays?

Thanks for all of your help.
Dreid
2008-04-06
Also, is olive oil an acceptable as a major daily source of fat blocks? Sometimes I get tired of eating nuts and feel like throwing back some oil instead.
Greg Everett
2008-04-06
Dreid - Squatting and deadlifting/pulling on that day would most likely be excessive. I'd suggest one big lift like a squat or dead, and a somewhat less taxing one like a press, and leave the rest light tech work. You also need to get the classic lifts in there somewhere, so you may alternate each session, but alternate between light/heavy days for those.Sure, olive oil is legit - but variety is too.
---
Workouts Menu
Workouts Home
Read This First!
Workouts Help & Info
Exercise Library
Training Programs
Starter Program
Tomorrow's Workout
Text Only
Custom Program Design
---
---