Tuesday April 8 2008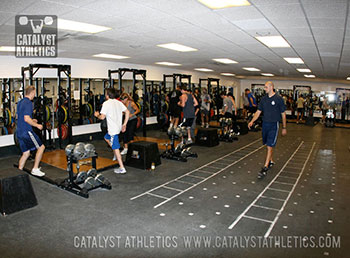 Muscle snatch - heavy single
Mid-hang snatch - 70% x 2 x 3
Tall clean + push jerk + jerk - 65% x 3 sets
3 rounds for time of:
10 Sand bag half moons - 25% BW
10 clapping push-ups
5 box jumps - mid-thigh
Post numbers and questions to comments.
Questions? Get answers here or post in comments.
5 Comments
OPT
2008-04-08
400 m @ 90% x 8, 2 min b/t sets - 1:17 x 8
DL - 210 lbs x 2 x 8 - tech

cathletics hopper - 3:06
42 lb sandbag, 30 inch box, clap push ups
prochargedmopar
2008-04-08
4/8/08

5 rounds for time of
8x DB SQ Power cleans 35#er's
8x clap pushups
8x clap chins

M/38/172
7:11

Christine/29/115
15#db's/kneeling pushups/jump chins
11:27

Christopher/13/112
25#db's
9:51

CFkids
Skills,
Hop on one foot over pvc pipe

Justus/M/9 R-30 L-26
Madison/F/7 R-3 L-3
Cayden/M/7 R-3 L-18
koda/M/5 R-4 L-3

Justus/M/9/"cast on right arm"
5 rounds for time of:
20x jumpovers (pvc)
8x 35# kb DL left hand
12x one arm jump chins
Time: 8:34
Jason Ackerman
2008-04-08
MS - hit 130lbs.

I am not sure if I am doing this perfectly. How low are you allowed to get and still consider it a Muscle Snatch?

MHS - 115lbs.

TC+PJ+J - 115lbs.


Greg Everett
2008-04-08
Jason - You're not getting low at all - the point of the muscle snatch is that everything moves up only - you never rebend the knees or hips to get under the bar - just use the momentum of the hip and knee extension along with the external rotation of the shoulders/arms to get the bar overhead in a fully standing position.
Jason Ackerman
2008-04-08
Thanks Greg, I was bending my knees a little bit, but not too much.
---
Workouts Menu
Workouts Home
Read This First!
Workouts Help & Info
Exercise Library
Training Programs
Starter Program
Tomorrow's Workout
Text Only
Custom Program Design
---
---