Monday April 14 2008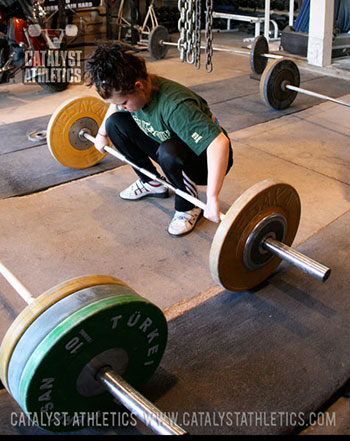 Front squat - 90% x 1 x 2
Snatch pull - 107% x 1 x 2
Push press - 4 x 1 - 105% of last week
Pull-ups - 3 x max
Weighted sit-ups - 25% BW x 15 x 3

Post numbers and questions to comments.
Questions? Get answers here or post in comments.
8 Comments
Blake McCarthy
2008-04-13
On Push Press, is that 4 sets of 1 or 1 set of 4?
Eva T.
2008-04-13
Sage, she looks so sweet and innocent......and then...bam! Fierce!
Greg Everett
2008-04-14
Blake - 4 sets of 1.
claude
2008-04-14
FS- 255x2x1
SP- 190x2x1
PP- 215x1(f)215x1(f)205x1x2
pu- 23,17,15
wsu-15x3w 45lb db

quick question- starting week 3 of ca wods after bout a year of xfit, really liking it, but experiencing some serious joint pain, especially in elbows and shoulders, should this be expected? any tips on alleviating some of it? thanks again and thanks for great workouts
Greg Everett
2008-04-14
Claude - Some joint pain is typical when switching to so much snatching and jerking, but make sure it remains only minor and ice as much as you can. You may need to back off a bit on the volume until you adjust to the workload, but your joints will become conditioned to the work over time.
Dutch
2008-04-14
Greg
Would it be bad to start with your program in the middle or should i wait till you start a new cycle? I am sick of being weak.
Thanks,

Dutch
Greg Everett
2008-04-14
Dutch - Go ahead and jump in - just know that this week will be light in terms of both weight and volume in prep for record attempts on Saturday. The next 4 weeks will be very classic-lift intensive, so if you want to ease into it a bit more, you can start at the beginning of the current cycle.
Adc (CFS)
2008-04-15
F Squat
95kg

Snatch pull
65kg

PP
55kg

Chin
10


---
Workouts Menu
Workouts Home
Read This First!
Workouts Help & Info
Exercise Library
Training Programs
Starter Program
Tomorrow's Workout
Text Only
Custom Program Design
---
---