Tuesday April 15 2008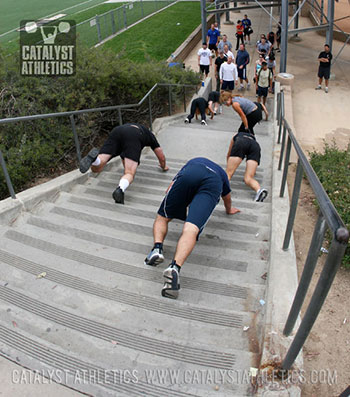 Muscle Snatch - 90% x 1 x 2
Power Snatch - 80% x 1 x 4
Power Clean & Jerk - 80% x 1 x 4
3 rounds for time of:
20 ball slams - 15% BW
16 1-arm DB power snatch - 20% BW
200 m sprint
Post numbers and questions to comments.
Questions? Get answers here or post in comments.
4 Comments
claude
2008-04-14
sorry another question...for the muscle snatch, is that 90 percent of my snatch or 90 percent of what i think i can muscle snatch? same applies to power snatch and power clean...thanks again
Greg Everett
2008-04-14
90% of your best muscle snatch, and 80% of your power clean/snatch.
claude
2008-04-14
cool thanks....dont think i was gonna be able to musc snatch 90 of my snatch..thanks again
Dreid
2008-04-15
Hi Greg,

I had another XFit related question. When doing the WODs, take Fran for example, what are your thoughts on scaling so that your time is faster and challenges you in the speed sense or using a heavier weight where your strength is the limiting factor in the WOD. This would be the difference between say...a 5 minute Fran as Rx'ed and a 3 minute Fran with 20 less pounds or something like that. Is there a way you like to approach this decision or is there a way you've found that promotes progress the best?

Thanks again.
---
Workouts Menu
Workouts Home
Read This First!
Workouts Help & Info
Exercise Library
Training Programs
Starter Program
Tomorrow's Workout
Text Only
Custom Program Design
---
---