Wednesday April 30 2008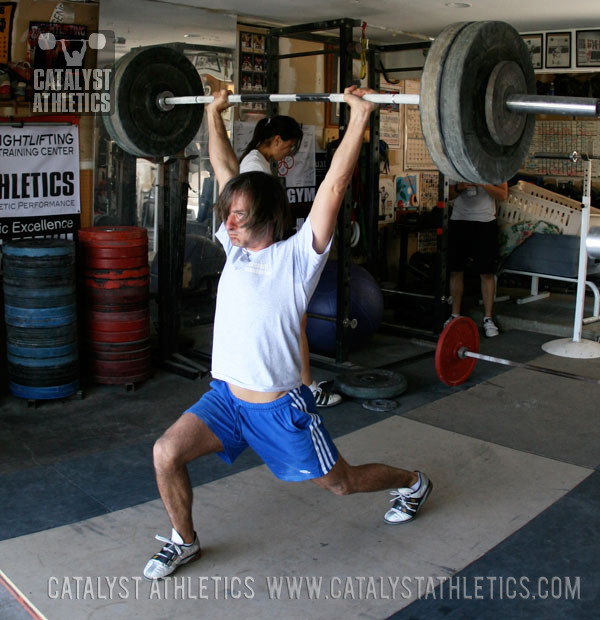 Snatch - 82% x 1 x 3
Clean & Jerk - 82% x 1 x 3
Front Squat - 88% x 2 x 3
3 rounds for time of:
40 sit-ups
20 KB swings - 30% BW
10 box jumps - mid-thigh
Post numbers and questions to comments.
7 Comments
Ben
2008-04-30
What is the recommended weight for a sand bag when doing the clean and power clean?
Greg Everett
2008-04-30
Totally depends on what you're trying to do, just like with a barbell.
Steve
2008-04-30
20 KB swings. does that mean 20 each arm? I dont have access to KBs, Dbs should be fine, yes?
Greg Everett
2008-04-30
Steve - 2-handed swings.
Adc (CFS)
2008-04-30
S 50kg C&J 65kg FS 85kg Met Con 8.17 Ab Mat Sit Ups 20kg American Swings 70cm BJ
Richard Thomas
2008-05-01
Snatch: 57.5kg C&J 72.5kg Front Squat 85kg
Kramer
2008-05-02
Had to go back to 95 for snatch, kept pwr snatch'g 115...did pwr snatch w/115 and 2 OHS. 185 C&J 205 pwr clean and 2 FS Metcon later...finished with 2x5 ring dips w/vest and 1 minute sandbag walk.
Workouts Menu
Workouts Home
Workouts Help
Exercise Library
Training Programs
Starter Program
Tomorrow's Workout
Text Only
Custom Program Design
---
---
Advertise With Us