Friday May 9 2008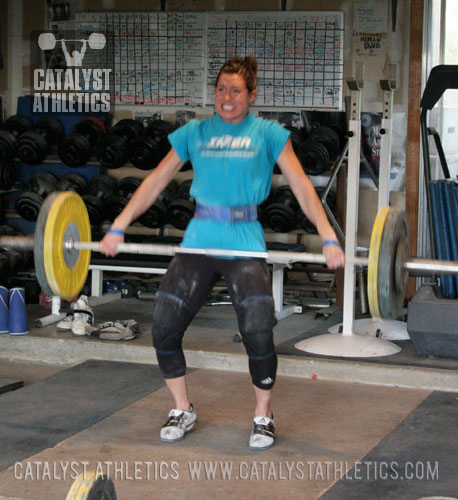 Snatch - 90% x 1 x 2
Clean & Jerk - 90% x 1 x 2
Snatch Pull - 105% (of snatch) x 2 x 2
Back Squat - 95% x 1 x 1
Ab work of choice
Post numbers and questions to comments.
Questions? Get answers here or post in comments.
5 Comments
Cullen
2008-05-09
I can't workout tomorrow, should I just do tomorrows workout today, and maybe some active recovery over the weekend? Or would it be better to move tomorrows workout to sunday?

Greg Everett
2008-05-09
Do what you can today and take the weekend off.
peter haas
2008-05-09
Snatch - 180lbs x 1 x 2
Clean & Jerk - 212lbs x 1 x 2
Snatch Pull - 210 x 2 x 2
Back Squat - 255 x 1 x 1
Ab work of choice - none, ran out of time

claude
2008-05-10
snatch 160lbs
c and j 225 lbs
sn pull 185lbs
back sq 345 lbs
ab-weighted su 45 lbs on chest
Adc (CFS) BW 70kg
2008-05-10
Snatch
57kg

C&J
72kg

S Pull
67kg

Squat
90kg

Met Con
Reduced weight Fran
4.50
35kg Thrusters
Chin Ups
Workouts Menu
Workouts Home
Workouts Help
Exercise Library
Training Programs
Starter Program
Tomorrow's Workout
Text Only
Custom Program Design
---
---
Advertise With Us