Tuesday May 13 2008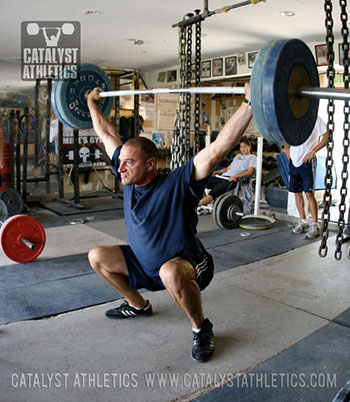 Power snatch - 80% x 1 x 3
Power clean + jerk - 80% x 1 x 3
3 rounds for time of:
100 m sprint
15 burpees
Post numbers and questions to comments.
Questions? Get answers here or post in comments.
18 Comments
ec
2008-05-12
ooo... ill have to to get our CFB genetic freak to submit a video. third time snatching (ever), he hit 175# at a bw of 160#. sort of ridiculous.

ill take comfort in the fact that, yes, he is shorter than i.
peter haas
2008-05-12
sorry to ask, but is that 80% of max snatch or max power snatch? same question for cleans.
thanks.
Greg Everett
2008-05-12
Peter - % is always of the listed exercise unless otherwise noted; so it's 80% of your best power clean/snatch.
Jason Ackerman
2008-05-12
My second snatch (first lifter) is BW - 145lbs.

http://www.youtube.com/watch?v=r2Fv7hnCS1A
Greg Everett
2008-05-12
Jason - Nice. Send me an email.
peter haas
2008-05-13
Power snatch - 135lbs x 1 x 3
Power clean + jerk - 185lbs x 1 x 3

metcon=5:00


Dutch
2008-05-13
How do you want the video sent? Youtube ok?
Greg Everett
2008-05-13
Youtube is fine.
Mary Everett
2008-05-13
Although I agree that anyone doing a body weight snatch is a great thing, I want to point out that Stephane's 100 kg snatch is made even more impressive due to the fact that he is over 6'4" tall. Using the output calculator you see that almost 2x the horsepower is needed to complete the lift that a person 5'6" would require. Add that his name is almost spelled like a girl, he is beating the odds for sure!
Dutch
2008-05-13
http://www.youtube.com/watch?v=5_sBbK5F_zY

With a little extra...
Knee is feeling a little better. Thanks for all your help.
Dutch
2008-05-13
Sorry, bodyweight is 150. Weight on the bar is 152. lbs
peter haas
2008-05-13
Nice job on the BW Snatch + 15 OHS, Dutch! Somebody's gunning for more than a fee T-shirt from the store, huh?
chris leach
2008-05-13
snatched 133lbs. last night at BW of 126 :D
1lb heavier than last week.
Greg Everett
2008-05-13
Everyone with a BW snatch - post a link to the video in these comments and make sure to send me an email so we can hook you up with the schwag.
Leonid S.
2008-05-13
I'll get one of my guys to email you tomorrow.
He got a bw snatch @ 190 on the second try snatching.
209 on the fourth try.
x66F
2008-05-14
BW Snatch

5amcrossfit.blogspot.com

I am just learning the lifts. Pardon the jeans and bare feet.

Pat McElhone
Adc (CFS) BW 70kg
2008-05-14
PS
50kg

PC+J
65kg
Richard Thomas
2008-05-15
PS: 50kg
PC + Jerk: 60kg
---
Workouts Menu
Workouts Home
Read This First!
Workouts Help & Info
Exercise Library
Training Programs
Starter Program
Tomorrow's Workout
Text Only
Custom Program Design
---
---