Friday August 22 2008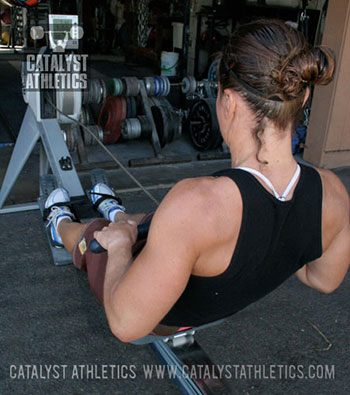 Please
login
to access our training programs.
Registration is FREE!
Questions? Get answers here or post in comments.
32 Comments
Please login to comment!
ken c
2008-08-21
confused about the sequence. is it tall snatch + 2 snatch balance once or 1x3? or is it ts + 2 sb + heavy single sb + 85% of heavy sb x 1 x 3? am i making this harder than it should be?
xuan mai
2008-08-21
My globo-gym does not have racks, only a couple of squat cages. I'm not so confident with bailing on an OHS in a squat cage.

So, for the overhead squat, is there a better way (other than snatching it - a heavy single OHS is much greater than my max snatch) of getting the bar over my head other than cleaning it, push jerking it up, lowering it to my back and then push pressing it back up with the wide grip? It's...well...so taxing that way. :)

Also, I'm flexible enough to OHS with a clean grip - would that suffice?
Justin
2008-08-21
Xuan Mai, come to the Brooklyn Box... Greg, Leslie, and I will be doing this and you can bail all you want!!!!
Matt Wichlinski
2008-08-21
first sequence is slightly confusing
Niko
2008-08-21
What is Flutter-kicks?
Greg Everett
2008-08-21
Ken - Do a tall snatch; bring the bar to the back of your neck; do 2 snatch balances. Work up to a set with the heaviest tall snatch you're able to do (I changed the wording on the workout just now - it was confusing).Xuan Mai -You'll be fine in a squat rack. Just try it and get comfortable. Niko - Lie on your back; elevate your feet with straight legs to a few inches off the floor; lift one leg slightly while lowering the other to just off the floor and alternate quickly - think of it as finning in the water.
ken c
2008-08-21
got it. thanks.
MB
2008-08-21


Tall snatch + 2 snatch balance - heaviest for day; 85% of single x 1 x 3
(up to 47 kg, then 42kg x 1 x 3)

Overhead squat - heavy single; 85% of single x 2 x 3
(up to 80 kg, then 70kg x 2 x 3)

Chin-ups - 3 x 12 (add weight if needed)
15 lbs, 10 lbs, bodyweight

4 rounds for time of:
250 m row
30 sit-ups
30 flutter-kicks

Time: 10:11

KCFB
2008-08-22
TS + SB: 140 - HS, 120 x3
OHS: 180, 155 x3
Chin Up: +20, +15, +7.5

Metcon:

10:03
tommi k
2008-08-22
Tall sn.+2sn.bal. heavy ,58.5kg/48.5kgx1x2
OHS heavy single 85kg/2x2x72.5kg
Chin ups 3x12

Metcon: 10:40

EricBrandom
2008-08-22
M/23/6'1"/180

Tall Snatch + 2sn bal: 65kg 1x3: 55kg
OHS Heavy: 95kg 2x3: 80kg
Chinups: 3x12 - no kip

Metcon: 8:25
kent
2008-08-22
6am Crossfit ANGIE
100 pull ups
100push ups
100 sit ups
100sqts
19:53
tall snatch+2 snatch balance 135/115
OHS heavy single 225 85% 2x3 190
chin ups 3x12 26/17/12.5
Row 1000m 3:30
Thanks Greg
John Messano
2008-08-22
TallSn + (SnBalance*2) - 95, 75*3
OHS - 135, 95*3
Chinups - 12, 8-3-1, 6-2-2-1-1

sub'd 2 rounds for time:*
row 250m, 30abmatsitups, 30flutterkicks
8:05

*sick with a cold virus, fatigue, time - mostly just fatigue.

JD
2008-08-22
Tall snatch + 2 snatch balance - 45kg; 40kg of single x 1 x 3
Overhead squat - 90kg; 77kg x 2 x 3
Chin-ups - 3 x 12

Matt Wichlinski
2008-08-22
135, 115x1x3
255, 220x2 tweeked shoulder
3x12 chin ups

metcon
14:59 abmat situps
ken c
2008-08-22
43/6'1"/187

tall snatch + snatch balance: 115
1x3: 95
overhead squat: 185
2x3: 155
pull ups 3x12; no weight, no kip

metcon: 8:52

never done tall snatch or snatch balance. took some getting used to. was rushed on this workout. had to get to meet the teacher night.
Matt Dyson
2008-08-22
Tall snatch + 2 snatch balance - heaviest for day; 85% of single x 1 x 3
Matt: 75#/65#
Overhead squat - heavy single; 85% of single x 2 x 3
Matt: 75#/65# felt seriously weak and unable to stabalise
Chin-ups - 3 x 12 (add weight if needed) Matt: Bodyweight

Met Con: Replaced this with a 2 hour hilly, hot and humid mountain bike ride.
4 rounds for time of:
250 m row
30 sit-ups
30 flutter kicks
Lesson learnt: Try to do the workouts and rest days in sequence as Rx. I was feeling somewhat shattered today!

carl
2008-08-22
TSN: 75#; 60#
OHS: 160#; 140#
CU: Bodyweight...

Metcon: 10:32
Jonathan Dunn
2008-08-22
Tall snatch + 2 snatch balance: worked up to 80#, then 70#x1x3
OHS: worked up to 115#, then 95#x1x3
Chinups: 3x12xBW(191). Last 2 sets were broken.

4 rounds for time of:
400 m run (no rower)
30 sit-ups
30 flutter kicks

19:28

Very humiliating workout, especially on the tall snatches and OHS. Looks like I have IDed a huge weakness!

During the OHS, I had to struggle to keep the weights from falling forward. Is this a mobility or flexibility issue, and if so, what do I do to repair this weakness?
Justin "Thor"
2008-08-22
Tall Snatch + 2sn bal: 135#; 115#
OHS Heavy: 225#; 205 (I can't figure out %s when Im tired)x1-Shoulders burnt
Chinups: 3x12 - Forgot all about these

Metcon: 10:15
Greg Everett
2008-08-22
Jonathan -Inflexibility is the most likely reason for your falling forward during OHSs. Keeping doing the OHS as much as possible; increase (or add) ankle, hip and shoulder flexibility work, and make sure you understand the correct positioning for both your body and the bar in that movement.
Jason Boag
2008-08-23
TS: up to 85lbs, 75lbs x 1 x 3
OHS: up to 205lbs, 175lbs x 2 x 3
Pull-ups: 3 x 12 strict, bodyweight, mixed grips

Metcon: 7:59
Jody Woodland
2008-08-23
M/45/6'/240

TS+2SN BAL: 95#, 95# x 1 x 4
OHS: 185#, 155# x 2 x 3
Chins: 12/8+4neg/8+4neg @ 85# assist

Assistance stuff: DL maintenance 275# x 5, forearm suite

Metcon: 16:00 (sheesh)

As a few others have noted, this was humbling. I found it very difficult to get the bar moving with only a shrug. The snatch balances were much easier than the tall snatch. In OHS balance was definitely the issue, not weight. As for metcon, I find it very difficult to do situps after gassing myself on the rower. I'm choosing to see "lots of room for improvement" as a good thing.
Mike Donnelly
2008-08-23
Tall Sn + 2Sn Bal: 65; 45X1X3
OHS: 95; 80X2X3
Chin: 12, 4+4+4, 6+6

Metcon: 12:42
Greg Everett
2008-08-23
Jody - The idea with the tall snatches is NOT to get the bar moving - it's to get YOU moving down.
Jody Woodland
2008-08-23
I see how that works with the tall clean since you start out holding the bar roughly at the height you'll receive it in the rack. The demo video shows that quite clearly.

In the tall snatch, doesn't receiving the bar overhead necessitate quite a bit more lifting of the bar?
Greg Everett
2008-08-24
Jody - Yes, the bar does have to move up, but that will happen as a natural reaction to you pulling against it to get yourself down. I just said that because the way I read your post made it seem like you were trying to bring the bar up more than you should be. My misinterpretation.
Tarun Suri
2008-08-25
TSn+2SN: 45, 45x1x3
OHS: 60, 45x1x3
Chinup: 10lbs, 12,12,6
MAWL
2008-08-29
MAWL -

TSn+2SnBal: 95,85x1x3
OHS: 115, 95x2x3
Chinup: 3x12 - favoring right side as I got tired

Metcon: 9:40 subbed 20KG KB SDHP for rows

Took awhile to get used to tall snatch and snatch balance. Still not there yet, but that's what practice is for
md
2015-05-30
I do not have a rower. What replacement would be acceptable? Thanks.
Steve Pan
2015-05-30
Run or 1 minute of jump rope should be okay to use as a substitute.
Get the App!
Catalyst Athletics programs are available through our exercise.com app. Unlimited access to all programs for only $10/month, or purchase programs individually for only $10 each!
Join the Group
Buy Programs
---
Tag Us!
Tag us on social media when you post videos and photos of your workouts!
#catalystathletics
Instagram: @catalystathletics
Twitter: @cathletics
Facebook: @catalystpm
---
Workouts Menu
Workouts Home
Read This First!
Workouts Help & Info
Exercise Library
Training Programs
Starter Program
Tomorrow's Workout
Text Only
Custom Program Design
Get the App
---
---