Saturday August 23 2008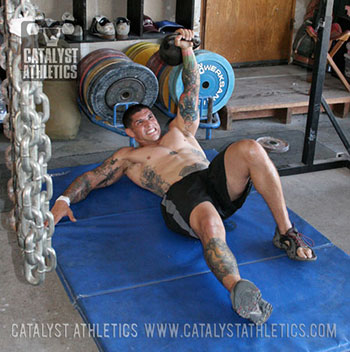 Please
login
to access our training programs.
Registration is FREE!
Questions? Get answers here or post in comments.
23 Comments
Please login to comment!
MB
2008-08-22


Was a little off my PRs in all the lifts today.

Snatch - heavy single (65kg)
Clean & jerk - heavy single (84kg)
Back squat - heavy single (114kg)
Ab work of choice
2 x 15 v-ups
Front plank max time (2:00)

KCFB4
2008-08-23
Snatch - 68kg
C&J - 100kg
BS - 130kg

3x15 hanging leg raise
kent
2008-08-23
snatch 185lbs
c&j 225
squat 325
tommi k
2008-08-23
snatch 78.5kg
c&j 116kg
back squat 150kg
Jesse Woody
2008-08-23
Snatch- 170#
C&J- 215# (very sloppy jerk)
Squat- 300#

Standing band crunches x 3 x 10
Standing Ab Wheel to wall x 3 x 5

Off my pr's on the c&j and squat (225# pr c&j, 325#pr bs), but I messed up my schedule last week and ended up squatting somewhat heavy on Thursday which left me VERY sore today. I'll try to keep with the schedule better next week and see how I do!
Michael Cooley
2008-08-23
What's the recommendation for someone who only has time/ability to train 3x/week? I've been training and competing for some time, so technique work for me is less important than continued improvements in strength.

Presumably, the 3 heavy workouts (Mon, Wed and Sat) are the foundation of the WOD microcycle. Would I simply take those three workouts each week as written, or try to incorporate some or all of the Tues/Thurs work into them as well?

Thoughts? Thanks in advance,

mpc
JD
2008-08-23
Snatch - 90kg
Clean & jerk - 115kg
Back squat - 155kg
Ab wheel

ken c
2008-08-23
43/6'1"/187

snatch: 175 pr
clean and jerk: 240 pr
back squat: 345
amrap in 1 min. 225 back squat: 18
ab work: 2 ghd sit ups (i was tired)

very close to getting 180 snatch. just didn't finish the pull and then got tired.
Eric Brandom
2008-08-23
M/23/6'1"/180

Snatch 82.5kg (-5)
Clean and Jerk 100 (-10)
Back Squat 345 (-10)

Considering I did this only a couple of hours after the main site wod, i'm not to displeased.
peter haas
2008-08-23
snatch - 205lbs
C&J - 215lbs
BS -315lbs

Clean has been feeling off, so I stayed light and worked technique. Everything else felt good.
Jason Ackerman
2008-08-23
Snatcch wasn't there today, hit 135, shoulders are a bit fatigued after a long week.

PR on the C&J - 190lbs. Would not be hitting this weight without the seminar in Boston.

Skipped out on the BS, body needed some rest.
Greg Everett
2008-08-23
Michael - Yes - Mon, Wed and Sat workouts will be the ones you want for the most part - although you may want to throw in any snatch balance, OHS, rack jerks and the like that appear on Tues/Thurs.
carl
2008-08-23
snatch - 145lbs... up by 25lbs
C&J - 175... PR as well
BS - 185... hit a wall while on this.

Jody Woodland
2008-08-23
M/45/6'/240

SN - 70k (PB 5k)
CJ - 90k (PB 2.5k)
BS - 365# (PB but haven't tested it in singles before)

SN and CJ were both power versions, not solid enough on form yet for full versions.
Matt Dyson
2008-08-24
Snatch - 95# focusing on technique and speed before adding load
Clean and Jerk - 135#
Back squat - 275#
Ab work of choice: Abmat sit ups and flutter kicks from Thursday.
A couple of questions:
1. for the split jerk I have a bad habit of locking out the rear leg under load. With no load or PVC the rear knee stays bent. Any drills I can do to prevent this?
2. Is the back squat high bar and to full depth? (I am assuming it is and just want to know that am doing it correctly)
Cheers
Matt

Greg Everett
2008-08-24
Matt - 1. try tall split jerks - start with the bar pressed to forehead level and just drive down under it into the split. That should help you focus on the back knee. You can also throw in a few reps of the basic split footwork drill right before each jerk.2. Yes.
Richard Thomas
2008-08-25
(Snatch and C&J only)

Snatch: 65kg (93%)

Clean & Jerk: 80kg (89%)
Matt Wichlinski
2008-08-25
snatch 235
C n J 305 missed 315 jerk after good clean
BS 435 a little off pr
abs 30 ghd situps
Mike Donnelly
2008-08-25
Sn: 65
C&J: 145

Lots of fear under the bar. Cut things short after a longer, harder workout yesterday
Tarun Suri
2008-08-25
Sn: PVC pipe #13
CnJ: 85
BS: New PR! 205 (+20)
Abs: 60secs. quality lever second progression

These movements are ridiculously hard for me. I was not able to snatch the 45 bar. Should clean form be emphasised to learn the snatch movement. I'm doing everything right until I get into the jumping position then the bar flies out ahead and there is too much momentum to stop it when it gets overhead, also, I simply cannot drop under the bar properly. Half the time I keep forgetting and it becomes a muscle snatch.

Cleans were difficult too. Biggest problem is being able to get under the bar quickly. I feel as though I receive the bar on my shoulders then drop, which is quite useless.
Greg Everett
2008-08-25
Tarun - Make sure you're turning your elbows to point to the sides and pulling the bar into your body with your lats as you snatch - don't let the bar swing foward. Sounds like you're probably banging it off your hips - can you post a link to some video?
Jason Boag
2008-08-25
SN: 155lbs
CJ: 215lbs PR
BS: 275lbs
AB: Digest bbq ribs, brisket, cole slaw, beer.


MAWL
2008-08-30
Sn: 95 felt terrible - bumpers on order, hopefully that helps confidence
CJ: 175 - not explosive enough
BS: 275

4x12 ring push-ups
Get the App!
Catalyst Athletics programs are available through our exercise.com app. Unlimited access to all programs for only $10/month, or purchase programs individually for only $10 each!
Join the Group
Buy Programs
---
Tag Us!
Tag us on social media when you post videos and photos of your workouts!
#catalystathletics
Instagram: @catalystathletics
Twitter: @cathletics
Facebook: @catalystpm
---
Workouts Menu
Workouts Home
Read This First!
Workouts Help & Info
Exercise Library
Training Programs
Starter Program
Tomorrow's Workout
Text Only
Custom Program Design
Get the App
---
---