Friday August 29 2008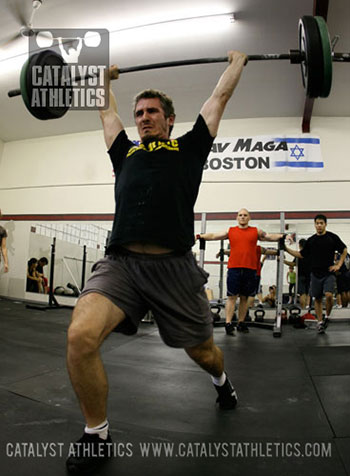 Please
login
to access our training programs.
Registration is FREE!
Questions? Get answers here or post in comments.
20 Comments
Please login to comment!
David Osorio
2008-08-24
yeah Ewen!!
Ewen
2008-08-25
I don't remember if I've already stated this in public or not, but now is as good a time and place as any to say that Greg and Aimee's seminar was awesome. Unless you just came back from Beijing, you NEED to attend one of these.

Just think: after two days of intense drilling and instruction, you too will become proficient at making weird faces while lifting moderate-to-low weights!

Thanks again for a great week-end.
squib
2008-08-28
Hey the rower intervals....the 150 M rest? Is that an active rest, ie row 150 at a slow pace and then 250M all out for the 7 mins? Thanks
Greg Everett
2008-08-28
Squib - Yes, keep rowing, just at a nice cruising pace.
Rick
2008-08-29
Hey Gregg

Just wanted your thoughts on the ab roll out. Barbell? Ab wheel? Either one? Also, I have read on a couple instructional websites that you shouldn't roll out to the point where the arms are parallel with ground. While doing the exercise your should keep your elbows locked out, keeping the hands in line the arms vertically. Rolling out all the way puts too much stress on the shoulders and lower back.
Greg Everett
2008-08-29
Rick - The point of ab rollouts is to stabilize the spine in its neutral position - if it's placing strain on the lower back it's because the athlete is unable to do that and needs to work easier exercises such as planks first. If they're done correctly, they don't place undue strain anywhere. Limit you depth to that which you can make with a neutral spine - stop before you feel any pressure in your lower back. Over time, get lower and lower.
Jesse Woody
2008-08-29
I've also found that making sure to squeeze everything tight through the whole movement (especially the glutes) will help avoid the back hyperextension. I spend most of our ab-wheel workouts in the gym screeming "SQUEEZE YOUR BUTT TIGHT!" and it seems to work well, even with relatively inexperienced trainees.
Eric Brandom
2008-08-29
M/23/6'1"/180

3pos Snatch @135#
Snatch Balance Heavy @ 225
Snatch Balance 1x3 @190
Pullups - 16, 12, 15
Ab Rollout - 3x15

Metcon: 5 hard intervals pretty much exactly - 1862 meters
JD
2008-08-29
3-position snatch - 67kg x 3 sets
Snatch balance - 95kg
Pull-ups - 10, 8, 7
Ab roll-outs - 10, 8, 8
tommi k
2008-08-29
3-pos sn. 56kg
Sn.bal. 71kg; 61,56kg
Pull ups 14,12,12
Ab roll-outs 3x15

Metcon: 1910 meters/5 all out intervals
jb
2008-08-29
3 pos sn - 105#
sn balance - 155#; 135#
pull ups w/ 10# - 10/8/8
ab roll-outs - donzo

no rowing intevals, tabata double unders instead with 11 being the lowest
Matt Dyson
2008-08-29
3-position snatch - 80#
Snatch balance - heavy single 100#; 85% 85#
Pull-ups - 3 x max (deadhang) 12/10/10
Ab roll-outs - 3 x 15

Rower sprint intervals - 250 m sprint / 150 m rest - max intervals in 7 minutes = 8


Rick
2008-08-29
Thanks for that guys. Roll outs with an ab wheel, touching chest to ground where no problem, great exercise. Snatch and snatch balance needed major help.

3 po.sn 80#
sn bal 105#, 95#
pull ups, 10,10,10
ab roll outs 15x3

no rowing
Jody Woodland
2008-08-30
M/45/6'/239

3PSN - 135#
SNBal - 105# x 4 (found awkward)
Pull ups - 9/7/7 @ 70# assist
ARO - 3 x 15 from knees

Rowing - almost 5 sprints, 1788m
Richard Thomas
2008-08-30
3-Pos Snatch: 50kg
Snatch Balance: 50kg, 42.5kg x 1 x 2

No Met-Con, pull-ups or ab roll-outs as doing "Nasty Girls" later...
Richard Vanmeerbeek
2008-08-30
# 3-position snatch - 52.5kg x 3 sets
# Snatch balance - heavy single 85kg ; 72.5kg x 1 x 2
# Pull-ups - 3 x max (deadhang) w/ 18kg vest : 8-8-5

"Nasty Girls"

8'11"
donna m
2008-08-30
holy crap this was tuff, i skipped the rowing for a 6pm wod. the ab rollouts and pull ups had me cursing greg. ummmm thanks?
Mike Donnelly
2008-08-30
3-Sn: 65lbs. felt pretty good
Sn Bal: Dropped weight all over the place. Only good to 65(!)
Pullups: 8,6,7
Wheel rollies: 10X3

6 rounds on the rower
jason Boag
2008-08-30
3-Sn: 110
SnBal: 185
Pull-ups: 15, 14, 9
Roll-outs: 3 x 15, chest and nose to floor

Row Intervals: 4.5 1848 meters That shit's no joke, my legs are on fire.
MAWL
2008-09-07
3 pos. Snatch: 85 - really struggling with technique
Snatch Bal.: 85/75x3
Pull-ups on rings 7,7,6
roll-outs with DB

no metcon.
Get the App!
Catalyst Athletics programs are available through our exercise.com app. Unlimited access to all programs for only $10/month, or purchase programs individually for only $10 each!
Join the Group
Buy Programs
---
Tag Us!
Tag us on social media when you post videos and photos of your workouts!
#catalystathletics
Instagram: @catalystathletics
Twitter: @cathletics
Facebook: @catalystpm
---
Workouts Menu
Workouts Home
Read This First!
Workouts Help & Info
Exercise Library
Training Programs
Starter Program
Tomorrow's Workout
Text Only
Custom Program Design
Get the App
---
---