Saturday August 30 2008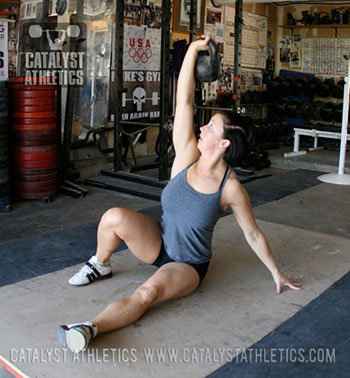 Please
login
to access our training programs.
Registration is FREE!
Questions? Get answers here or post in comments.
13 Comments
Please login to comment!
KCFB4
2008-08-29
Had to combine Fri and Sat:

Sn: 160 form ok but not full squat at bottom
CJ: 230 clean good, jerk weak
BS: 280, fail at 290

Pullups: 15, 11, 11
MB
2008-08-29
Snatch - heavy single (73, 75f)
PR by one kg with 73. Got 75 (bodyweight) overhead, but lost it too far back.

Clean & jerk - heavy single (85, 90f)
Back squat - heavy single (117)

Did the CF WOD instead of ab work.
Nasty Girls
3 rounds for time of:
50 Squats
7 Muscle-ups (subbed 7 x 3 pull-ups, 3 ring dips)
135 pound Hang power cleans, 10 reps

Time: 22:17
17 seconds faster than last time, but 30 pounds heavier on the cleans.
Squib in Iraq
2008-08-30
Have a question, just started the routine here on Cathletics, the last week or two. I notice I have shoulder pains when doing the jerks. I never noticed this before when doing them when the CFIT WOD called for them. Granted I don't have bumper plates here, and no coaches watching me but I don't think my form is injury prone. Just wonder if this is natural? I really haven't done too many rack jerks or this many before....thanks..
tommi k
2008-08-30
snatch 81kg
c&j 116kg
back squat 160kg
side bends 3x15 per side,32kg
ring dips 3xmax 10(pr),9,7


JD
2008-08-30
Snatch - 95kg
Clean & jerk - 115kg
Back squat - 160kg
Matt Dyson
2008-08-30
Snatch - heavy single 105#
Clean & jerk - heavy single 175#
Back squat - heavy single 295#

All improvements on last week!

Justin "Thor"
2008-08-30
Tough day... Im tired as hell. Think I may need to take an extra rest day this week.

Snatch: 145#
C&J: 155# (This was a warm-up and when I did my first c&j at 185, my shoulder went caput and called it a day with those)
BS: 265# (last weeks 305 was fairly easy, but struggled with this weight today so I think I was a bit tired)

Rest day tomorrow is sorely needed.
Greg Everett
2008-08-30
Squib - First, check your overhead position - make sure you're fully retracting your shoulder blades and then elevating them. Push your head through your arms and let your torso lean forward slightly to place the bar over the base of your neck. You may also try widening your hand placement for overhead work - that should place less pressure on the AC joint. Ice the shit out of your shoulders when/if you can, and make sure to get a lot of shoulder warm-ups like shoulder/arm circles focusing on shoulder blade mobility, dislocates, etc. If you need to, back off the volume of overhead work a bit too until your shoulders get a little more conditioned for this kind of training.
jason Boag
2008-08-30
Snatch: 155, still stuck here. I think I just need to finish my 2nd pull...
C&J: 220(PR), went for 225 but not enough left in the tank.
BS: 275, 295(F)
GHS: 3 x 25
Richard Vanmeerbeek
2008-08-31
Snatch : 75kg PR

C&J : 90kg, 100kg (missed the jerk)

Squat : 130kg, 140kg f (no more gas left)

Not enough time to do the C&J and squats with proper rest, doing it in a rush sucked big time !
Eric Brandom
2008-08-31
M/23/6'1"/180

Snatch: 185
C&J: 245
Squat: 350
KTE's 3x15
Ab rollouts 3x15
GHD Situps 3x15



Richard Thomas
2008-09-01
Snatch: 67.5kg
Clean and Jerk: 87.5kg
Back Squat: 120kg
(Lifts all felt good. Felt like I could have gone for more on each which is a good feeling.)

Abs:
GHD sit ups 3 x 15
Weighted Back extensions 2 x 10
MAWL
2008-09-07
snatch: 115
C&J: 180
Back Squat: 285
ring push-ups: 15/15/11,3,1
Get the App!
Catalyst Athletics programs are available through our exercise.com app. Unlimited access to all programs for only $10/month, or purchase programs individually for only $10 each!
Join the Group
Buy Programs
---
Tag Us!
Tag us on social media when you post videos and photos of your workouts!
#catalystathletics
Instagram: @catalystathletics
Twitter: @cathletics
Facebook: @catalystpm
---
Workouts Menu
Workouts Home
Read This First!
Workouts Help & Info
Exercise Library
Training Programs
Starter Program
Tomorrow's Workout
Text Only
Custom Program Design
Get the App
---
---