Wednesday September 3 2008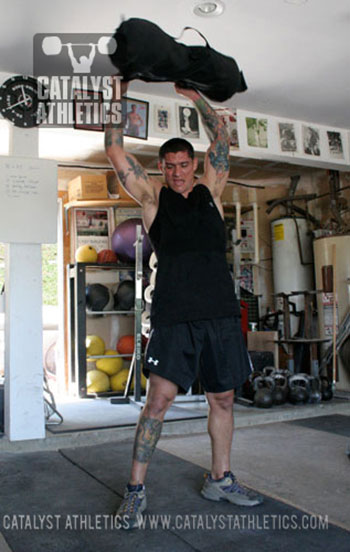 Please
login
to access our training programs.
Registration is FREE!
Questions? Get answers here or post in comments.
24 Comments
Please login to comment!
MB
2008-09-02
Front squat - 80% x 3 x 5 (160 lbs)
Snatch pull - 105% (of snatch) x 3 x 3 (77kg)
Rack jerk behind neck - heavy single (200 lbs, PR)
As I got to 200, I had to switch from split jerk to push jerk to make the lift.

3 rounds for time of:
10 KB swings - 1.5 pood
10 burpees

Time: 3:37

Justin "Thor"
2008-09-02
Im usually pretty good with subs, but any idea of a good substitution for the sandbag half-moons? No sandbags and I was thinking about doing them with a kettlebell but not sure if that would work.
Matt Wichlinski
2008-09-02
Thor

you could use a 25kg bumper plate or the closest thing you have. But you should look into getting or making a sandbag for yourself, i got a cheap army duffel from e bay for $12, then filled a bunch of small heavy duty bags at about 4 pounds a pop. You'll thank yourself later for the extra grip and hand strength
Richard Vanmeerbeek
2008-09-03
* Front squat - 90kg
* Snatch pull - 80kg
* Rack jerk behind neck - heavy single : 80kg - 90kg - 100kg - 112.5kg f (lost it behind me, the globo had a heart attack, I had to stop)
ryan
2008-09-03
Do I start each snatch pull rep from the floor or pull from the thigh only?
Greg Everett
2008-09-03
Thor - Like Matt said, use a bumper plate and grip it on the sides. Ryan - Always from the floor unless some hang position is specified.
tommi k
2008-09-03
Front squat 112.5kg
Snatch pull 87.5kg
Rack jerk behind neck 100kg (not really "heavy",still learning these)
Half-moons 3x10x20kg plate

50 burpees,for time: 3:32
Matt Wichlinski
2008-09-03
FS 295x3x5
SP 255x3x5
RJ 315, 325F

3:47
70# sandbag
Eric Brandom
2008-09-03
M/23/6'1"/180

FS: 235
SNPL: 210
RJ: 285

Metcon:
Subbed Heavy Bag for Sandbag, harder with no place to grip
4:35
saulj
2008-09-03
FS: 80 KG
Snatch Pull 75KG
Heavy BNSJ: 90 KG, 100 KG super close but no cigar this time.

Ran out of time for met-con...
JD
2008-09-03
Front squat - 108kg x 3 x 5
Snatch pull - 100kg x 3 x 3
Rack jerk behind neck - 115kg
Jonathan Dunn
2008-09-03
Front squat - 156# x 3 x 5
Snatch pull - 210# x 3 x 3
Rack jerk behind neck - 165#
Calf Press - 495 x 12 x 3

3 Rounds for time:

10 70# Sandbag half moons (not sure I did these correctly; I can't get the demo to play)
10 Burpees

3:14

Parachute sprints with my son x 40 yds....yikes!
jason boag
2008-09-03
FS: 200 x 3 x 5
SP: 165 x 3 x 3
RJ(Behind Neck): 230

Metcon: 3:28 with 20 kg bumper plate
Matt Dyson
2008-09-03
Front squat - 80% x 3 x 5 205# opps wrong weight all the rest at 185#
Snatch pull - 105% (of snatch) x 3 x 3 185#
Rack jerk behind neck - heavy single 165#

3 rounds for time of:
10 sand bag half-moons - 35% BW Only had a 15kg PowerBag
10 burpees. Time 4:00

donna m
2008-09-03
fs 115#
sp 65#
rack jerk 105# pr
met con 7:46
ken c
2008-09-03
front squat: 245
snatch pull: 185
rack jerk: 245

no metcon. no time today.
Jody Woodland
2008-09-04
M/45/6'/237

FS - 215#
SN Pull - 165#
RJ - 165# Hurts l. shoulder to lower (can't drop).

Metcon - 5:15, 70# bag
Rick
2008-09-04
FS - 165#
SN pull- 135#
RJ- 200#
Rick
2008-09-04
Forgot about the met con

no sandbag so I did 10 2 pood KB swings instead

3:36
jb
2008-09-04
fs - 145#
sn pl - 165%
btn split jerk - 220# (massive PR)

metcon

10 2 pood kb high pulls
10 burpees

3:30 something i think.

a day behind and supremely glad for a rest day.
jb
2008-09-04
greg,

to address your suggestion last week regarding the discrepancy between my FS 1RM < OHS 3RM, i believe you're correct. my foot position is identical in the two, perhaps a bit narrower in the FS.

however, i have a pronounced forward lean in the OHS.

i was always under the impression (obviously false) that OHS required more core strength than FS, this can be compensated for by the forward inclination of the torso?

so ultimately, i need to stop worrying about my ratios and improve upon my embarrassing FS, i think.

thanks, greg.

best,

jerry
Richard Thomas
2008-09-05
(Did this at Waverley gym - no platform so conservative in the b/h neck jerk)

Front Squat: 80kg x 3 x 10
Snatch Pull: 80kg x 3 x 3
B/h neck Jerk: 85kg - felt nice, fast and solid. Could have gone heavier.

Raining outside so no met-con. Hopefully do it tomorrow.
Mike C.
2008-09-05
Front squat 80kg
Snatch pull 90kg
Rack jerk 112kg

Metcon: 2:57 with 50# sandbag
MAWL
2008-09-14
Front Squat: 185
Snatch Pull: 145
Rack Jerk BN: 175 - couldn't clean anymore to get it up, felt good though

metcon - subbed 20KG KB snatch for half-moons
4:13
Get the App!
Catalyst Athletics programs are available through our exercise.com app. Unlimited access to all programs for only $10/month, or purchase programs individually for only $10 each!
Join the Group
Buy Programs
---
Tag Us!
Tag us on social media when you post videos and photos of your workouts!
#catalystathletics
Instagram: @catalystathletics
Twitter: @cathletics
Facebook: @catalystpm
---
Workouts Menu
Workouts Home
Read This First!
Workouts Help & Info
Exercise Library
Training Programs
Starter Program
Tomorrow's Workout
Text Only
Custom Program Design
Get the App
---
---