Saturday September 6 2008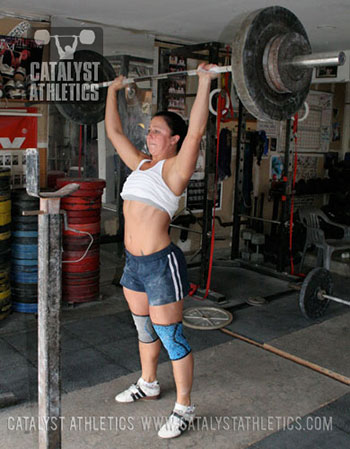 Please
login
to access our training programs.
Registration is FREE!
Questions? Get answers here or post in comments.
21 Comments
Please login to comment!
Eric Brandom
2008-09-06
M/23/6'1"/180

Snatch 187.5
C+J 245 - not too good
Front Squat 280
GHD Situps and KTE's
Robb Wolf
2008-09-06
That looks like a photo of lean "Paleo Aimee".
Richard Vanmeerbeek
2008-09-06
Snatch : 80kg PR
C&J : 102.5kg PR

Gym was closing so I'll do some front squats tomorrow and ring work. It's been 2 weeks since I started here and I've experienced a huge gain in confidence to get under the bar, my snatch has gone up 10kg and my c&j + 7.5kg. THANK YOU.
JD
2008-09-06
Snatch - 97kg PR
Clean & jerk - 115kg
Front squat - 135kg
Jesse Woody
2008-09-06
Haven't been posting regularly, but have been on top of the workouts with two of our clients. Today was a great day:

Snatch: 180#, 10# PR and my first bodyweight snatch!
Clean: 225#, equals my PR with a much stronger squat and jerk
FS: 265#, actually surprised as my second clean tapped out my legs terribly.

Altogether an awesome day! Great program Greg, can't wait for the Bulgarian cycle!
tommi k
2008-09-06
-workout during a work shift(at Fire Dept.)doesn`t always go as planned..

Snatch 83.5kg
C&J up to easy 106kg,then got a call and was out for few hours(aimed at 118-120),too late to restart when I got back
no FS

-Greg,should I do next week as rx`d or do some FS/C&J heavy singles before saturday??
Peter Haas
2008-09-06
M/27/5'10"/180lbs

Snatch:95x3,135x2,185,205,215(f),215(PR)
C&J:135x2,185,215
FS:185x2,225,265,285(f)

Snatch felt great. Getting a good start seems to make all the difference. C&J still feels a little off.

Really liking this strength cycle. Can't wait for the bulgarian cycle. Thanks Greg.
Justin "Thor"
2008-09-06
Good day today

Snatch: 160 lbs. (pr)
C&J: 190 lbs. (not sure if this is a pr or not but close enough)
FS: 275 lbs. (pr)
Greg Everett
2008-09-06
Tommi - Just do next week as RXed.
Aimee
2008-09-06
Robb-
That was seriously "paleo" Aimee. That is exactly what I thought when I saw that picture!

Now my stomach has a nice layer of jumbo jacks and oreo's around it.
tommi k
2008-09-06
Greg-

Yes,thanks.
James
2008-09-06
From one Crossfitter to the next: Get some Leo.


Anna
2008-09-06
I haven't been posting either, but I'm one of Jesse's two clients who had a rad day!

Snatch--115# (10#PR)
C&J--140# (15#PR)
FS--175
Matt Wichlinski
2008-09-06
S 240 PR
CNJ 310 PR
FS 365


Kirez
2008-09-06
I'm making my first Oly platform, and the stall mats I bought are smooth on one side, and have dimples (outies) on the other side.

I don't know if gluing the dimpled side down would work, so I think to glue them I'll have to put the smooth side down and the dimpled side up.

Would this be a problem, to have a dimpled surface on the rubber of the platform? They're smooth dimples, but...


These stall mats were hard to come by as it is, and it seems all the stall mats available around Phoenix, AZ came from the same manufacturer --- they're all dimpled on one side. Advice is much appreciated, thanks!
Greg Everett
2008-09-06
Kirez - Instead of gluing them, screw them down with drywall screws. Solves the dimple problem and it allows you to swap the rubber in the future.
ken c
2008-09-07
snatch: 165 170fx5
clean and jerk: 225 235f 230f
front squat: 275 285f
knees to elbows: 25 20 15
ghd sit ups: 3x15

one of my worst lifting days in a long time. no explosiveness, no energy, everything felt heavy.
Kirez
2008-09-07
Thanks, Greg, that makes sense.

New website looks great -- good work!
Richard Thomas
2008-09-08
Snatch: 65kg
(These felt rubbish today - which has in turn put me in a terrible mood!)

C&J: 85kg

Front Squat: 100kg

GHD sit ups and knees to Elbows
Dave Wagner
2008-09-08
I haven't been posting either, but following the program religiously.

Snatch- 115
C&J- 205 (PR)
Front Squat- 255 (PR)

I am getting stronger for sure and getting my snatch squared away. Technique is flawed (I can power snatch way more than I can I can snatch) but it's coming along.

Thanks Greg!
MAWL
2008-09-14
Snatch: 95
C&J: 155
Not feeling it at all today!

Chin-ups: 9,8,7
Ring push-ups: 15/15/10,5
Get the App!
Catalyst Athletics programs are available through our exercise.com app. Unlimited access to all programs for only $10/month, or purchase programs individually for only $10 each!
Join the Group
Buy Programs
---
Tag Us!
Tag us on social media when you post videos and photos of your workouts!
#catalystathletics
Instagram: @catalystathletics
Twitter: @cathletics
Facebook: @catalystpm
---
Workouts Menu
Workouts Home
Read This First!
Workouts Help & Info
Exercise Library
Training Programs
Starter Program
Tomorrow's Workout
Text Only
Custom Program Design
Get the App
---
---