Wednesday September 10 2008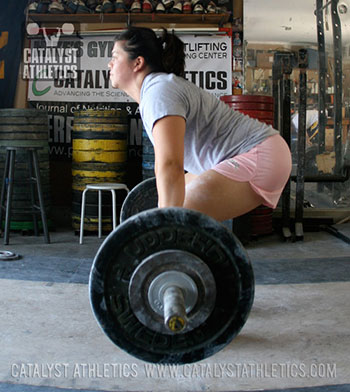 Please
login
to access our training programs.
Registration is FREE!
Questions? Get answers here or post in comments.
24 Comments
Please login to comment!
ken c
2008-09-09
greg

i snatch with hands out collar to collar and that feels fine but feels weaker when attempting a 1rm overhead squat. stronger in the overhead squat with my hands in about 2 inches from the collars. should i overhead squat that way or stay out collar to collar and try to get stronger in that position?
Greg Everett
2008-09-09
What's a bigger weakness for you? Your OHS or your snatch? I would decide based on that.
Richard Vanmeerbeek
2008-09-10
Overhead squat : 92.5kg
Front squat : 110kg
Rack jerk : failed 105kg twice, spent 30 minutes working on my push jerk after that.
Alex Europa
2008-09-10
Overhead squat: 175-lbs
Front squat: 240-lbs
Rack jerk: 195-lbs (a little push at lockout)

3 rounds for time of:
30 Ball slams (18-lbs)
10 clapping push-ups
Time: 3:19
donna m
2008-09-10
greg,

whats up with tomorrow? no rest day this week?
Greg Everett
2008-09-10
Donna - You get a rest day on Friday because you have big weights on Saturday.
Justin "Thor"
2008-09-10
Greg,

Have to take a rest day today... I was going to do today's WOD tomorrow then Thursday's WOD on Friday. Is it best just to "lose" today and do Thursday as R'xd and rest again on Friday since we are lifting heavy on Sat?
Greg Everett
2008-09-10
Thor - Do today's workout on Thursday and rest Friday.
tommi k
2008-09-10
OHS - 85kg
Front Squat - 140kg
Rack jerk - 117.5kg

3 rounds:(balls here are too light and bouncy)
20 "OH sit up-wall slam ball-catch" 6kg
10 clapping push ups
Time 3:15
Matt Wichlinski
2008-09-10
ohs 255x2
fs 365
RJ 295 failed 315, don't have open rack, so when weights came down inside rack to the safety bars, my bar bent like a banana. I'm f'n pissed, don't do what i did, it was dumb... That being said, my snatches and c & j's are going to certainly suffer due to my stupidity.

Greg,

What bar do you recommend on a budget? I can't afford 800 beans for the werksan bar, do i have options? The last bar came from Wichita falls weightlifting, their econ bar. After i bought it i read some people were having similar problems.
KCFB4
2008-09-10
OHS - 185
FS - 265
RJ - 225
Greg Everett
2008-09-10
Matt - That sucks. Unfortunately "Good inexpensive bar" is an oxymoron. That said, BFS makes a super cheap bar ($129) that in my experience holds up surprisingly well - we had maybe 8 of them at CF NorCal and they put up with pretty good abuse. They're probably pretty similar to the Pendlay econ bars, but less expensive. Not sure what the story with the Pendlay bars is - Glenn told me they got a bad batch of steel in China, so the problem should have been confined to a single lot. But really, with the cost of materials and fuel as they are, it's impossible to manufacture a super high quality bar for less than that $800 mark where the Werksans and Eleikos sit. So I'd give the BFS bar a shot, or try another Pendlay. But this is why we don't carry any inexpensive barbells - there are none I'm willing to really vouch for.
Eric Brandom
2008-09-10
M/23/6'1"
OHS x2: 235
FS: 275
RJ: 255

Metcon: 3:22
20# ball
ADR
2008-09-10
M/26/5'10"/165#

OHS x2: 145
FS: 205
RJ: 165

Metcon: 4:42/20# ball
Matt Dyson
2008-09-10
Overhead squat - 125#
Front squat - 245#
Rack jerk - 175#
Metcon: 16# Ball 3:29
Craig Snyder
2008-09-10
OHS, heavy double: 150#
Front Squat, heavy single: 175#
Rack Jerk, heavy single: skipped

Met con: 4:28 (15# ball)
JD
2008-09-10
Overhead squat - 90kg
Front squat - 140kg
Rack jerk - 110kg

donna m
2008-09-10
ohs 65#
fs 125#
rack jerk 100#


Matt Wichlinski
2008-09-10
Metcon forgot to post earlier

3:18


fern
2008-09-10
hey greg, do you mind having a look at and critiquing a short video of some snatch practice? http://vimeo.com/1694915
Dave Wagner
2008-09-10
OHS 135#
Front Squat 255#
Rack Jerk 210#

MetCon: 3:39
Greg Everett
2008-09-11
Fern - Be a little more patient for now with the first pull to ensure you're getting into a good position for the 2nd pull. What's happening now is that the bar reaches the knees and flies straight up from there rather than being pulled back into your hips. You're also coming in a bit early with the arms (which is nearly always tied to the above).I'd suggest working some snatches from mid-thigh, emphasizing pulling the bar into the hips - think of dragging it lightly over the upper thigh and crease of the hips. Also make sure you're keeping your weight back more over the heels; in order to do this, you'll need to be leaned back slightly at the top of the extension with the bar in contact with the hips.
Jonathan
2008-09-11
OHS: worked up to 125#
Front Squat: Up to 205#
Rack Jerk: Up to 175#

No metcon for me today!

Richard Thomas
2008-09-11
OHS: 85kg
Front Squat: 100kg
Rack Jerk: 90kg
Get the App!
Catalyst Athletics programs are available through our exercise.com app. Unlimited access to all programs for only $10/month, or purchase programs individually for only $10 each!
Join the Group
Buy Programs
---
Tag Us!
Tag us on social media when you post videos and photos of your workouts!
#catalystathletics
Instagram: @catalystathletics
Twitter: @cathletics
Facebook: @catalystpm
---
Workouts Menu
Workouts Home
Read This First!
Workouts Help & Info
Exercise Library
Training Programs
Starter Program
Tomorrow's Workout
Text Only
Custom Program Design
Get the App
---
---