Thursday September 11 2008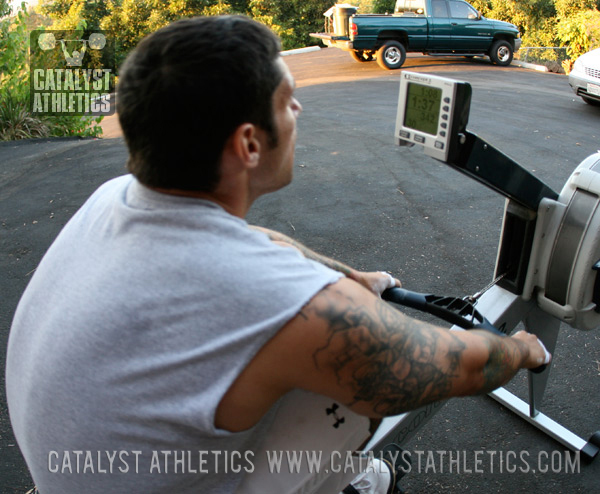 Muscle snatch + 2 overhead squat + snatch balance - 3 sets med weight
2-position snatch (mid-hang, floor) - 60% x 4 sets
V-ups - 3 x 10

3 sets:
600 m row sprint
3 min rest
Questions? Get answers here or post in comments.
13 Comments
ryan
2008-09-11
As I understand the hang position being above the knee, does that mean the mid-hang would be about mid-shin? For some reason mid-hang makes me think mid-thigh.
saulj
2008-09-11
Ryan, I was just reading about this in Greg's new book. "The mid-hang starting position will place the bar at mid-thigh with the knees and hip back, the shoulders slightly in front of the bar, the back set in absolute extension, and the weight just in front of the heels."
ryan
2008-09-11
I guess mid-shin would be the floor, huh. Thats what a coleg edjukashun does to heitin intalect and intuishun.
tommi k
2008-09-11
M.sn.+2xOHS+Sn.bal. - 61kg
2-pos.sn. - 61kg (a bit heavier than 60%)
V-ups 3x10

"Randy" rx`d,4:48
Jeff G
2008-09-11
Holding the wide grip overhead position for overhead squats is absolute murder on my left wrist. It seems to have gotten worse over time, and my right wrist does just fine.

Any thoughts or suggestions? It's gotten so that doing OHS and Snatch is just too painful.
Greg Everett
2008-09-11
Jeff - Narrow your grip for now until it's tolerable and gradually widen it as your wrist(s) get better conditioned and more mobile. Spend a lot of time pre-workout doing wrist mobility work and stretching, shake out the wrists and stretch between every set, and stick your hand in a bowl of ice water for 5 min or so after every training session, and a couple times throughout the day if you can.
Richard Vanmeerbeek
2008-09-11
Muscle snatch + 2 OHS + snatch balance - 60kg
2-position snatch - 50kg
V-ups and KTEs

I did some swimming and sprinting prior to the training this afternoon.
Eric Brandom
2008-09-11
M/23/6'1"/180

MS+2 OHS+SNB - 135
2pos Sn - 135
V-UP 3x10

Metcon: 1:41, 1:52, 2:02
That first row really took it out of me...
--- and doing "Randy" and "Josh" beforehand probably didn't help either
JD
2008-09-11
Muscle snatch + 2 overhead squat + snatch balance - 3 sets 50kg
2-position snatch (mid-hang, floor) - 58kg x 4 sets
ADR
2008-09-11
M/26/5'10"/165

MS+2 OHS+SNB - 95
2pos Sn - 95
V-UP 3x10

Metcon: 2:06, 2:24, 2:25
Alex Europa
2008-09-12
MS+OHS+SB x 3: 100-lbs
2-pos SN x 4: 95-lbs
V-ups: 3 x 10
Matt Wichlinski
2008-09-12
167
147
3x10


1:55
2:04
3:29, just too much of a pussy to start on time
Richard Thomas
2008-09-13
Muscle Sn + OHS + Sn Bal: 45kg
2 Pos Snatch: 45kg
3 x 10 Jack knife sit-ups
Workouts Menu
Workouts Home
Workouts Help
Exercise Library
Training Programs
Starter Program
Tomorrow's Workout
Text Only
Custom Program Design
---
---
Advertise With Us