Saturday September 20 2008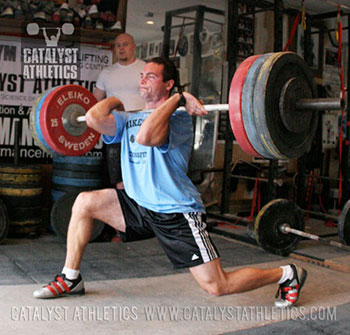 Please
login
to access our training programs.
Registration is FREE!
Questions? Get answers here or post in comments.
21 Comments
Please login to comment!
Alex Europa
2008-09-20
Snatch - 120 x 1 x 3
Clean & jerk - 180 x 1 x 3
Front squat - 230 x 2 x 2
L-sit practice

Just really wasn't in it mentally today, couldn't seem to get solid in the overhead position on the snatch.

Eric Brandom
2008-09-20
M/23/6'1"/180

Snatch: 180
C&J: 240
FS: 250

Abs: the KTE's in the Filthy Fifty from the Mainsite
KCFB4
2008-09-20
Sn - 140
CJ - 210
FS - 245
Richard Vanmeerbeek
2008-09-20
snatch - 72.5kg
c&j - 92.5kg
front squat - 100kg 3 sets + 3 sets of back squat

Ab work on the rings later on. I failed twice on the snatch, too much laughing and distraction between sets.
tommi k
2008-09-20
Snatch - 78.5kg
C&J - 108.5kg
Front squat - 127.5kg

KTE 3x15
GHD Russ.twist 2x20x10kg
+some ring dips

-shoulders were very tight and sore today,bad snatches all over the place..
ADR
2008-09-20
M/26/5'10"/165

Snatch: 135#
C&J: 185#
FS: 215#

Abs:
V-ups, KTE, Ab Wheel, and Weighted GHD Sit-Ups 1 x 15 each
Justin "Thor"
2008-09-20
Really rough day today. Lack of sleep, and then my back went to shit after the snatch.

S: 145lbs
C&J: Just couldn't get them up. Back sapped all power.
FS: 265 lbs. Dropped it on the 2nd set. Just wasnt there today at all

Abs:
V-ups, hollow rocks, TGU-sit ups.
Richard Vanmeerbeek
2008-09-20
Greg,

Is the fact that my snatch and c&j feels heavier than it should a common side-effect of the Bulgarian cycle ?

Thank you,

-Rich
Gordo
2008-09-20
Snatch 105 lb
C&J 155 lb
FS 195 lb

3 sets of 20 GHD sit-ups


Jonathan
2008-09-20
Snatch: 125# x1x3
C&J: 170# x1x3
FS: 190# x2x2
DB Side Bends: 85# x15x1
Cable Rotations: 100# x15x1
GHD Situps: 35# x15x1
Calf Press: 495# x15x3
DB Nosebusters 35# x10x3
Greg Everett
2008-09-20
Richard - Assuming this is your first (or even second) exposure to this type of training, yes, it's normal to be very tired right now and have all your lifts feel heavy and slow. Likely by the last week you'll be feeling better, and definitely by the next Bulgarian cycle. It takes time to become conditioned to this kind of training.
Jesse Woody
2008-09-20
Snatch 165x1x3, 3 fails in between there due to sloppy technique. Lack of sleep a big factor, though the singles I did make felt great. This was my snatch PR at the beginning of the strength cycle!
C&J 205 x 1 x 3 felt easy, very snappy jerk
Front Squat: 240x2x2 solid.

2 sets:
10 hanging leg lifts (used straps to safe my aching elbow tendon)
10 KB cross-chops each side, 20kg KB
ken c
2008-09-20
well my lifting day has been effed from the beginning. teaching the 9:00 crossfit class and then my kids soccer games were spaced out just so that i wouldn't have time to do the whole workout (but they did win both their games). however, i did squeeze in time for some snatch work.

snatch: 180x1 pr

got it on the 3rd attempt. real happy with my improvement on the snatch. these workouts are great. thanks greg and aimee for all the great info on this site.
peter haas
2008-09-20
Sn: 198#x1x3
C&J: 225#x1x3
FS: 248#x2x2

Snatch felt heavy and footwork was off. Glad Richard asked that question b/c I'm feeling run down too. C&J felt great. I've tweaked my start as well as when I hit my second pull. 225 was an easy power clean.
Richard Vanmeerbeek
2008-09-20
Thanks for the response Greg. It's my first exposure to this cycle indeed so it's definitely a work in progress. I'm sure I'll feel more energized once I'm used to it. What's definitely wearing me out is lowering the barbell for all of my lifts, I can't dump at my gym.

Glad I wasn't the only one feeling it. Enjoy your Sunday everyone !
Matt Wichlinski
2008-09-20
snatch 215
C n J 275
Did back squat 405 x2 x3
Justin "Thor"
2008-09-20
Yeah, glad it wasn't only me as well... I was thinking maybe I was getting sick as today just seemed I was working in a swamp. No energy at all. Plus been back on the "diet" this past week and that isn't helping as well. Anyways, have a great rest day all!!!
JD
2008-09-20
Snatch - 90kg x 1 x 3
Clean & jerk - 110kg x 1 x 3
Front squat - 127.5kg x 2 x 2
Alex Europa
2008-09-21
Wow, it's interesting to see several of us report being in a bit of a funk yesterday. It's a bit encouraging to know that it's not just me that was struggling with the snatches yesterday. The C&J felt pretty good, though.

On a side note, for the last 2 weeks, I've been drinking 3L of whole milk a day [and 17 Zone blocks (2x fat)] in an attempt to put on a few more pounds since I'm focusing on strength. I've put on about 4-lbs and it seems that almost all of it is muscle. I'd like to get up around 193 (189 now) before going back to the mainpage after this cycle, and then lean back down to 190.
Matt Dyson
2008-09-21
Snatch - 115# x 1 x 3
Clean & jerk - 160# x 1 x 3
Front squat - 225# x 2 x 2
Ab work of choice: GHD 3 x 15 Russian Twist 3 x 10 + 10#MB

Yep, I to was feeling the effects of the 1st week of the Bulgarian Cycle. Glad you bought it up Richard. Good to hear it is a normal side effect. Once again Greg, thanks for the progarm.

Richard Thomas
2008-09-22
Snatch: 62.5kg
Clean and Jerk: 82.5kg
Front Squat 90kg x 2 x 10
Get the App!
Catalyst Athletics programs are available through our exercise.com app. Unlimited access to all programs for only $10/month, or purchase programs individually for only $10 each!
Join the Group
Buy Programs
---
Tag Us!
Tag us on social media when you post videos and photos of your workouts!
#catalystathletics
Instagram: @catalystathletics
Twitter: @cathletics
Facebook: @catalystpm
---
Workouts Menu
Workouts Home
Read This First!
Workouts Help & Info
Exercise Library
Training Programs
Starter Program
Tomorrow's Workout
Text Only
Custom Program Design
Get the App
---
---