Tuesday September 23 2008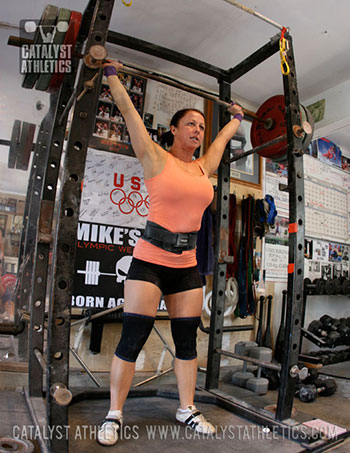 Please
login
to access our training programs.
Registration is FREE!
Questions? Get answers here or post in comments.
25 Comments
Please login to comment!
John Velandra
2008-09-23
Greg,
I sent off a series of stills on my deads yesterday. Thanks in advanced for picking them apart. 8-)

John
peter haas
2008-09-23
M/27/5'10"/180lbs

Mus Sn: 95x2, 135, 155(PR)
Snatch: 176x1, 154x2, 176x1, 154x2, 176x1
C&J: 135, 175, 205x1x5
Metcon: 3:59

Still trying to make minor tweaks and get my form right. Focusing on not bending early and keeping my arms long helped me on the muscle snatch. Footwork is still off on the snatch, going to try adding more snatch balances into my warmup. C&J was good, tweaked my start a bit and felt more solid.
Rich V
2008-09-23
Greg,

I've been doing CF for 7 months solid and have improved in my fitness dramatically. On 1 October, I'll be starting your program (taking a temporary break from CF) and will continue until the end of November. Love the programming and am looking to improve in strength and Oly lift technique.

Any suggestions before I begin your program?

Thanks!
Dave
2008-09-23
Why the knee sleeve thing? They don't add anything performace wise but they sure feel nice. I say wear em.
Greg Everett
2008-09-23
Dave - If you don't feel they add anything performance-wise, you're doing something wrong. They make a marked difference rebounding out of the bottom of the squat, and for most, improve the dip stability of the jerk.
Dave
2008-09-23
Hmmm. I must be doing something wrong, they make no difference to me except comfort, They just feel nice. Occasionally they help if I'm dragging a stone or keg onto my lap but that's not the same thing. I squat fairly deep, well below parallel but wider and probably not as deep as an Oly lifter except on front squats. What would I do different? Tighter?
Jesse Woody
2008-09-23
Yeah, maybe I"m not wearing tight enough knee sleeves, but I use them just to keep my knees warm and to improve proprioception...don't feel like they're enough to give any extra bounce in my squat, rather, they're good insurance with knees that have been subject to 20 odd years of skateboarding, inline skating, and generally jumping off of shit ;) I don't start my warm-up without them on, and even perhaps a bit of tiger balm underneath to enhance the blood-flow effect
JD
2008-09-23
If you are doing olympic style squats, knee sleeves help.
Greg Everett
2008-09-23
Dave -Like JD said, if you're doing Oly squats, i.e. full depth, knees forward, catching the bounce, there's no question they help (unless they're not tight enough). Dave/Jesse - Even if you don't notice them helping in the squat (my guess is too loose and/or not really bouncing in the squat), you're saying they improve comfort, proprioception, and by extension, confidence. If those aren't performance-enhancing effects, we have different ideas of what performance is.
tommi k
2008-09-23
M.Sn. - 73.5kg pr
Sn. - 63.5/68.5kg
C&J - 96kg
Planks 1x Max: front 3mins, sides about minute each

Metcon: 5:06
Dave
2008-09-23
I get what you're saying, Point taken. I do think there's a question whether they help and by how much in that at least three PL feds find they are of such little help that Raw divisions will allow them. I guess for me, the perfomance enhancement is a matter of degrees. I'm also more confident and comfortable in my squat shoes than my chucks, and I like to use chalk when I pull, but I don't think of those as support gear that needs to be cycled only for heavy days like a belt. And you're right I don't squat knees forward with a big bounce, more of a ass back low bar style there. Maybe I'll ditch them for front squats and see if it's any different.
Greg Everett
2008-09-23
Rich - I'd say ideally stick it out for an entire 16-week cycle. Otherwise, just jump in at the mid-point, i.e. the beginning of the second strength cycle, which will be in 2 weeks I think.
Greg Everett
2008-09-23
Dave - Yeah, if you're doing a more PC-emphasis squat, you won't really notice a difference, other than a nice, warm fuzzy knee feeling. Even for Oly, they're nothing like knee wraps - so yes, it's a matter of degrees. In a clean or front squat in particular, you can squeeze a substantial number of kgs out of a good pair that fit correctly. I'm not suggesting they're cycled to that degree, i.e. heavy days only - I'm talking about not throwing them on until you hit maybe 70% or so - that would still have you wearing them every day (or near it), since it's going to be unusual to not train above 70% on at least one lift each day.
Matt Wichlinski
2008-09-23
MS 165
S 195x1, 165x2, 195, 165, 195
cj 255x1x5

front plank 1:30

metcon
2:00
Richard Vanmeerbeek
2008-09-23
MSn : 65kg PR
Sn : 57.5kg - 65kg
C&J : 82.5kg

5 rounds for time of:
8 kipping pull-ups
4 box jumps (between knee and mid-thigh)

1'45"
Eric Brandom
2008-09-23
M/23/6'1"/180
MS - 155
Snatch - 140-160
C&J - 215
Planks 3x2:00 each

Metcon - 32" box jumps
1:44
ryan
2008-09-23
Muscle Snatch - 135 lbs
Snatch - 155 & 135 lbs
1 Clean + 2 Jerk - 135 lbs x 3

Ok, so the whole jumping off the floor eliminates most of the pain I get in my shoulders halfway thru the jerk but I'm still getting great discomfort in the lockout. On the last two jerks I made an effort to get my head in front of the bar and that seemed to helped distribute the weight thru my body.

Am I right with this forward head placement?
Matt Dyson
2008-09-23
MS 140# PR
Sn 100#/90#
C & J 140# x 1 x 5
Front (Avg 90 sec) and lateral planks (Avg 60 sec)3 x max avg
5 rounds for time of:
8 kipping pull-ups
4 box jumps - mid-thigh+ 34.5" Box
2:32

JD
2008-09-23
Muscle snatch - 65kg
Snatch - 80kg x 1, 70kg x 2, 80kg x 1, 70kg x 2, 80kg x 1
Clean & jerk - 96kg x 1 x 5
Gregory L. Johnson
2008-09-23
I just picked up some knee sleeves over the weekend and used them for the first time on Sunday. That must be why got those new PRs.
Alex Europa
2008-09-23
Muscle snatch - 120
Snatch - 110 x 1, 95 x 2, 110 x 1, 95 x 2, 110 x 1
Clean & jerk - 160 x 1 x 5

Metcon: 2:15
5 rounds for time of:
8 kipping pull-ups
4 box jumps - 32"

Ryan, it sounds like you've got it right. Check out this video of Sage doing some Push Jerks to give you a good idea of where your head should be.

http://media.crossfit.com/cf-video/cfj-nov-05/push-jerk.wmv
carl
2008-09-23
MS - 120# PR
SN - 80%:120# 70%:100#
C&J - 140#

Forgot to do planks.
Met-con: sub'd double-unders for pull ups, 36" box = 2:54
Jerry B
2008-09-24
MSn - 120# x 3
CJ - 155#
RDL - 155# x 3 x 4

metcon: 2:45 w/ 30" box
ADR
2008-09-24
Muscle snatch - 130# - PR!
Snatch - 115 x 1, 105 x 2, 115 x 1, 105 x 2, 115 x 1
Clean & jerk - 160 x 1 x 5

Metcon: 2:20
5 rounds for time of:
8 kipping pull-ups
4 box jumps - hip height
Jody Woodland
2008-09-25
MSN - 135#
SN - 115/125#
CJ - 160#
metcon 5:10
planks @ 60 sec front, 45 lateral
Get the App!
Catalyst Athletics programs are available through our exercise.com app. Unlimited access to all programs for only $10/month, or purchase programs individually for only $10 each!
Join the Group
Buy Programs
---
Tag Us!
Tag us on social media when you post videos and photos of your workouts!
#catalystathletics
Instagram: @catalystathletics
Twitter: @cathletics
Facebook: @catalystpm
---
Workouts Menu
Workouts Home
Read This First!
Workouts Help & Info
Exercise Library
Training Programs
Starter Program
Tomorrow's Workout
Text Only
Custom Program Design
Get the App
---
---