Friday September 26 2008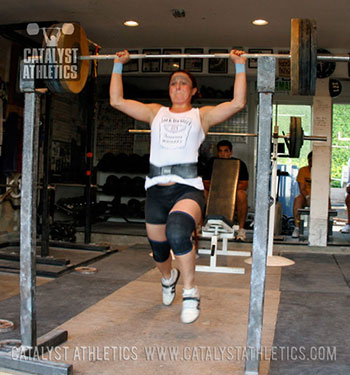 Please
login
to access our training programs.
Registration is FREE!
Questions? Get answers here or post in comments.
17 Comments
Please login to comment!
Matt Dyson
2008-09-25
Greg,

I am confused by the C&J?

Clean & jerk - 70% x 1 + 2, 80% x 1, 10% x 1 + 2, 80% x 1 x 2

Is it supposed to be a 70% effort for the 3rd set? Also is the final 80% effort 2 sets of a single rep?


Greg Everett
2008-09-25
Matt - Sorry, yes - 70%, not 10%. And yes, the final 80% is done for 2 sets of 1 rep.
Cullen Foresman
2008-09-25
So, just to make sure I've got it, this is C&J 70% x 1 rep, rest, 70% x 2 reps, rest, 80% x 1 rep, etc. Correct?
Greg Everett
2008-09-25
Cullen - Almost. 70% x 1 + 2 means 1 clean + 2 jerks, 1 set.
Justin "Thor"
2008-09-25
This scheme is just to make sure we don't drink and lift right ? :)
Cullen Foresman
2008-09-25
Oh, right, I knew that! Its been a long day, too fatigued for my memory to work right I suppose. Thanks Greg.

And thank you in general for the great programing. I've been following it for about 6 months now and loving it more and more all the time.
tommi k
2008-09-26
Saturday wo. day early.

Snatch 95%x1x2 - 83.5kg (actually about 97%of current max and PR)
C&J 95%x1x2 - 113.5kg
Front squat 90%2x2 - 127.5kg
Weighted back ext. 3x10 - 15,20,20kg

3 sets:
weighted sit up 3x8x10kg, behind neck
reverse GHD crunch 3x15

-good day,weekend of rest


Jody Woodland
2008-09-26
GDH reverse crunch?

I googled your site, found a reference from May 18 but the link to the photo is gone. General googling also unsuccessful. Thanks in advance, JW.
Alex Europa
2008-09-26
Overhead Squat - Worked up to 190 (BW) with a pause at the bottom (PR!)
Snatch - 115 x 1 x 5
Clean & Jerk - 140 x 1 + 2, 160 x 1, 140 x 1 + 2, 160 x 1 x 2

The lifts felt really great today. Admittedly, it was light weight, but I felt solid during the 2nd pull and my Jerks felt really fast and solid! The OHS was a 15-lbs PR and is a major step considering how abysmal my previous record at 175 was. I'll be over 200 next week when there isn't a 95% day following! :-)

3 rounds for time of:
- 300 m row
- 10 KB high pulls - 55-lbs
MetCon: 5:12

One word: OUCH!

Weighted sit-up (behind neck) - 3 x 8
Matt Wichlinski
2008-09-26
Jody

stand in front of the GHD with your back to the pad, do a back bridge over the pad and grab the foot braces with your hands. Your lower back is supported with the pad, your upper body supported by your hands on the foot brace, lower slightly bent legs toward the floor and curl or crunch them up to your chest, repeat. Feels a little awkward at first, but it opens you up and gets in them abs nice and deep like...


Snatch 195
CJ 215, 255, 215, 255

Metcon 5:10

went easy on the abs, they are still killing me from ab roll outs from the feet the other day. I'm trying to do them like Ross Enamait with weight vest's from the feet and one handed, Dude is a beast.
Greg Everett
2008-09-26
Jody - What Matt said. Photo is here.
Eric Brandom
2008-09-26
M/23/6'1"/180

Snatch: 160
C&J: 185 - 215
Metcon: 4:38
Situps +25#
GHD Reverse Crunch

Did Isabel again ( I love her ) 3:36, not as good as last time (3:06)
Richard Vanmeerbeek
2008-09-26
Sn : 65kg
C&J : 72.5kg - 82.5kg

"Annie"

5'39"
Jesse Woody
2008-09-26
First day back with the lifts after jacking up my back last sunday. Long warm-up with some added hip-flexor and dynamic hamstring stretches.

Snatch: 115x1x5 (~65%)
Clean & Jerk: 165x1x2 x 3 (~72%)

Still a bit of slight discomfort, mainly on the third pull lean-back, but nothing too bad. Ended with ice, ibuprofen, fish oil and more stretching. Feels good to at least be back to the lifts!
Jonathan
2008-09-26
Snatch: 115# x1x5
C&J: 135# x1+2; 155x1; 135x1+2; 155x1x2
3 Rounds for time: 400m Run
10 DB High Pulls 30# each

7:34

3 sets: A. weighted situps 3x8x10
B. GHD Rev Crunch 3x15
Jody Woodland
2008-09-27
SN 125#
CJ 140/160#

Metcon - 5:50

SU 25#
GHD RC - thanks for the info guys, these sucked. Guess I'll do them more often.
Rick
2008-09-29
Sn 95
Cl&J 135,155

situps used 25# DB
Used stability ball for RC's

For metcon did:

Deadlift/chest slap pushups
25/5
20/10
15/15
10/20
5/25

used 185# for DL
Get the App!
Catalyst Athletics programs are available through our exercise.com app. Unlimited access to all programs for only $10/month, or purchase programs individually for only $10 each!
Join the Group
Buy Programs
---
Tag Us!
Tag us on social media when you post videos and photos of your workouts!
#catalystathletics
Instagram: @catalystathletics
Twitter: @cathletics
Facebook: @catalystpm
---
Workouts Menu
Workouts Home
Read This First!
Workouts Help & Info
Exercise Library
Training Programs
Starter Program
Tomorrow's Workout
Text Only
Custom Program Design
Get the App
---
---