Saturday September 27 2008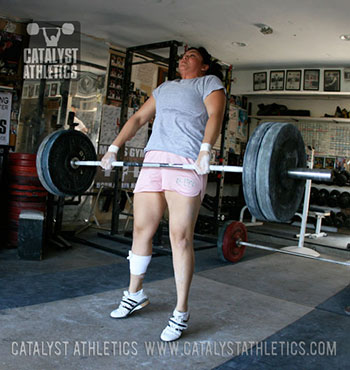 Please
login
to access our training programs.
Registration is FREE!
Questions? Get answers here or post in comments.
13 Comments
Please login to comment!
Alex Europa
2008-09-27
Snatch - 130 x 1, 140 x 1 (PR!), 145 x 1 (PR!)
Clean & Jerk - 190 x 1, 210 x 1 (Clean PR! but missed the jerk x 2)
Front squat - 230 x 2 x 2
Glute-ham raise - 3 x 10 (25-lbs)
L-pull-ups: 2 x 8
Richard Vanmeerbeek
2008-09-27
-Alex, congrats on the PR !

Snatch - 77.5kg x 1, then I failed 3 times
C&J - knee pain when doing 90kg, I still did 97.5kg and failed the jerk. Shooting knee pain I stopped right there.

It's already feeling better now. I really need oly shoes, they'll be coming next week.

I filmed my 3 fails on the snatch, any pointers would be very welcome. It seems like I try to get under the bar prematurely instead of finishing the pull.

http://www.youtube.com/watch?v=QKySnPjYyqU




Jonathan
2008-09-27
Snatch: 135# x1x2
C&J: 180# x1x2 (missed both jerks)
FS: 200#x2x2
Romanian Deadlift: 245# x5x2
WindshieldWipers: 3x12
Standing Calf: 400# x12x3
DB Nosebuster: 40# x6x3
ryan
2008-09-27
Snatch - 170 lbs x 1 x 2
C&J - 215 lbs x 1 x 2
Front Squat - 250 lbs x 2 x 2
Bent Bar Row - 225 lbs x 2 x 3

Back Extension - 3 x 10
Sit-up - 3 x 10

The jerk is slowly coming together. I was using a slight backward lean to begin the jerk, like a push press. Today I maintained a straight back on the dip and drive and this seemed to clear more of my trouble up. So far I've learned to elevate the shoulders and squeeze the traps, dip and drive with a straight back, and finish with the bar over the ears. This sound about right?
Greg Everett
2008-09-27
Ryan - The torso will need to be leaning back slightly during the dip and drive of the jerk, just like in the push press - this places the bar over the hips and over the front of the heel, the line in which it needs to remain. That said, don't let your hips slide forward as you dip - think of a vertical line through the middle of the bar, your hip and your ankle - those 3 points need to move along that line during the dip and drive and never leave it.
ADR
2008-09-27
I took it easy today and focused on the dynamic lifts because I participated in the Fight Gone Bad fundraiser.

Snatch - 135 lbs x 1 x 2
C&J - 205 lbs x 1 x 2 - PR!


Greg Everett
2008-09-27
Richard - You're not quit extending fully, but that's not the problem. By the time you get the bar past your knees, your weight is too far forward. By the time you start the second pull, you're chasing after the bar. Keep pulling the bar back into yourself as you pull to mid-thigh, and continue leaning your weight back on your heels. Think of this as a slightly backward diagonal bar path rather than attempting to lift the bar up in a straight line. The bar swings forward a bit, then bangs back into your thighs, then swings forward again. Try to keep it in light contact with the thighs all the way up to the hips - brush it up the legs. That you're jumping forward when you pull under is a clear indication that it's pulling you forward. Line up your toes on something like a break in the matting and don't let yourself jump over it.
Anna
2008-09-27
fight gone bad

Snatch 115# x 1 x 2
C&J 135# x 1 x 2

Too fried from FGB to even think about frontsquats...
Jesse Woody
2008-09-27
Haha...yeah, FGB III fundraiser at Primal today. Then about 3 hours later after barbecue, etc.

Snatch 165x2x1
Clean and Jerk 215x2x1

Everything felt surprisingly good considering I could hardly walk at the beginning of the week, but my legs are now toast :p

ryan
2008-09-27
Hey, front squat question here.

What about puffing the chest. Chest out shoulders back right?

I like to let the bar rest across the front of my shoulders. When I do this I really don't seem to get my chest that far out. I still maintain a squeezing of the traps but my shoulders kinda round out in front for the bar to perch on.

Any thoughts?
Greg Everett
2008-09-27
Ryan - Chest/back and shoulders are different things. You do want your chest up, meaning your upper back flat (i.e. shooting for extension, although you won't actually get it), but your shoulders do need to be pushed forward (scapular protraction). Just understand that these are not the same thing, even though most people will naturally couple them (i.e. round their upper backs when they protract the scapulae). The shoulders have to be pushed forward to support the bar - if they're pulled back, the bar has nowhere to rest other than in the arms.
Richard Vanmeerbeek
2008-09-28
Thank you very much for the feedback Greg, this is going to be very helpful. I will focus on it tomorrow, I'm expecting a good boost !

Jody Woodland
2008-09-28
day late
SN 145#
CJ 190#
FS 225#
GHR - don't have, tried pinning feet under a bar and doing on a mat but wasn't very coordinated, resorted to some ham curls @ 100#
Get the App!
Catalyst Athletics programs are available through our exercise.com app. Unlimited access to all programs for only $10/month, or purchase programs individually for only $10 each!
Join the Group
Buy Programs
---
Tag Us!
Tag us on social media when you post videos and photos of your workouts!
#catalystathletics
Instagram: @catalystathletics
Twitter: @cathletics
Facebook: @catalystpm
---
Workouts Menu
Workouts Home
Read This First!
Workouts Help & Info
Exercise Library
Training Programs
Starter Program
Tomorrow's Workout
Text Only
Custom Program Design
Get the App
---
---