Sunday September 28 2008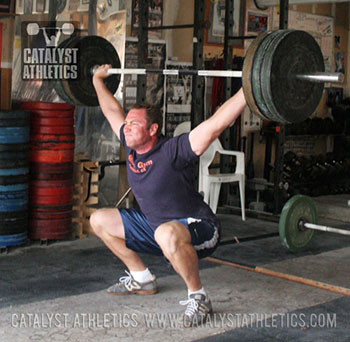 8 Comments
ken c
2008-09-27
cool video. nice work greg. making it look too easy.
Angry G
2008-09-28
Great video, picked up on a couple of things, so glad I got the book and started with the basic program.
Geoff Aucoin
2008-09-28
Anyone having issues with the videos? I'm dying here, they won't download for me. Is it a Windows Vista thing?
Geoff Aucoin
2008-09-28
Scratch that, turns out I'm just impatient. Nice work, Greg!
Robb Wolf
2008-09-28
Serial Killer Consistency (SKC)- This will be the new certification to replace the RKC.

Seriously however, this is a huge pice to consistent lifting (or anything you want to replicate performance).

Great stuff G&A! Really digging the instructionals and G-congrats on the new PR's. Progressive overload...whoda thunk't it?!
Sean Gregory
2008-09-28
Hey, planning on starting the CA WoDs this week (avid CF'er of 9 months). Looking at tomorrow's workout, I was wondering if this video applies to the 100% days as well (even though there's only one prescribed set), or just the 'heavy single' workouts. I'm assuming it does... jumping right to my PR seems a little sketch, but I just want to be sure.

Greg Everett
2008-09-28
Sean - You want to make your weight jumps as consistent as possible regardless of the final weight. So in that video I went to 125 via 50, 70, 90, 110, 120, 125. If I had gone to 130, it would have been the exact same, and depending on how I felt, it would have been 125, 130 or 125, 128, 130 or so. Point is, it doesn't matter what the workout is or what the final weight will be - you still get where you're going the same way.
JD
2008-10-04
Awesome lifting. You should do a c&j video like that.
---
Workouts Menu
Workouts Home
Read This First!
Workouts Help & Info
Exercise Library
Training Programs
Starter Program
Tomorrow's Workout
Text Only
Custom Program Design
---
---