Wednesday October 1 2008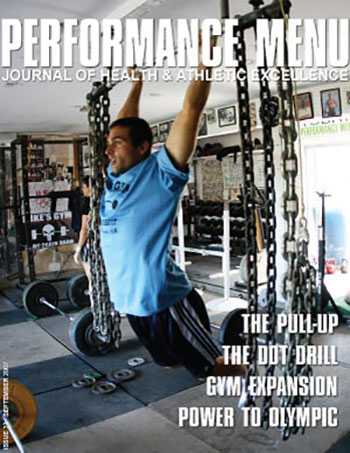 Please
login
to access our training programs.
Registration is FREE!
Questions? Get answers here or post in comments.
29 Comments
Please login to comment!
Alex Europa
2008-10-01
Clean & Jerk - 205 x 1 (PR!)
Snatch - 135 x 1 x 2
Back squat - (X) No zip in the legs

20-15-10 reps for time of:
DB muscle snatch (2-arms) - 30-lbs each
Kipping pull-ups
Time: 4:45

Richard Vanmeerbeek
2008-10-01
C&j : 105kg PR
Snatch : 72.5kg
Back squat : 120kg x 2 x 10

Half Nate:
10min AMRAP of
2 muscle-ups (on bar)
4 HSPUs
8 db swings 32kg

5 rounds, 2 MUs, 2 HSPUs

tommi k
2008-10-01
C&J - 118.5kg
Snatch - 81kg
Back squat - 152.5kg

Metcon - 6:56, 16kg DBs
josh everett
2008-10-01
perfect timing on the foreman article as there has been some heated discussions on goheavy recently
Greg Everett
2008-10-01
Heated discussions about powerlifting vs olympic lifting? Never....
Alex Europa
2008-10-01
WHOA! I beat Tommi in a MetCon?! No way! I'm just glad Richard did 1/2 Nate instead... Cheers fella! ;-)
tommi k
2008-10-01
whenever there´s pull ups in a metcon, my times suck...but anyway, GOOD job Alex!
Blake M
2008-10-01
Learned something today! I can't snatch after C&J. My form was all off and I didn't feel stable at all at the bottom. Guess there is a ryhme and reason to the order of the lifts!
Richard Vanmeerbeek
2008-10-01
Snatching after the C&J was definitely a bit special.

Alex, it's on for the next metcon !


marisela
2008-10-01
i have a question about warming up. i never sandbag on warm ups. i always warm up for at least 10 minutes before i get to lifting. i learned my lesson when i pulled a hamstring about ten years ago. my question is this: after my standard warm up should i warm up as well by lifting lighter weight?
for example, today is 100% of c&j-should i warm up with light weight before going to a full 100%, or just go straight to heavy?
Richard Vanmeerbeek
2008-10-01
Greg, I've been itching to go for a heavy deadlift but I'm strictly following the daily workouts. If possible, what would be the best time in the cycle to throw one in ?
ken c
2008-10-01
greg

what's the name of the one minute silence song on your video on sunday. can't find it on youtube. pretty good band.
Matt Wichlinski
2008-10-01
is there any significant difference between cod liver oil and regular fish oil?

Bill Starr swears by lecithin, I think it's a soy based product, is it worth anything?

What about dessicated liver tablets? Vitamin B12?
Aimee
2008-10-01
Marisela-
You NEVER want to just go straight to your 100%, or straight to a heavy weight. You always want to start with the bar and make jumps accordingly. So say your best clean & jerk is 110kg. You would want to do something like this: the bar, 45kg X 2, 65kg, 75kg, 85kg, 95kg, 100kg, 105kg, 110kg.
See? You are very likely to injure yourself and/or fail if you just put 110kg on the bar after you just got off the rower.
Take conservative jumps (2.5 - 5kg jumps) until you get a little more experienced, then you can start taking bigger and bigger jumps (10-15kg jumps)
Eric Brandom
2008-10-01
C&J: Failed at 265# so I'll have to settle for 255 today
Snatch: 180#
BS: 330

Nate: 17 rounds and 5 swings

Metcon: 4:42 - 30# DB's
Greg Everett
2008-10-01
Marissella - Check out this video and this video. You need to warm up for each exercise following your general warm-up.
Greg Everett
2008-10-01
Ken c - "Available in All Colors" - definitely worth investing in all the OMS CDs.
Greg Everett
2008-10-01
Richard - Throw it in on the day we do 100% CJ following that CJ. Oh wait that's today. I'd wait until the last Saturday in this 4-wk cycle then after your snatch and CJ. Do it before your squat if you want to test it.
Greg Everett
2008-10-01
Matt - RE fish oil, check out this thread in the forum.Couldn't tell you much on lecithin - no personal experience with it.Liver tabs are cool. I use them occasionally as recommended by Garrett Smith. I also use a B12 supplement. Try them out and see how you feel with them. If you don't notice a difference in a couple weeks or so, don't spend the money.
Jesse Woody
2008-10-01
C+J:230#
Sn.:165#
BS:280#

Everything felt awesome. Last three days have been perfect, lifts feeling great, no real undo soreness, I even added in some heavy snatch balances yesterday because I had the extra gas in the tank.
marisela
2008-10-01
thank you so much. i always do work up, but i thought maybe it was overkill and i was doing a lot more than i needed to. looks like i'm just being lazy. :)

thanx again.
Jonathan
2008-10-01
C&J: Up to 185# x1x1, but failed at 190#
Snatch: 130# x1x2
Squat: 265# x2x2
3 rounds for time of 20-15-10 30# DB snatches (each hand) and KPU: 7:43. The snatches turned into power snatches pretty quickly.
ryan
2008-10-01
C&J - 230lbs x 1
Sn - 145lbs x 1 x 2
Sq - 330lbs x 2 x 2

Met - 15:00

Today was really good. The C&J is coming along very well. I had a lot of confidence on all the lifts. The C&J is coming along very well. Shoulder pain is slight if any. Given the snatch was light, it felt very natural. Thanks to Greg and everybody else for answering all my stupid questions.
ken c
2008-10-01
44/6'1"/185

clean and jerk 230 (failed twice at 240 which is 100%)
snatch 160 (failed twice at 165 and had to drop down)
back squat 335

metcon
72lb barbell muscle snatch. (dumbells being used at the time)
chest to bar pull ups

6:07

rough lifting day. don't think i care for the reverse order. i know now that i prefer an orderly universe where snatch comes before clean and jerk.
Jody Woodland
2008-10-02
behind a day, Tuesday's wod

MSN - 115#
SN - 125#
CJ - 160#

Ab wheel (BB) - 3 x 15
Richard Thomas
2008-10-02
Clean and Jerk: 90kg (feeling good)
Snatch: 65kg
Back squat: 117.5 x 2 x 3 (Was running too short on time to do my 10 sets :(


ADR
2008-10-02
C+J: 185# - missed the jerk with 205#
Sn.: 135# x 1 x 1
BS: 245# x 2 x 2

no metcon for me today.

My left shoulder was far from 100% today. I had a hard time holding heavy weight overhead.
saulj
2008-10-02
C&J - 87kg x 1 (new PR, but I should have followed the workout and PR'ed Saturday, I get it now)
Sn - 65kg x 1 x 2
Back squat - 100kg x 2 x 2

MetCon using 25# DBs: 5:47

I am starting to prepare more seriously for the 45th Annual Golden West Open in Los Altos, CA on Nov. 9. If there is anyone near Redwood City, CA who wants to O-lift. Come by on Saturdays at about 10:30 AM to do the P-Menu WOD.
Jason Boag
2008-10-08
C&J: 225
SN: 155x1x2
BS: 275x2x2

No metcon
Get the App!
Catalyst Athletics programs are available through our exercise.com app. Unlimited access to all programs for only $10/month, or purchase programs individually for only $10 each!
Join the Group
Buy Programs
---
Tag Us!
Tag us on social media when you post videos and photos of your workouts!
#catalystathletics
Instagram: @catalystathletics
Twitter: @cathletics
Facebook: @catalystpm
---
Workouts Menu
Workouts Home
Read This First!
Workouts Help & Info
Exercise Library
Training Programs
Starter Program
Tomorrow's Workout
Text Only
Custom Program Design
Get the App
---
---