Monday October 6 2008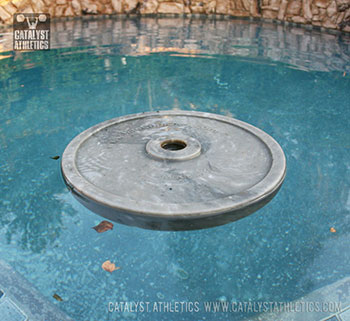 Please
login
to access our training programs.
Registration is FREE!
Questions? Get answers here or post in comments.
25 Comments
Please login to comment!
Geoff Aucoin
2008-10-06
Lovin' the Misfits!
ken c
2008-10-06
richard vanmeerbeek

you commented the other day about adding some heavy deadlifting to the workouts. forgot to tell you i did that last week on a monday and felt pretty unexplosive on the oly lifts on tuesday and wednesday. i would do them on a wednesday or saturday when we're going into a rest day.
Richard Vanmeerbeek
2008-10-06
Hey Ken, you're right yes. Greg advised me to go for it this Saturday since we'll be ending the Bulgarian cycle. I've had some explosiveness issues since I started doing 10 sets of squats, but it's worth it.
Richard Vanmeerbeek
2008-10-06
Sn : 67.5kg
C&j : 85kg
Front squat : 100kg x 3 x 10

metcon : 8'14"
tommi k
2008-10-06
Sn. - 73.5kg
C&J - 98.5kg
FS - 132.5kg x2, 137.5kg x2; felt easy,went heavy

Metcon - 8:55


saulj
2008-10-06
Sn: 57kg x 1 x 3
C&J: 70kg x 1 x 3
FS: 85kg x 2 x 2

3 rounds of:
500m rowing
15 burpees (doing the burpee challenge at my gym and I am a little behind)
30 sit-ups

14:27 (suffered like a dog)

Gregory L. Johnson
2008-10-06
HiTech plates are great. I am not sure about the functional utility of them floating on water though. I'll have to see if it can hold my beer the next time I'm soaking in the pool.
Alex Europa
2008-10-06
OHS: 205 (15-lbs PR!; BW=190)
SN: 115 x 1 x 3
C&J: 170 x 1 x 3
FS: 240 x 2 x 2

No MetCon for me today, still feeling a bit fried from soccer on Friday.

Totally stoked about the OHS PR! That's 30-lbs since I started doing the CA WOD 7 weeks ago! Considering the fact that my previous PR was barely below parallel and this one was rock bottom with a pause, I'd say that I've gained a significant amount of midline stability and dynamic flexibility. Thanks again Aimee and Greg!

Saul, nice to have you here! Your comment on the the CFR article was spot on, nice work.

Gregory, isn't it clear that using plates that can float is an obvious advantage to your lifting? :-D

Emily
2008-10-06
I'm checking out the workout for tomorrow, and I see "TGU sit-ups". This is Turkish get-ups, correct? Is there a particular weight prescribed, or should we do what feels right?
Greg Everett
2008-10-06
Emily - Correct. Feel out a weight that is challenging for the RXed reps/sets.
Greg Everett
2008-10-06
Gregory - It lets you know it's a witch.
Eric Brandom
2008-10-06
M/23/6'1"/180

Snatch - 160
C&J - 215
FS - 250
Metcon: 8:16
marisela
2008-10-06
i've been having some trouble with my shoulders. i have had difficulty with them before because i was a muy thai fighter and all the shrugging started giving me tension. now i feel that anything overhead exacerbates it.
i'm always unsure of how to deal with "injuries" like this because i don't feel like i'm injured because i don't feel pain while i am in the midst of the workout, only tension and discomfort in the days after. i also snap crackle pop a lot, all over the body, but especially in the neck, shoulders and arms.
i have been told different things by other fitness professionals, by some to take a couple weeks off from anything overhead and from others that i need to get stronger so my muscles can take the lifting. i'm utterly confused because i have rested for 2 weeks and i went back to it today and i have the discomfort again.
help?
Greg Everett
2008-10-06
Marisela - That's a tough one, but it does sound like it's a lack of strength/stamina, at least primarily. However, if you have some flexibility/mobility issues, it may be that you're straining against those, which is why you're getting tight. I'd suggest plenty of foam rolling on the upper back to make sure your t-spine is adequately mobile and tons of dislocates, etc. to loosen up your shoulders. That and plenty of ice after you train.
JD
2008-10-06
Snatch - 78kg x 1 x 3
Clean & jerk - 96kg x 1 x 3
Front squat - 126kg x 2 x 2
Jonathan
2008-10-06
Snatch: 115# x1x3
C&J: 155# x1x3
FS: 190# x2x2 (this was super easy tonight. Rock bottom and no forward lean. And I have bronchitis. What gives?).

3 rounds for time: 400m run and 30 situps: 9:58 (here is where the bronchitis really flared up!).
Matt Dyson
2008-10-06
Snatch - 105# x 1 x 3
Clean & jerk - 145# x 1 x 3
Front squat - 225# x 2 x 2
Metcon 10:34 misread the numbers and did 50 sit ups per round not 30.
Justin "Thor"
2008-10-06
Snatch - 135lbs x1x3
C&J - 155lbs x1x3
FS - 265lbs x1x3


Metcon: 9:40

Then watching the Sox own the Angels yet again...
Jesse Woody
2008-10-06
Snatch 145#x1x3
C&J 185#x1x3
FS 250#x2x2
Flat Bench 185#x5x3

Classes were doing rack jerks today, jumped in about 4 hours later and hit what I think is a PR @ 235# which felt a lot easier than jerks from the back have in the past.
mercedes dickerson
2008-10-07
I never tested this...I guess it you don't have to worry about rusting. Also, It could serve as a kick board in a water based WOD!!!
ADR
2008-10-07
Snatch: 115# x 1 x 3
C&J: 165# x 1 x 3
FS: 215# x 2 x 2

3 rounds for time:
500m row
30 GHD situps

11:35
Rick
2008-10-07
Sn: 95#x1x3
C&J: 148#x1x3
FS: 180#x2x2

Did this for metcon:

AMRAP in 20 mins
3 burpees
6 2 pood KB Swings
9 double unders

16 complete rds
it was a real gaser
Jody Woodland
2008-10-07
SN - 125#
CJ - 160#
FS - 225#

no time for metcon, do Tuesday
Richard Thomas
2008-10-08
Morning:
Snatch: 57.5kg
GHD sit ups and back ext

Afternoon
Clean and Jerk: 72.5kg
Front squat: (85%) 85kg x 2 x 10
(No racks so clean before each set of 2)
Chad James
2008-10-08
First time on the site.

Metcon: 9:09
Get the App!
Catalyst Athletics programs are available through our exercise.com app. Unlimited access to all programs for only $10/month, or purchase programs individually for only $10 each!
Join the Group
Buy Programs
---
Tag Us!
Tag us on social media when you post videos and photos of your workouts!
#catalystathletics
Instagram: @catalystathletics
Twitter: @cathletics
Facebook: @catalystpm
---
Workouts Menu
Workouts Home
Read This First!
Workouts Help & Info
Exercise Library
Training Programs
Starter Program
Tomorrow's Workout
Text Only
Custom Program Design
Get the App
---
---