Thursday October 9 2008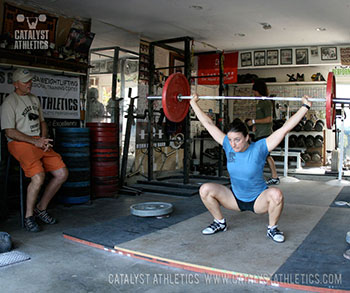 Please
login
to access our training programs.
Registration is FREE!
Questions? Get answers here or post in comments.
21 Comments
Please login to comment!
Jesse Woody
2008-10-08
Hit this up wednesday morning to be able to rest thursday and lift Friday night:
m-sn+2ohs: 115#x3 sets
Snatch: 125x1x4
c&j:160x1x4
Leo S.
2008-10-09
That's a good interview. Didn't know you used to be 77 kilos Greg!


Trevor Salmon
2008-10-09
just start to follow your site a bit with some scaling etc. as needed but wondered about the schedule. last week Thursday was a rest day I believe and I wondered whether you alternate between rest days on Thursdays or Fridays? I was eagerly anticipating a rest day as my shoulders are spent.
thanks anyone
Eric Brandom
2008-10-09
Trevor
Usually, rest days are Thursday and Sunday, but since this is the last week of the microcycle, we're resting Friday to gear up for Max Day on Saturday. Hope this helps
Pat McElhone
2008-10-09
Greg,

If I had only 2 days a week to do these WODs, which days would be the best? Thank you.
Greg Everett
2008-10-09
Pat - Mon/Wed/Sat during the strength cycles are the key days, and during the Bulgarian cycle, it doesn't correlate with the days of the week. What I would suggest is staying a week behind so you can see what's coming and plan accordingly. You may want to try to throw in some of the things from the off days as well, such as snatch balances, overhead squats, rack jerks, and any technique work. You'll really just need to play it by ear and do what you can.
Allen Y
2008-10-09
Great interview.


ADR
2008-10-09
I knocked this one out yesterday, and I'm using today as a rest day. I'm excited about going for Max-Max tomorrow!

Muscle snatch + 2 OHS - light-med x 3 sets - 105#
Snatch - 70% x 1 x 4 - 105#
Clean & jerk - 70% x 1 x 4 - 145#

Trevor Salmon
2008-10-09
thanks Eric.
Nice interview Greg. I'm pretty new to the lifts but have taken two olympic lifting certs (Coach B a few weeks ago and a Alberta Weightlifting Assoc. one back in March) My biggest weakness is a lack of confidence and aggressiveness getting under the bar. This past 2 weeks I have been training M/Tu/W/F/Sa and modifying my workouts from your site to include the things I need work on like snatch balance, OHS, tall snatch/cleans/jerks and I have also been trying to add some short metcons 1-2 per week too. What do you think? I hope to gradually follow your site but will wait until it's the beginning of a new cycle perhaps.
Oh, and I appreciated the quick response to my e-mail last week from Aimee
BIll S
2008-10-09
Just met Coach B. over the weekend and am going to incorporate his workout along with the CF main. He spoke highly of everyone who trains there and I am hoping to make it out there in the spring/early summer. Question, if i am going to follow the site's exercises should i take today's WOD and use it to find my max lifts? I mean constantly work up a 1 rep ladder until failure...in order to find my #'s. Any info would be greatly appreciated.
saulj
2008-10-09
Split the difference between the Wed. and Thurs. workouts
MS + 2 OHS: 3 x 30KG
Sn: 3 x 55kg
C&J: 3 x 70kg
Greg Everett
2008-10-09
Trevor - Sounds good. Keep making those weaknesses a priority and they won't be weaknesses eventually.
tommi k
2008-10-09
M.Sn.+2 OHS - 61kg,63.5kg,66kg
Sn. - 66kg
C&J - 86kg
Greg Everett
2008-10-09
Bill - If you don't have a good idea of what your max lifts are right now, then yes, it would be a good idea to test them before you jump into his program.
Richard Vanmeerbeek
2008-10-09
M sn + 2 OHS : 62.5kg
Sn : 62.5kg
C&j : 75kg

3 rounds not for time of
10 ab roll-outs
10 ghd sit-ups
10 db swings 36kg
Justin "Thor"
2008-10-09
Great interview... The P-Menu Cert in Boston was one of the best investments I made and will be going to the Coach B Cert in Feb in Melbourne (cant wait to get back home!!!). Anyways, Im excited about the plans in the works for more intense certs and training. Can't wait!!!
David
2008-10-09
Muscle snatch + 2 OHS: 65-65-65
Snatch: 80-80-80-80
Clean & jerk: 105-105-105-105

Back at the CA WOD for a spell. Woot!
JD
2008-10-09
Muscle snatch + 2 OHS - 50kg x 3 sets
Snatch - 70kg x 1 x 4
Clean & jerk - 85kg x 1 x 4
Eric Brandom
2008-10-09
M/23/6'1"/180

MS + 2 OHS - 135
Snatch - 140
C&J - 185

For fun: 20 box jumps chest height for time 1:14
Jody Woodland
2008-10-10
MSN+2OHS - 115#
SN - 115#
CJ - 140#
Rick
2008-10-10
MSN+ 2OHS: 105#
Sn: 75#x1x4
C&J: 130#x1x4
Get the App!
Catalyst Athletics programs are available through our exercise.com app. Unlimited access to all programs for only $10/month, or purchase programs individually for only $10 each!
Join the Group
Buy Programs
---
Tag Us!
Tag us on social media when you post videos and photos of your workouts!
#catalystathletics
Instagram: @catalystathletics
Twitter: @cathletics
Facebook: @catalystpm
---
Workouts Menu
Workouts Home
Read This First!
Workouts Help & Info
Exercise Library
Training Programs
Starter Program
Tomorrow's Workout
Text Only
Custom Program Design
Get the App
---
---