Tuesday October 14 2008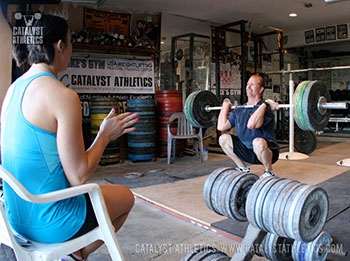 Please
login
to access our training programs.
Registration is FREE!
Questions? Get answers here or post in comments.
25 Comments
Please login to comment!
Aimee
2008-10-13
That is my client Don!
That was a PR clean & jerk for him at 95kg!
He has since cleaned 100, barely missing the jerk... and only a week later!
Alex Europa
2008-10-14
Muscle snatch - 145 (20-lbs PR!), 155 (with a very slight knee bend)
3-position snatch (floor, knee, mid-thigh) - 100 x 3 sets
3-position clean & jerk (floor, knee, mid-thigh) - 135 x 3 sets


No MetCon for me tonight - soccer instead.
tommi k
2008-10-14
M.Sn. - 71kg
3-pos.Sn. - 61kg
3-pos.C&J - 78.5kg

3rounds of:
stair sprint(52 stairs)
10burpees
jog back down

3mins.

Richard Vanmeerbeek
2008-10-14
M Sn - 70kg PR
3 pos sn - 60kg
3 pos c&j - 70kg

3 rounds for time
100m sprint (33m back & forth)
10 burpees

==> 2'20"
Gregory L. Johnson
2008-10-14
Greg/Aimee, for the next three weeks I will only be able to workout on the weekends. What is the best approach for me to take for maintenance until I can jump back into the WOD? Should I just do the M & T WOD?
Greg Everett
2008-10-14
Gregory - I'd snatch and clean & jerk to heavy singles; then front squat to a heavy single, switch to back squat for a heavy single (i.e. let's say you FS up to 100kg x 1. take your normal rest, then back squat 100 x 1, then keep going up from there until you hit your heavy single BS).
BK
2008-10-14
Greg,

I would like to get on board your program tomorrow and give it a good run through this cycle.I have been crossfitting solid for 9 months and I am looking for a new challenge ,plus I would like to get bloody explosive.
Question, rest periods, is it do ya best and see how you feel or a desired break.
Great meeting you on the weekend ,I learnt plenty off ya .
(I am the Aussie Rugby League guy from the cert)
cheers mate
Ben

Tony Springman
2008-10-14
Nice to read something by Matt Foreman, good article. I always read Matt's posts from the early Oly forums and never knew he started in pling. After oling for several years, did he not go back to powerlifting? I thought I saw some results from a few meets(pacific northwest) that he had entered or maybe it was a different M Foreman. Interesting to read about that transformation also.
Greg Everett
2008-10-14
Ben - For the rest periods, just take what you feel you need - 2-4 min or so. Good to meet you too - have fun with the training.
saulj
2008-10-14
Missed Monday workout so combined:
Muscle snatch - 55kg
3-position sn - 47kg x 3 (harder than they looked on paper)
3-position c&j - 57kg x 3
Back squat - 95kg x 3 x 5 (went better than I thought)
Snatch deadlift - 80kg x 3 x 3
Push press - 70kg x 3 x 1 (brain fart) then 70kg x 2 x 5

Will probably do Wednesdays workout on Thursday. This should put me in a good place for Saturday and Sunday. Looking forward to the seminar.

Eric Brandom
2008-10-14
M/23/6'1"/180

MS - 160#
3 pos snatch 135
3 pos c&j 165

Metcon: 1:59
those sprints killed
David Stout
2008-10-14
Muscle snatch - 105#
3-position snatch (floor, knee, mid-thigh) - 80#
3-position clean & jerk (floor, knee, mid-thigh) - 100#

Notes: No metcon today. I will add the metcons in 1-2 weeks once I acclimate to the lifting.
ken c
2008-10-14
44/6'1"/185

muscle snatch 175
snatch 125
clean and jerk 165

pouring down rain so couldn't get to the track to do the metcon. did the crossfit wod instead.

11:10
TT
2008-10-14
i'm a day off, did yesterdays workout today

bs 60kx3x6 (on swords squat program)
sn dl 57k 3x3
pp 42kx5x2
sit-up 10k 3x10
reverse chops 15lbs 3x8 each side
pull-ups tomorrow
stretch

haven't been on your workouts for a while. good to be back!
ADR
2008-10-14
M/26/5'10"/170

MS - 115#
3 pos snatch 95#
3 pos c&j 135#

Metcon: 3:00

I'm working on keeping my weight on my heels!
Anna
2008-10-14
CA!? Sweet!

I'll just have to run it by Army...

muscle snatch 100#
snatch 85#
clean and jerk 100#
Jonathan
2008-10-14
MS: 140#
3 Pos Snatch (floor, knee, midthigh): 95# x3sets
3 Pos Clean (floor, knee, midthigh): 120# x3sets
MetCon 3:47

I bought a crossfit hd bar and used it for the first time today. Let me just tell ya, AMAZING difference, for the good. I have been using 32 mm powerbars with no flex and no spin. The lifts were smoother and my thumb actually stayed put in my hook grip. It was actually hard to keep the bar from rolling out of my hands in the clean position, but this is a nice problem to have. I can only imagine what a really good weightlifting bar would be like?
Jesse Woody
2008-10-14
3pos. Snatch: 125#x3 sets
one muscle snatch at 125# (forgot about it at the beginning :p)
3pos. Clean: 165#x3 sets

Worked about 15-20 reps of 95# snatches with Anil throughout the evening working on knees-out form. Sore as hell from yesterday too.
Justin "Thor"
2008-10-14
At Lost Battalion to begin training there for a while... $100 for a year has to be the best bargain in NYC. Anyways, who knew I could work so hard doing light snatches and cleans from the high hang and working on pulling from the floor properly? Big props to Greg and Aimee because coach Dreschler said Leslie and I didnt look too bad and thats directly related to the seminar, dvd, and book. So thanks again.
SD_Mikey
2008-10-14
Nice job Don!
Tim
2008-10-14
hey got the link for this site from the crossfit board, like the Oly lifting and circuits that is what im looking for. So here is my first attempt at the WOD here

MS: 50, 55,60,65,70(miss)
3 pos sn: 50,55,60
3 pos cj: 60,65,70

I didnt have a place to do sprints so I did 500m rowing sprints
500m:2:06 500m:2:05 500m:2:10
5 burpees 5 burpees 5 burpees

I could of done more burpees but I was taking it easy since im not used to circuits, live and learn I guess.
Aimee
2008-10-15
Thor!
That is fabulous!
Good job. Glad to see your training is going so well. Tell Leslie I said hello!
Everyone is training over at LBH! How fun. maybe I should move to the east coast!

Jody Woodland
2008-10-15
Did Mon and Tues today.
MSN - 135#
3P SN - 105#
3P CJ - 135#
BS - 300#
SN DL - 185#
PP - 165#

ran out of time for abs and metcon (was pretty tired anyway!)
Richard Thomas
2008-10-18
3 Pos Snatch: 50kg
3 Pos Clean: 65kg
Jason Boag
2008-10-21
MS: 140 PR
3 pos SN: 115
3 pos C&J: 145

Metcon 2:37
Get the App!
Catalyst Athletics programs are available through our exercise.com app. Unlimited access to all programs for only $10/month, or purchase programs individually for only $10 each!
Join the Group
Buy Programs
---
Tag Us!
Tag us on social media when you post videos and photos of your workouts!
#catalystathletics
Instagram: @catalystathletics
Twitter: @cathletics
Facebook: @catalystpm
---
Workouts Menu
Workouts Home
Read This First!
Workouts Help & Info
Exercise Library
Training Programs
Starter Program
Tomorrow's Workout
Text Only
Custom Program Design
Get the App
---
---