Friday October 17 2008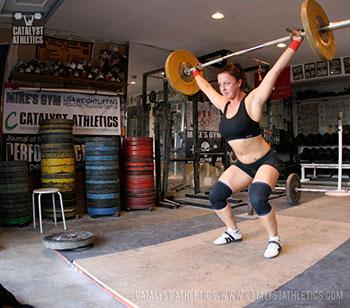 Please
login
to access our training programs.
Registration is FREE!
Questions? Get answers here or post in comments.
20 Comments
Please login to comment!
ryan
2008-10-16
Can anybody elaborate on the Snatch Balance and the Tall Snatch?

Are these moves all pretty much throwing your body under the bar? Do you generate any momentum on the bar with legs? I guess a pretty detailed description of how you guys do these would be really helpful.

Thanks
Jesse Woody
2008-10-16
You can see the snatch balance and a tall clean here:

http://performancemenu.com/exercises/index.php?show=section&sectionID=2

The tall snatch is the same idea, start in high-hang position, shrug and drop as quickly as possible into a full overhead squat. You will use a relatively light weight in comparison to your snatch.
Matt Wichlinski
2008-10-16
are there benefits to doing 3 position snatches and cleans in reverse order, or is there a specific reason for working from the bottom up?

do you find any benefit from performing lifts from both sides of the bar during a workout, as to get used to ever changing external stimuli, or do you always face the same direction and stare at the same point in space?

whats the best way to achieve a more vertical spine with someone who is almost horizontal at the bottom of her squat? trying to get her hips over her ankles seems impossible.
adolfo riveron
2008-10-16
so thats five sets of two on the tall snatch? usually the sets is the first number but it is unclear with sets being after the five.
Greg Everett
2008-10-16
Matt - Conventional order is from bottom to top. The idea is to get you tired while reducing the pulling distance to force better position, extension and speed. Doing them top to bottom is useful for technique work because athletes by and large are better from above the knee--this allows them to perform the lift from a comfortable position and then gradually add more pull.Being flexible in terms of directions, focal points etc is good, but I don't see a big need to force it unnecessarily, at least not to any great degree.RE squat, more ankle flexibility work along with hip flexibility work. She needs to be sitting in a squat for as much time every day as possible - leaning on those knees with the foot flat to stretch the ankles, and really sitting the ass on the heels (or aiming to) to loosen up.
Greg Everett
2008-10-16
Adolfo - Check out the "Info" link at the top of the WOD - that will explain the notation. It's 5 sets of 2 reps.
adolfo riveron
2008-10-16
ok got it thanks. i was used to the numbers being the other way around. this is my first week trying these wods, guess ive been doing them wrong
Matt Wichlinski
2008-10-16
looking on the forum i couldn't find a definitive answer, and I'm sure it varies, but how much fish oil should a fairly strong (475# squatter) 200# male be taking who does these daily wods iyo?
Greg Everett
2008-10-16
Matt - Start at 1g/day for a week or two and make sure you tolerate it well, and then gradually increase to up to as much as 5g/day or so if you still tolerate it digestively - if you feel no difference at that higher dose, drop it down to 2-3g/day.
Richard Thomas
2008-10-17
Been a bit of slack week. Today (Friday) did the following:
Rack Jerks up to heavy single of 100kg.
(Most weight I've ever had overhead, yet still feel there is more there!)

Back squats (82%) 107.5kg x 3 x 10 sets

Doing the 3-pos Snatch/cleans tomorrow. Will be back as per daily WOD next week I hope!
Richard Vanmeerbeek
2008-10-17
Sn bal : up to 100kg (10kg PR)
Tall sn : 52.5kgx2 - 57.5kgx2x2 - 60kgx2
Chin-ups (chest-to-bar): 14 - 11 - 10

For time:
200 m row
40 sit-ups (anchored)
400 m row
30 sit-ups
600 m row
20 sit-ups

6'48"
tommi k
2008-10-17
(pwr.cln.+push press)+Sn.Bal. - 86kg
Tall Sn. - 56kgx2x2,61kgx2x2,51kgx2x1

Metcon 7:53 (unanchored sit ups)
Emily
2008-10-17
Hey Greg, this is the first CA strength cycle I've ever done--I haven't done this high volume of strength work ever. I am finding myself falling asleep mid-afternoon for two-hour naps, and have to fight to drag myself out of bed after sleeping for ten hours! I'm getting plenty of protein (I'm pretty sure I am, anyway), and taking 3g of omega-3s a day. This is just my body getting adjusted to the volume, right?
Anna
2008-10-17
Getting sick and in denial.

Power nap for time on gym couch, 2:45:00

Hopefully I'll feel better tomorrow...
David Stout
2008-10-17
Jeebus help me. First workout in two days after catching a stomach bug that is running around...

Snatch Balance: 105#
Tall Snatch: 55#
Chin-ups: 8, 6, 6

No metcon.
Jonathan
2008-10-17
Snatch Balance: Up to 85#...my shoulders and wrists are painfully sore from Wednesday and my CNS seems fried. I'm getting old!!!
Tall Snatch: 90#...see above
Chinups: BW + 45# : 4,3,3
Metcon: 8:12

I plan on an "off" weekend. Time to play some football with the boys, eat ribs and push the Crimson Tide on to victory!
Eric Brandom
2008-10-17
M/23/6'1"/180

SnBal - 245#
Tall Sn - 145#
Chinups +45# - 13, 14, 11

Metcon: 6:46

Having weightlifting shoes makes a world of difference
Jody Woodland
2008-10-18
SN BAL - 135#
T SN - 95#
Holy awkward lack of technique, Batman.
Chins - 4/4/5
Overhead DB carries - 3 x 20m @ 50# each

Metcon - 9:50
ADR
2008-10-18
Snatch balance: 135#
Tall snatch: 115#
Chin-ups: 11, 11, 10, 10

For time:
200 m row
40 sit-ups (GHD)
400 m row
30 sit-ups
600 m row
20 sit-ups

9:43
Greg Everett
2008-10-23
Emily - Sorry for the late response - been traveling. I'd recommend cutting down the volume a bit until you're feeling better and then gradually increasing it again as tolerated. Start by doing 2-3 sets of squats instead of 5 and 1 set of pulls/DLs instead of 3.
Get the App!
Catalyst Athletics programs are available through our exercise.com app. Unlimited access to all programs for only $10/month, or purchase programs individually for only $10 each!
Join the Group
Buy Programs
---
Tag Us!
Tag us on social media when you post videos and photos of your workouts!
#catalystathletics
Instagram: @catalystathletics
Twitter: @cathletics
Facebook: @catalystpm
---
Workouts Menu
Workouts Home
Read This First!
Workouts Help & Info
Exercise Library
Training Programs
Starter Program
Tomorrow's Workout
Text Only
Custom Program Design
Get the App
---
---