Monday October 20 2008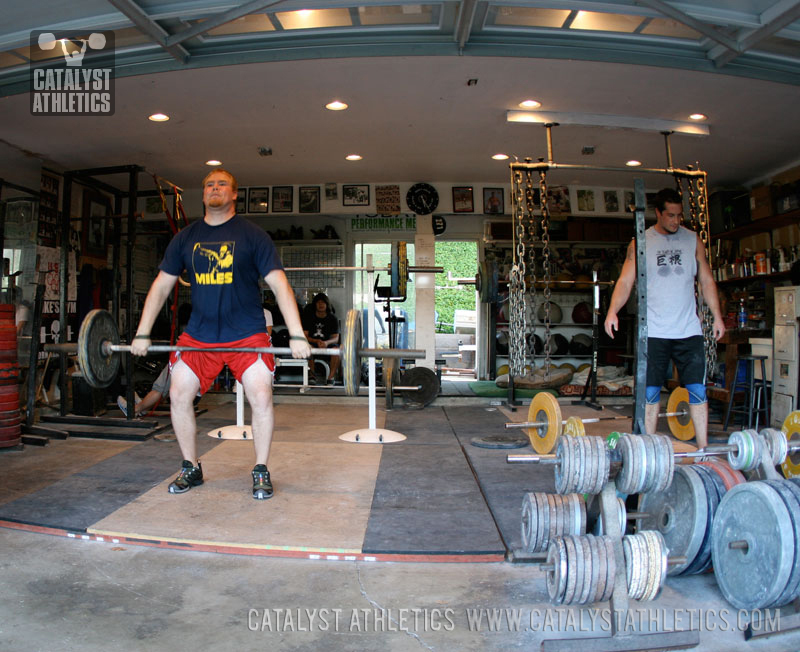 Back squat - 85% x 3 x 5
Clean deadlift - 115% (of clean) x 3 x 3
Push press - 83% x 4 x 5
Pull-up - 3 x max
3 sets of:
A. Overhead sit-up x 10
B. Knees to elbows x 15
Week 2S2
Questions? Get answers here or post in comments.
14 Comments
ken c
2008-10-19
44/6'1"/185

great interview. couldn't have explained crossfit any better myself.

just a little testimonial here. pr'd a crossfit total today at 1010 with a back squat pr of 405 (20lb. increase). 180 press ties best in a cft and 425 deadlift is off by 10lbs. but only because i got greedy and went for 445 first instead of 435. should have been a 1020.

only reason to mention this is that i haven't trained those exact lifts (except back squat obviously) or done a crossfit total since about march. been doing pm workouts every other week since the crossfit games. just wanted to point out how well this stuff works. oly training if definitely the way to go. thanks again greg.

i'll probably start adding some heavy deadlifts in there somewhere.
W.S.
2008-10-19
Overhead sit-ups? I looked in the exercise demos and couldn't find it.
Also, the clean deadlift would be at a substantially lower weight than my DL for 3 reps. Should I do that weight instead?
Richard Thomas
2008-10-20
Back Squat: 110kg x 3 x 10 sets
Clean DL: 110kg x 3 x 3
Push Press: 77.5kg x 4 x 5

(Ran out of time to do pull ups and ab work - will do tomorrow)


tommi k
2008-10-20
BS - 147.5kg
Cln.DL - 142.5kg
PP - 95kgx4x4
Pull ups 13,10,10

-3 sets of-
10 OH sit up,24kg
10 KTE
Greg Everett
2008-10-20
WS - Do a sit-up with dumbbells in vertical extended arms. RE deadlift, no - if you have that much disparity between a clean deadlift and your normal deadlift, you need to work the clean dead position and pull.
Jesse Woody
2008-10-20
BS: 270x3x5
Cln. DL: 315#x3x3 (115% was 290#, but was able to handle 315# in good clean position)
PP: 185#x4x5

Pull-Ups and other various stuff later.
Richard Vanmeerbeek
2008-10-20
BS - 115kgx3x10
Cl Dl (feet elevated) - 122.5kgx3x3
PP - 77.5kgx4x5

2 sets
PU (dh and c2b) - 14/11
OH sit-ups x 15 w/ 12kg db's
Hanging leg raises x 10
Rick
2008-10-20
BS: 255#x3x5
Cl Dl: 240#x3x3
PP: 165#x4x5

OH situp 10x3 w/25#
K2E 15x3
Eric Brandom
2008-10-20
M/23/6'1"/180

BS 323
Cl DL 315
PP 215
PU 14, 11, 15 - dead hang

OH Situps 2pood kb's
KTE's 10# ankle weights
Jonathan
2008-10-20
BS: 245# x3x5
Clean DL: 300# x3x3
Push Press: 135# x4x5
Pullups: 10, 7, 6
OHSU: 30# dbs x8x3
KTE: BW
Tim Scalise
2008-10-20
BS: 110X3, 110X3, 110X3, 110X3, 110X3
CDL: 110X3, 110X3, 110X3
push press 77.5X4, 77.5X4, 77.5X4, 77.5X4, 77.5X4
pull-ups: weight assistance machine 10 reps with 12 plates, 6 reps with 11 plates, 5 reps with 11 plates
overhead sit ups: I used a 15 kg plate, 10,12,12
Jody Woodland
2008-10-21
BS - 295#
CL DL - 245#
PP - 155#
PU - 11, 10, 8 @ -70#

ran out of time for abs, will do tomorrow
Jerry
2008-10-21
* Back squat - 85% x 3 x 4 - 205#
* Clean deadlift - 115% (of clean) x 3 x 3 - 215#
* Pull-up - 3 x max - 11(bw)/6 (35#)/5(20#)

3 rds of

15 ab wheels
10# overhead sit-up
ADR
2008-10-21
M/26/5'10"/170

Back Squat: 235#
Clean Deadlift: 275#
Push Press: 145#
Pull Ups 14, 13, 11

Overhead Situps 25# dumbbells
KTE's BW
Workouts Menu
Workouts Home
Workouts Help
Exercise Library
Training Programs
Starter Program
Tomorrow's Workout
Text Only
Custom Program Design
---
---
Advertise With Us