Friday October 24 2008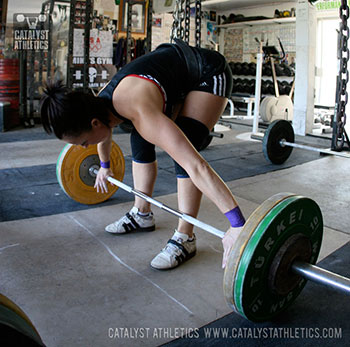 Please
login
to access our training programs.
Registration is FREE!
Questions? Get answers here or post in comments.
21 Comments
Please login to comment!
Richard Vanmeerbeek
2008-10-23
Couldn't train this Friday so I did it on Thursday.

OHS - up to 102.5kg
T Cl complex - 80kg
Chin-ups - 18/13/some kipping

metcon w/ 26kg db : 2'26"
Danny
2008-10-24
Hey Richard, are you related to that guy from "Dawson's Creek"?
Kent
2008-10-24
Hey Danny you know how i know your gay???........Cause you watch Dawsons Creek....HaHa Just kidding
Richard Vanmeerbeek
2008-10-24
Hilarious. Just googled it, his name is Van Der Beek, pretty similar indeed.
tommi k
2008-10-24
OHS - 95kg "easy"PR,
2 Tall Cln.+PP+J - 80-90kg(+2.5kg/set)
Chin ups - 14,11,10

Metcon: 2pood/mid-thigh 2:35

Rick
2008-10-24
OHS: 145#
2 Tall Clns+PJ+J: 135#
no chins, forgot.

did metcon with crossfit class:
5 rounds
run 400m
5 275# deadlifts
10 burpees
saulj
2008-10-24
I too went to the weightlifting seminar in Chico. It was great to see so many athletes lifting. I agree with Robb in that we are super lucky to have access to such great coaches so close to home. Thanks to Greg and Amy's coaching, I have a much better idea of what is going on when my lifts go wrong, but more importantly, what it feels like when I am lifting correctly. I went the seminar to watch and get great coaching, I was not disappointed. Greg and Amy both have unique experiences and approaches that make the weightlifting seminars much more valuable than one with a single presenter. Even if a coach didn't lift a single bar/pvc dowel at this seminar, it would be worth it to just watch them work. If you aren't learning, you aren't coaching. Thanks Greg and Amy for an awesome seminar!

Jesse Woody
2008-10-24
OHS- 225#
TCln. x 2 + PP + Jrk x 5 sets: 175#


Matt Wichlinski
2008-10-24
275
225
17 14 11

55#kb 40" box
3:44
Eric Brandom
2008-10-24
M/23/6'1"/180

OHS 245# - not feeling it
TC+PP+J 185
Chins 18, 12, 17

Metcon:
2 pood KB
36" box

1:54
Jonathan
2008-10-24
OHS: Up to 115#
2 Tall Clean + PP + J: 115# x5
CU: 10,8,7
Metcon: 60# DB, 3:50

Jesse, Matt, Richard and Eric (and anyone else putting up huge #'s in the OHS):

How do you do that? I am struggling with my puny weights. Even though i can snatch more than what i OHS (still puny #'s), i can't seem to get the weight up, locked out and stable while i squat. Any helpful pointers, other than a whole lot more practice?

Thanks!
Jesse Woody
2008-10-24
A whole lot more practice is a good part of it...I've trained overhead squats for about 4 or 5 years now in various forms, so that definitely helps. I also have always had above-average flexibility, especially in my shoulers (i.e. they've both subluxed a lot and my left one is reconstructed from dislocation)so once I actually started working strength (as opposed to yoga...I know, it's a shame :-/ I actually improved rather quickly (on my semi-decent ohs...I'm expecting MUCH bigger numbers as time goes on now that I'm focusing on it more).

That being said, you have to make sure you get a big deep breath and push it tight into your stomach to keep your torso tight, this is probably one of the biggest reasons I see overhead squats fail in the gym other than lack of flexibility. Also, keeping the bar pressed overhead as tightly as possible, pressing your shoulders up towards your ears while retracting your shoulder blades, and holding it there with MAX tension throughout the entire movement is really important. You have to remember that it's about full-body tension, so any lapse in that aspect will lead to squat failure VERY quickly.

It might help you to video some of your squats to give yourself a visual of where you're failing first. Either way, just keep at it (and maybe guy Greg's book and read through to make sure you're tip-top on technique) and eventually you'll start to pick it up! Good luck!


Matt Wichlinski
2008-10-24
Jonathan

Jesse put it down on you right. I used to bench constantly, had tight shoulders and a few subluxations from football and about two years ago or so i started ohs. It was atrocious at best, and i couldn't even get into position with the stick. You keep practicing and working those shoulder dislocates and the flexibility will come. Continue to add weight and your body will tell you to get tighter , raise your shoulders more, elevate and be aggressive... It may be an arduous process, but once you feel those shoulders pushing up hard, you'll start getting there quick. Remember, you need good flexibility in the ankles, hips, back and shoulders for this to work. I don't have an open rack either so everything i OHS is cleaned from the floor and put into position with a jerk. Greg's book is well worth the investment!
Phil Stablein
2008-10-24
175 OHS (in a gym where I can't risk a drop :-/ )
125 2xtc+pp+pj
22-15-20

metcon
65lb db, around 6 minutes, not bad considering I just moved to 7000ft...
Richard Thomas
2008-10-25
(I hate messing with supplied programs but did so here.)

Clean + 3 Front Squats
alt 80/82.5kg x 3 x 10 sets


Evening: moderate OHS up to 70kg

Eva T.
2008-10-25
I try to make this point to all of our trainers, and practice what I preach!
Great job on the cert Greg and Aimee!
ADR
2008-10-25
M/26/5'10"/170

OHS - 165#
2 Tall Cln.+PP+J - 135#
Chin ups - 15,12,11

Metcon: 55# DB/hip height box 2:42
Jonathan
2008-10-25
Jesse and Matt,

Thanks for the advice! It will be heeded and put into practice. I'm grateful for your insight!

Do you do shoulder disclocates with a bar, broom stick, or rope? Also, do you start with a wide grip and work in towards a narrower grip as you get loose?

I really like the advice about the really deep breathe and shrugging my shoulders towards my ears and retracting the blades. It made an immediate impact!

Is it okay to practice OHS daily? Not necessarily with high loads, but just "greasing the groove"?

Thanks again guys!
Jesse Woody
2008-10-25
I would definitely practice the ohs daily, it's always a part of my warm-up in some way. I do my dislocates with a pvc pipe, a rubber band, or a piece of rope, and I vary it from workout to workout. I really like the bands for allowing you to really hit the tightest position with a little give in the middle.
Richard Vanmeerbeek
2008-10-26
Jonathan, make them a part of your warm-up. Rubber band for the dislocates is my favourite too.

I use my snatch grip for the OHS. Keep everything tight !
Maulina
2012-02-20
I slept wrong and my neck hurts. I did today's WOD with Front Squats (from the rack, as I was aiafrd to try and clean it too). Still took me 15 minutes or something. Paul Piracci set the bar high for the rest of the day. Nice work, Paul!
Get the App!
Catalyst Athletics programs are available through our exercise.com app. Unlimited access to all programs for only $10/month, or purchase programs individually for only $10 each!
Join the Group
Buy Programs
---
Tag Us!
Tag us on social media when you post videos and photos of your workouts!
#catalystathletics
Instagram: @catalystathletics
Twitter: @cathletics
Facebook: @catalystpm
---
Workouts Menu
Workouts Home
Read This First!
Workouts Help & Info
Exercise Library
Training Programs
Starter Program
Tomorrow's Workout
Text Only
Custom Program Design
Get the App
---
---