Monday October 27 2008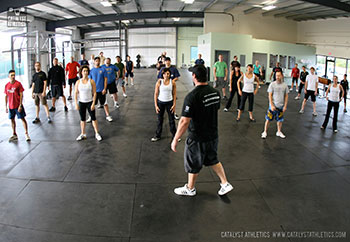 Please
login
to access our training programs.
Registration is FREE!
Questions? Get answers here or post in comments.
23 Comments
Please login to comment!
BK
2008-10-26
Greg,
To what position is the Turkish sit up? 1 arm laying down to sitting upright,then return to ground?
Greg Everett
2008-10-26
BK - Lying to sitting upright and posted on the free hand, return to lying.
Ryan McKenzie
2008-10-27
New here. If a weight isn't suggested, are we to just choose one we are comfortable with, (e.g. the TGU-sit ups, and KB sidebends)? Or is there a rule of thumb?
BK
2008-10-27
Squat 335
Snatch Dead 188
Push Press 145
Greg Everett
2008-10-27
Ryan - Yes - Choose a weight that is challenging for the RXed reps/sets.
tommi k
2008-10-27
BS - 152.5kg
Sn.DL. - 120kg
PP - 100kg x3x4 +shoulder press 90kg x1,both PRs

3sets of:
10 TGU sit up,24kg
20 side bends,32kg

Jesse Woody
2008-10-27
BS: 275# x 2 x 5
Sn. DL: 230, 250, 270#
PP: 195 x 3 x 5

Abs later.
Richard Vanmeerbeek
2008-10-27
BS - 100kg x 3 x 10 on the minute
Sn Dl - 102.5kg
Pp - 80kg

TGU sit-ups - 28kg/24kg/24kg
Side bends - 32kg
luca z.
2008-10-27
Hey Greg, I talked to Donny Shankle this morning he says hello and he wants to know when you're going to visit the gym he's training in San Ramon for a little lifting competition. Check him out at www.californiastrength.com take care
Greg Everett
2008-10-27
Ha - Donny can kick my ass lifting barefoot and 1-handed. But tell him I definitely would like to make it out there to train sometime soon. I may be up in the area around Thanksgiving, so I may have to make an east bay trip.
luca z.
2008-10-27
Will do, let me know when you're up here maybe we can hook up.
Ed
2008-10-27
Greg, I attended your seminar at CF NorCal. It was great! You know your shit buddy. Take it ez!
Eric Brandom
2008-10-27
M/23/6'1"/180

BS - 335
SNDL - 250
PP - 205
Abs with 2 pood KB
Matt Schellinger
2008-10-27
BS - 225 x 3 x 5 - right hip chronic pain, getting better though
SN DL - 205 x 3 x 3 - Pulled to full extension weight to heavy for early arm bend so felt like it helped me work on form.
PP - 135 lb x 3 x 5

TGU - 25, 35, 45 lb plate
Side Bends - 45 lb plate
Jody Woodland
2008-10-27
BS - 325#
SNDL - 195#
PP - 185#
TGUSU - 50#/35#/35# (50 was awkward)
DB SB - 75#/100#/100#
Matt Wichlinski
2008-10-27
I saw a video of Donny Shankle do Grace in jeans and boots after a competition. He essential did Romanian dead lifts + reverse curls + presses and crushed a 1:40 or something like that. He almost passed out afterward, but pretty impressive how he man handled that weight with virtually no technique. I know how good a lifter he is, but thought a measly 135 would be a breeze... eye opener.

BSx2x5
405, 410, 415, 420, 425
SDLx2x3
305 May have been a little slow
PPx3x5
245

65# side bends

Matt Schellinger
2008-10-27
I think I have realized I am dumb, I did x sets of 5 instead of 5 sets of 3, which would have let me use more weight and would have made more sense. Yay me.
Ian
2008-10-27
BS 140kg
SnDL 100kg
PP 85kg

That was fun

I weighed myself today. 205 with a spare tire to boot. I'm gonna do 30 days of paleo intermittent fasting, eating from 12-6 on weekdays. I've been overdoing it with the beer, bread and ice cream, and feeling like crap, too. Last time I did it I lost 20lbs, got cut, and felt great so we'll see how it goes this time.
ken c
2008-10-27
44/6'1"/185

back squat 335
snatch deadlift 235
push press 185

Matt

i've seen that grace video of donny. as i understand it he did that AFTER a weight lifting competition. pretty impressive stuff.
ken c
2008-10-27
Matt.

oops. just saw that you knew that video was after a competition. never mind.
ADR
2008-10-28
Back squat - 245# x 2 x 5
Snatch deadlift - 225# x 2 x 3
Push press - 145% x 3 x 5
3 sets of:
A. TGU sit-up x 10 - 20kg
B. KB sidebend x 20 - 75#
Jonathan
2008-10-28
BS: 247# x2x5
Snatch DL: 250# x3x3
PP: 160# x3x5
ABs: 2 sets of:
TGU SU 35# x10
DB Side Bend 80# x20


Rick
2008-10-29
BS:260#x2x5
Sn Dl:185#x3x3
PP:165#x3x5(had to power clean each rep)

Abs: 3 sets of

TGU SU 20kg KB x10 each side
DB side bend 24kb KB x20 each side
Get the App!
Catalyst Athletics programs are available through our exercise.com app. Unlimited access to all programs for only $10/month, or purchase programs individually for only $10 each!
Join the Group
Buy Programs
---
Tag Us!
Tag us on social media when you post videos and photos of your workouts!
#catalystathletics
Instagram: @catalystathletics
Twitter: @cathletics
Facebook: @catalystpm
---
Workouts Menu
Workouts Home
Read This First!
Workouts Help & Info
Exercise Library
Training Programs
Starter Program
Tomorrow's Workout
Text Only
Custom Program Design
Get the App
---
---