Wednesday October 29 2008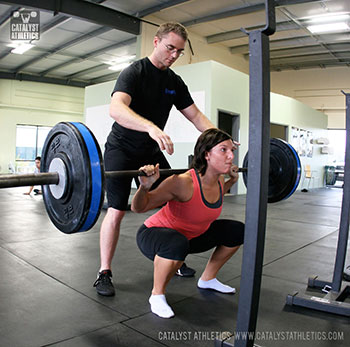 Please
login
to access our training programs.
Registration is FREE!
Questions? Get answers here or post in comments.
22 Comments
Please login to comment!
Cooper
2008-10-29
Is that a low bar squat?
tommi k
2008-10-29
Sn.Bal. - 90kg, easy PR
FS - 120kg
Sn.Pull - 95kg

Metcon 3:22,32kg KB
Jesse Woody
2008-10-29
Sn. Balance: 93kg, 9kg PR
FS: 103kg x 2 x 4
1 Halting DL x 3 Sn. Pull: 93kg
Rutman
2008-10-29
Look at the focus on the spotters face. That's hot.
aimee
2008-10-29
Cooper-
Is that a joke?
Robb Wolf
2008-10-29
RUT-
Gotta keep your eye on the Italian chicks...
Cooper
2008-10-29
no... i wasn't being a dick. for all the good info i find here i didn't expect to get a response like that either.

now i'm probably wrong but it looks like the knees are not too far forward (it actually *almost* looks like vertical shins), torso leaning pretty far forward, bar below/behind acromion...

Maybe instead of giving a condescending answer someone else could point out why it is so obviously not a low bar squat.
Richard Vanmeerbeek
2008-10-29
Sn bal - 92.5kg
FS - 97.5kg x 3 x 10
Sn pull - 90kg

Death by ring dips - 13 rounds + 8
aimee
2008-10-29
Cooper-

I'm sorry, I wasn't trying to be condescending at all. I am sorry if I offended you. I trully apologize. When I asked if it was a joke, I said so because there has been a lot of low bar - high bar back squat talking recently, so I actually thought you were making a low bar squat joke. I took it out of context and I am sorry.
To really answer your question, that is katie, and that is how she squats, she doesn't get into the same position as one does when doing a high bar back squat, so that is why it looks a little low. And, she isn't wearing shoes ;)
Again, sorry to make you angry. Please forgive. No harm intended.
cooper
2008-10-29
wow, having re-read i am a little bitchy today and should not have gotten that worked up.

thank you for explaining, i was asking because of all the low vs. high stuff in the interwebz lately.
Robb Wolf
2008-10-29
Personally I'd call that the "skinny-pasty-strength-coach" back squat.
Jesse Woody
2008-10-29
I agree with Robb...how have your lifts been going up while playing all that World of Warcraft anyway? ;)

At least living in the Mid-Atlantic I have an excuse for not having a tan this time of year! :p
ADR
2008-10-29
Sn. Balance: 155#
FS: 205# x 2 x 4
1 Halting DL x 3 Sn. Pull: 185#
Thea Taylor
2008-10-29
Greg or Aimee,

Do you sell your werksan equipment in the sets or only individual. Thanks for info.
Ian
2008-10-29
SnBal 70kg...sucked, but that's good because it's an area that I really need to work on. Thanks. I've been avoiding these.
FS 105
SnPull 90

Skipped the metcon to give myself added rest. This first week has been high volume and I'm pretty sore today. I can't wait for Saturday's workout.

33/m/6'0/202/IF/paleo
Eric Brandom
2008-10-29
M/23/6'1"/180

SnBa - 225, dropped 245 on head... that'll happen
FS - 235
SnPu - 225

Metcon: 1:58
2pood KB
Greg Everett
2008-10-29
Thea - Shoot me an email and we can hook you up with a set - we just don't list them in the store.
Kevin
2008-10-29
Got a newbie question-what in the world is a broad jump? I looked in the excercises page but did not see an explanation?

Thanks,

KP
Greg Everett
2008-10-29
Kevin - Standing long jump.
ken c
2008-10-29
snatch balance 185
front squat 245
snatch pull 225

that snatch balance has me all messed up. need to practice that some more.
Jonathan
2008-10-30
Snatch Balance: Up to 115#, but it was ugly. Backed down and practiced!
FS: 185# x2x4
Snatch Pull: 190# x3x3
Metcon: 3 rds for time: 10 Broad Jumps, 10 60# DB swings, 10 Pushups. 4:13
My first 5 jumps were great..and long. Then I turned into a 4 year old and it was sad. Slowed down and things got better. Swings and Pushups were easy, but those jumps were humbling! Very sore in the glute/hamstring area.
Richard Thomas
2008-10-31
Front squat only (Limited for time)
Front squat: 87.5kg x 3 x8


Get the App!
Catalyst Athletics programs are available through our exercise.com app. Unlimited access to all programs for only $10/month, or purchase programs individually for only $10 each!
Join the Group
Buy Programs
---
Tag Us!
Tag us on social media when you post videos and photos of your workouts!
#catalystathletics
Instagram: @catalystathletics
Twitter: @cathletics
Facebook: @catalystpm
---
Workouts Menu
Workouts Home
Read This First!
Workouts Help & Info
Exercise Library
Training Programs
Starter Program
Tomorrow's Workout
Text Only
Custom Program Design
Get the App
---
---