Monday November 3 2008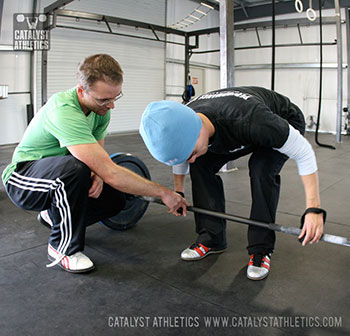 Please
login
to access our training programs.
Registration is FREE!
Questions? Get answers here or post in comments.
17 Comments
Please login to comment!
Eric Brandom
2008-11-02
The last week of the strength microcycle is BAMF
Richard Thomas
2008-11-03
Back squat 100kg x 2 x 10 (Feeling weak today. this is approx 76%)
Snatch Pull: 77.5kg
Press: 60kg
Weighted GHD 12lb Dynamax
Alex Europa
2008-11-03
First day back to full training. I'm resetting back to Week 1S2. I won't be posting here so as not to jumble up the comments, but rest assured I'll be hitting it hard!
Richard Vanmeerbeek
2008-11-03
* Back squat - 117.5kg x 3 x 8 (knee pain, stopped 2 sets short)
* Snatch pull - 92.5kg x 1 x 2
* Press - 57.5kg x 4 x 4

Done between press sets :

* Pull-ups - 16/14/11 (very sore from Angie yesterday)
* Weighted GHD sit-ups - 3 x 10 10/15/15kg

Off to ice the knee !

tommi k
2008-11-03
BS - 157.5kgx2x1
Press - 75kg
Pull-ups - 15 PR,12,10
GHD 3x10 - 10,15,20kg
JCL
2008-11-03
1st day with PM from crossfit

bs
275 x 2
275 x 2

Snatch Pull
165 x 2

Press
155 x 4
160 x 4
165 x 4
170 x 4

ghd
0 x 10
8 x 10
10 x 10

pull-ups
4
3
3
Paul K
2008-11-03
BS: 315
Snatch Pull: 165
Press: 135-145-155-165
pull-ups: 11-7-6
GHD: BW-10-15lbs
ADR
2008-11-03
Back Squat - 250.5#
Snatch Pull - 185#
Press - 105#
Pull-ups - 13,13,13
GHD Sit-Ups - 50#,55#,60#
Eric Brandom
2008-11-03
M/23/6'1"/180

BS 325#
SnPu 230#
Press 145
Pullups 15, 13, 16
GHD Situps +45#

Jonathan
2008-11-03
BS: 265# x2x2
Snatch Pull: 210# x1x2
Strict Press: 125# x4x4
Max Pullups (Dead hang, Chest to bar): BW + 100# x1; BW + 45# x4; BW x10
Weighted GHDSU: 10# x10x3 (weights behind head)
Calf Press 495# x12x3
Ian
2008-11-03
BS: 142.5 kg - I've been doing low bar. Trying to go back to high bar but it feels weird...I like low bar better.
SnPull: 92.5kg - getting better at the transition from 1st to 2nd pull, but still needs a lot of refinement
Press: 65kg
PU: 26/18/15
GHD: 10 lbs

Awesome programming.
Today was a lot of volume. I'm gonna be sore.

33/m/6'/200
Nathan Holiday
2008-11-03
Hey Guys,

I've never posted here. I'm a CrossFit Instructor from Team Crossfit Acadmy in Monrovia, CA. I have a mild weightlifting background and recently decided (after a lot of crossfit) that I needed to get my strength in order; so here I am.

M/24/6'0/180
BS 285 x2x2
SnPU 225 x1x2
Press 115 4x4
Only did one set of pullups: 35 kipping.
3x10 GHD situps without weight.

How do most people fair, in terms of metcon, when following the cathletic wods?

N
Jay Huhn
2008-11-04
After Reading Greg's book and training with the crew at Mike's Gym on Saturday, its time to step it up

M/37/ 6'0/ 215

bs 145 kg
SP 95 kg
press 60 kg
PU 12, 11, u
ghd 10 lbs
Robb Wolf
2008-11-04
BS-145kg
SP-95kg
press-70kg-felt super heavy. Have worked push press almost exclusively for the past few months and weight off the rack is tough. Time to add in some accessory work.
PU- 4x3@30kg

Crispy critter!
Jody Woodland
2008-11-04
BS - 325#
SNP - 185# (not heavy, focusing on speed)
PR - 155# (A PR for this range of worksets, in spite of not doing much strict pressing. I'm guessing all the push presses are helping with the sticking point in strict presses.)

PU - 4/4/4 @ -25# (not impressive, I know, but improving. Soon I'll get more than 1 or 2 bodyweight fat boy pullups.)
GHD SU - 25#
Rick
2008-11-05
BS-270#
Snp-165#
Press-155#
no ghd so various abs
Mike C.
2008-11-06
BS: 115 kg
Snatch Pull: 85 kg
Press: 52.5 kg
pull-ups: 45-30-30 (45 PR)
GHD: 4 kg med ball
Get the App!
Catalyst Athletics programs are available through our exercise.com app. Unlimited access to all programs for only $10/month, or purchase programs individually for only $10 each!
Join the Group
Buy Programs
---
Tag Us!
Tag us on social media when you post videos and photos of your workouts!
#catalystathletics
Instagram: @catalystathletics
Twitter: @cathletics
Facebook: @catalystpm
---
Workouts Menu
Workouts Home
Read This First!
Workouts Help & Info
Exercise Library
Training Programs
Starter Program
Tomorrow's Workout
Text Only
Custom Program Design
Get the App
---
---