Wednesday November 12 2008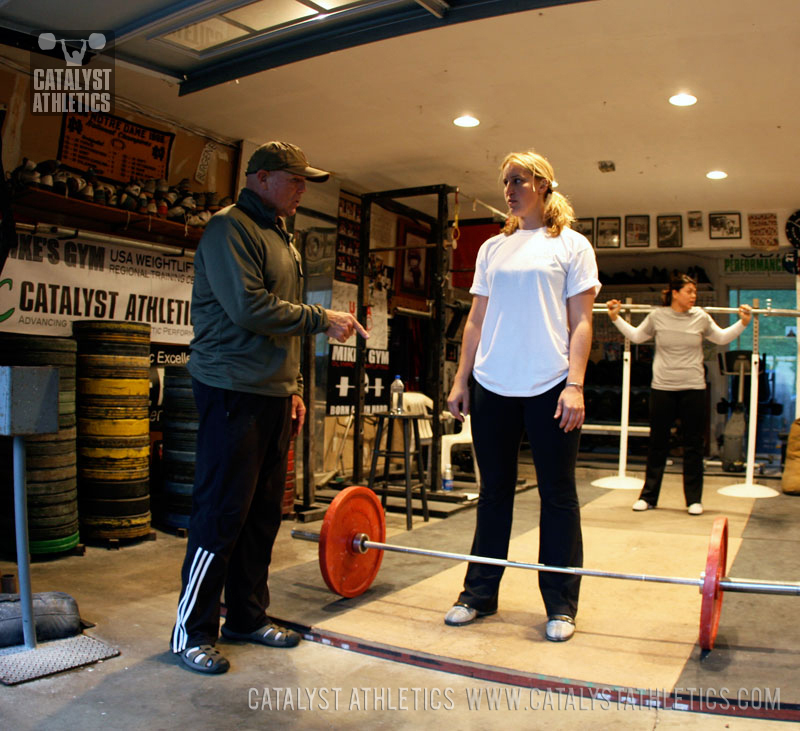 Snatch - 85% x 1 x 3
Clean & jerk - 85% x 1 x 3
Front squat - 85% x 2 x 3
Hanging leg raises - 3 x 15
10 Comments
Richard Vanmeerbeek
2008-11-12
* Snatch - 72.5kg x 1 x 3 * Clean & jerk - 92.5kg x 1 x 3 * Front squat - knee irritated while warming up, cut it short * Hanging leg raises - 3 x 15 * 6 round of Tabata rowing - 790m
tommi k
2008-11-12
Sn. - 81kg C&J - 106kg FS - 127.5kg HLR - 3x12 -still feeling unusually slow and tired
Eric Brandom
2008-11-12
m/23/6'1"/180 Snatch - 185 C&J - really difficult today - 235 FS - 250 HLR - +10#
Janine
2008-11-12
yeh! that's me! Thanks again for letting me hang out with you guys last week.
Jonathan
2008-11-12
Snatch: 125# x1x3 C&J: 165# x1x3 FS: 185# x2x3
ken c
2008-11-12
44/6'1"/185 did yesterday's wod with ohs instead of muscle snatch. my weakness is overhead not the pull. overhead squat 225 pr snatch 135 155 power clean and jerk 205 deadlift 365x3 385x3 405x3 just wanted to do some deadlift.
Jesse Woody
2008-11-12
Snatch 165# x 1 x 3 Clean & Jerk 220# x 1 x 3 Front Squat 240 x 2 x 3 3x15 hanging leg raises, second set broken, other two straight.
WhiskeySean
2008-11-13
Snatch: 145# C&J 230# Front Squat: 265# Broken Leg Lifts after the first set. Patella tendon still a bit sore, but steadily improving. It encourages proper form. If I ain't 100% by tomorrow, I'll rest it another day.
ADR
2008-11-13
Snatch: 140.5# x 1 x 3 Clean & Jerk: 185# x 1 x 3 Front Squat: 205 x 2 x 3 3x15 hanging leg raises
Minh
2008-11-29
Sn:170x1x3 C&J: 218x1x3 FrSq: 215x2x3
Workouts Menu
Workouts Home
Workouts Help
Exercise Library
Training Programs
Starter Program
Tomorrow's Workout
Text Only
Custom Program Design
---
---
Advertise With Us