Monday December 1 2008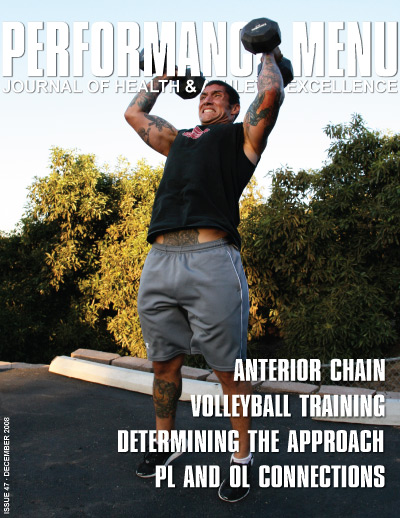 Snatch - 80% x 1 x 4
Clean & jerk - 80% x 1 x 4
Front squat - 90% x 1 x 2
Pull-ups - 2 x max
Hanging leg raise - 3 x 10
KB cross-chops - 2 x 20
Week 4B2
Questions? Get answers here or post in comments.
11 Comments
Red
2008-12-01
What are Kb cross-chops please?
Kris
2008-12-01
New PM is here! Christmas came early!!!
Aimee
2008-12-01
Red- go here
tommi k
2008-12-01
Sn. - 78.5kg
C&J - 98.5kg
FS - 135kg
Pull-ups - 14,12
HLR - 3x10
Cross chops - 2x20x24kg
XX
2008-12-01
Back up on the Olift wods for the past two weeks. I'm Olifting and starting to sprint short distances x2 week for now, looking to move to 3x after a few weeks.

A week behind in this cycle so I'm doing last Mondays workout. Gonna split workouts throughout the day

3 sets x 4 reps x 15 M sprints (3 minute rest for reps/ 5 minute btw sets)
4 starts (1 minute rest each)

Snatch 100%, same story, won't get under once weight reaches 115 lbs. Powered 125, 135 was almost a muscle snatch, 145 failed 3 times. Last one I was looking up at the bar over my head, infront, as it dropped back down.

did 115 S Balance x 3 with a 5 second isometric press out at the bottom on each.

rest of the workout later
Richard Vanmeerbeek
2008-12-01
Sn - 67.5kg
C&j - 85kg
FS - 105kg
Pull-ups - +20kg vest x 10 (PR) / no vest x 18
HLR - 2 x 10
DB cross chops - 24kg x 20

Ran out of time.
Eric Brandom
2008-12-01
M/23/6'1"/180

Sn - 185
C&J - 230
FS - 265
PU - 13, 16
HLR - +10#'s each leg
KB Cross Chops - 2pood

Row 500m - 1:24.6
ADR
2008-12-01
Snatch - 140# x 1 x 4
Clean & jerk - 180# x 1 x 4
Front squat - 225# x 1 x 2
Pull-ups - 25# vest: 8, 5


Jonathan
2008-12-01
Snatch: 116# x1x4
C&J: 156# x1x4
FS: 205# x1x2
Pullups: 10, 8
HLR: 3x10
Cross Chops: 35# x20, 45# x20
Bottom position close grip bench press: up to 205# x2
Calf Press: 585# x10x3
Dan Meyer
2008-12-01
Really excited to see you guys moving to Sunnyvale, so I'm starting up the WOD to get ready for January.

M/22/6'3"/220

Sn - 95 (quite ugly - feet were way too far apart on landing)
C&J- 135
FS - 225
Pullups - 5x3 butterfly (just realized these should've been strict)
HLR- 3x10
ken c
2008-12-02
snatch 155
clean and jerk 195
front squat 275
pull ups 15 12
hlr 3x10
cross chops 1.5 pood
Workouts Menu
Workouts Home
Workouts Help
Exercise Library
Training Programs
Starter Program
Tomorrow's Workout
Text Only
Custom Program Design
---
---
Advertise With Us