Tuesday December 2 2008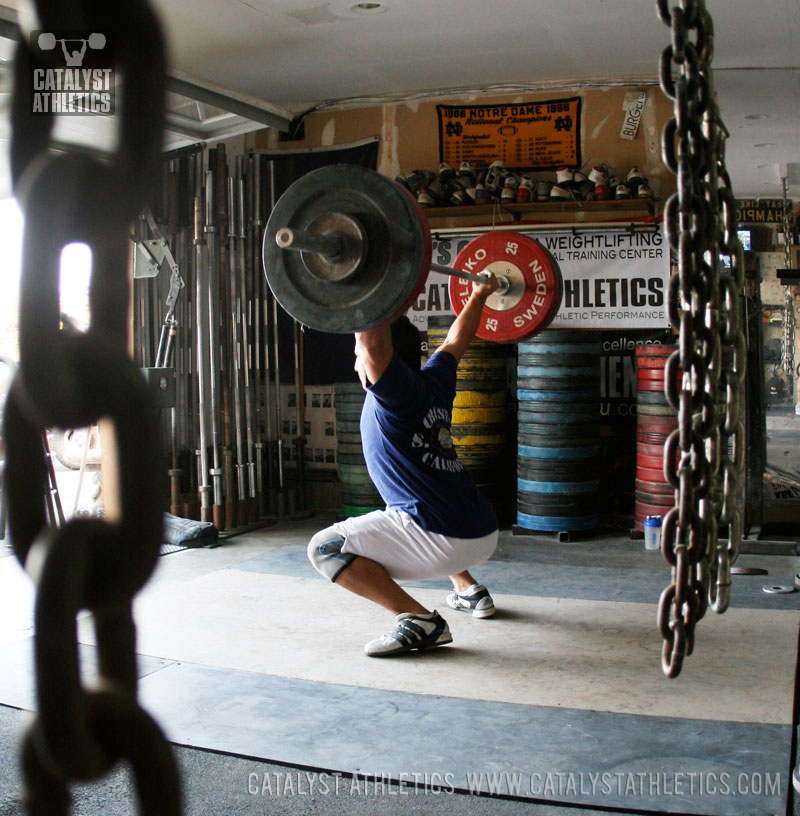 Muscle snatch - med-heavy double
Snatch - 85% x 1 x 3
Clean & jerk - 85% x 1 x 3
3 rounds for time:
400 m row
45 sec rest
Questions? Get answers here or post in comments.
8 Comments
Bill Ennis
2008-12-02
This is my first time doing the CA WOD-should be fun . I've been doing Crossfit WODs for ~ 1.5 years but want to focus more on Oly lifting .
Thanks for the great site , information and very helpful videos
Bill
JP
2008-12-02
Nice pic! Although I had no idea that my heels were off the deck. Thanks for all your's and Aimee's help.


Jonathan
2008-12-02
MS: 125# x2
Snatch: 125# x1x3
C&J: 165# x1x3
Trap Bar DL: up to 300# x5
1 Arm Barbell Curl: 45# x5; 55# x3
3 rds for time: 400m run with 45 sec rest: 6:50
tommi k
2008-12-02
M.Sn. - 63.5kg
Sn. - 83.5kg
C&J - 106kg

Vicious 5km bike ride x2 served as metcon today.
Richard Vanmeerbeek
2008-12-02
M Sn - 62.5kg
Sn - 72.5kg
C&j - 90kg

rows as rx'd, split times : 1'10.5"/1'14.7"/1'15.5"
Eric Brandom
2008-12-02
M.23.6'1"/180

MS - 155
Sn - 195
C&J - 245

Row
1:06
1:11
1:09
ADR
2008-12-02
Muscle snatch - 115#
Snatch - 150# x 1 x 3
Clean & jerk - 190# x 1 x 3

400m row times:
1:16
1:19
1:23
Dan Meyer
2008-12-02
M Sn 95
Sn 95
C&J 135
Workouts Menu
Workouts Home
Workouts Help
Exercise Library
Training Programs
Starter Program
Tomorrow's Workout
Text Only
Custom Program Design
---
---
Advertise With Us