Wednesday December 3 2008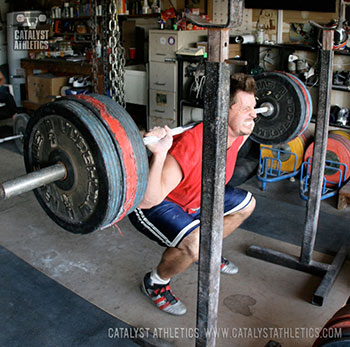 Snatch - 80% x 1 x 3
Clean & jerk - 80% x 1 x 3
Ab work of choice
Questions? Get answers here or post in comments.
9 Comments
Danny
2008-12-02
The prodigal Chain? Any relation to the prodigal son in the bible? Sounds like you've been reading Pete Egoscue's books.
Larry Lindenman
2008-12-03
Greg, you have really become a great writer! Funny, smart, pointed. Pretty rare in this little fitness world of ours; usually it's articles that read like studies or articles screaming "look how f-ing smart I am!" You, and your crew (including Robb) consistently put out an excellent product. Thanks to all.
EricB in IL
2008-12-03
Question for Greg or anyone else. Has anyone successfully integrated CA with CF Endurance? I have been CFing for almost 2 years, but after attending an Oly lifting workshop with Coach Burgener in October I am eager to put some serious work into my Oly lifts. I compete in about 6-8 endurance events a year, which includes 3 or 4 sprint triathlons, so I don't want to give up my endurance work. I switched to CFE this year after doing LSD for the previous 5 years, and I love it! Just wanted to hear if there were any "success stories" out there.
Greg Everett
2008-12-03
EricB -No one that I know of. But what I would suggest is dropping the metCons from the WOD completely and dropping in your endurance training. I would ease into it and gradually ramp up to the full volume on both counts and pay close attention to how you're recovering. I think if your nutrition and sleep are in order, you should be able to get by, but you won't get the same results out of the lifting in the long term with the accompanying endurance work (you should, however, get some good gains initially simply because you're so new to it.).
David Ogilbee
2008-12-03
In somewhat of a similar fashion, I started out with CF and CFE but came to fall in love with Oly-lifting. Now most of my workout regimen is focused on that aspect, peppered with a few metCons here and there when something good comes up. I don't train for anything in particular, have yet to participate in a CF games, though I wish there were more organizations focused on Olympic lifting around where I live. I feel lonely :(

And with regards to PT and weightlifting: pretty stable with the latter, working on the former :)
tommi k
2008-12-03
Sn. - 78.5kg
C&J - 98.5kg

3sets of:
15 KTE
10 Kb swings,32kg
5 Side bends,32kg
ADR
2008-12-03
Snatch - 140# x 1 x 3
Clean & jerk - 180# x 1 x 3
KTE 3x 15
Jay
2008-12-03
Greg,
Thanks for the props. Your right, not enough P.T's who know what the hell weightlifting is. The Gold Standard would be to have a platform, bumper plates,bar, shoes and chalk in every Clinic.....



ken c
2008-12-04
snatch 165
clean and jerk 205
ghd sit ups 30 20 10

did some deadlifts up to 415.
---
Workouts Menu
Workouts Home
Read This First!
Workouts Help & Info
Exercise Library
Training Programs
Starter Program
Tomorrow's Workout
Text Only
Custom Program Design
---
---