Monday December 22 2008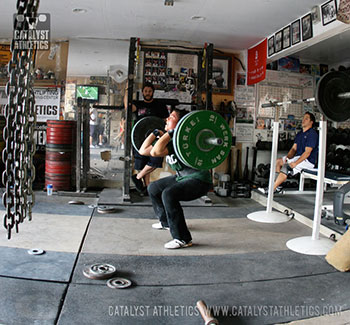 Please
login
to access our training programs.
Registration is FREE!
Questions? Get answers here or post in comments.
20 Comments
Please login to comment!
Kevin Parsons
2008-12-21
Are the percentags for the push press from a press max or a push press max?

Thanks

Kevin
Cullen Foresman
2008-12-21
Greg, do you and Aimee still assist Mike Burgener at the crossfit olympic lifting certs? I've been wanting to go to one of yours, but just discovered there is a crossfit one scheduled here in tucson in february and promptly registered. This will be my first real personal instruction in the lifts and despite doing them for a while I still consider myself a beginner. Do you suggest I make any changes in my training between now and then, or have any other advice to help me get the most out of the seminar?

Thanks,
Cullen
Greg Everett
2008-12-22
Kevin - Push press - always of the associated lift unless noted otherwise.
Greg Everett
2008-12-22
Cullen - We don't. The best thing you can do between now and the seminar is work on your flexibility - particularly dial in your overhead and front squat. Don't worry about much else - you're going so you can have Coach Burgener instruct you - the blanker the slate, the better. But having the flexibility necessary to hit the positions will allow you to really go through the learning progressions and get squared away.
Cullen Foresman
2008-12-22
Thank you for the advice, sorry I won't be seeing you guys there.

Cullen
Richard Vanmeerbeek
2008-12-22
BS - 115kg
SP - 62.5kg x 3 x 4
Row - 100kg, 77.5kg
ghd - 5kg behind head
ADR
2008-12-22
Back squat - 245# x 3 x 5
Clean deadlift - 275# x 3 x 3
Push press - 155# x 5 x 5
Bent row - 195#; 155# x 8 x 3
Weighted GHD sit-ups - 3 x 6 - 50#, 50#, 75#

Minh Tran/M/25/5'9/170/WY
2008-12-22
Well today was my first day transitioning to a high bar, olympic style squat. I had to take a big slash in my ego and about 20 lbs off the bar in order to perform the reps today. I can see how it works more of the thighs and keeps you in that upright stance but it is still a difficult change from my powerlifting low bar stance. With a little work the numbers should come...

BS: 280x2+1 (first set high bar, feeling a little to close to max.) 260x3x4
Cl DL: 305x3x3
Push Press: 185x5x5 (last set missed the last rep, tri's smoked)
Bent Row: 135x8x1, 185x8x2 (out of time)
saulj
2008-12-22
All weights in KG except as noted:
Back squat - 102 x 3 x 5
Clean deadlift - 100 x 3 x 3
Push press - 67.5 x 5 x 5
Bent row - 60 lb DBs; 45 lb DB x 8 x 3
Weighted GHD sit-ups - 3 x 6 could only do 10 lb DB behind the neck cuz my abs are still torn up from Sat.

It was mentally hard to get under heavy weight today. I tried every excuse, even getting actual work done, but eventually, finished.
Veronica Davis
2008-12-22
F/29/125

Back Squat: 165 lbs
Clean DL: 135 lbs
Push Press: 75 lbs
Bent Over Row: 135 lbs; 105 lbs
Weighted Situps: 25 lbs... abs still sore from Sat.
Nick B
2008-12-22
Back Squat: 295 lbs
Clean Deadlift: 295 lbs
Push Press: 165 lbs
Bent Row: 200 lbs; 155 lbs
Weighted Decline Sit-Ups: 35 lbs
Jordan
2008-12-22
BS: 105kg x3 x5
Clean DL: 100kg x3 x3
PP: 50kg x5 x5
Bent Row: 70kg, 52.5kg x8 x3
Weighted GHD: 12kg x3 x6 with KB held @ chest



Rossi
2008-12-22
Back Squat: 315lbs X3X5
Clean DL: 275lbs X3X3
PP: 135 X5X5 went light
Bent row: 205lbs; 165lbs x8x3
Jesse Woody
2008-12-22
BS: 295# x 3 x 5
CDL: 315# x 3 x 3
PP: 195# x 5 x 5
Row: 195# max, 155 x 8 x 3
Sit-Ups + 45# x 6 x 3
Stephan - CF Broward
2008-12-22
Back Squat: 345lb x 3 x 5 (missed last rep on last set)
Clean DL: 315lb x 3 x 3
Push Press: Did not complete due to shoulder issues. 195lbx5x1
Bent Row: 245lb, 185x8x3
GHD with 20lb med ball
Steve O
2008-12-22
35M/5'6''/168#

First day of program:

BS: 225# x 3 x 5
CDL: 225# x 3 x 3
PP: 135# x 5 x 5
Row: 155# x 8 x 3
Sit-Ups: 55# x 10 x 3
Jason Y.
2008-12-22
BS: 191# x3x5
CDL: 210# x3x3
PP: 136# x5x5
BR: 135, 105 x8x3
WGHD: 10# x6x3
Eric Brandom
2008-12-23
BS - 325
CDL - 325
PP - 195
BR - 275, 225
WGHD - +45#
tom a
2008-12-23
BS 295x3x5
CDL 260x3x3
PP 170x5x5
BR 205, 155x8x3
WGHD 12kg, 16kg, 16kg x6 each (KB @ full arm extension, alternating)
Leo
2008-12-23
BS- 119kg x3x5
CDL- 97.2kg x3x3
PP- 66.4kg x5x5
BOR- 71kg x8x3

Did a crazy OCCF wod earlier, was feeling a little tired. But the work got done, that was a good one.Did not have access to a GHD so did weight, overhead flutter kicks.
Get the App!
Catalyst Athletics programs are available through our exercise.com app. Unlimited access to all programs for only $10/month, or purchase programs individually for only $10 each!
Join the Group
Buy Programs
---
Tag Us!
Tag us on social media when you post videos and photos of your workouts!
#catalystathletics
Instagram: @catalystathletics
Twitter: @cathletics
Facebook: @catalystpm
---
Workouts Menu
Workouts Home
Read This First!
Workouts Help & Info
Exercise Library
Training Programs
Starter Program
Tomorrow's Workout
Text Only
Custom Program Design
Get the App
---
---