Wednesday December 24 2008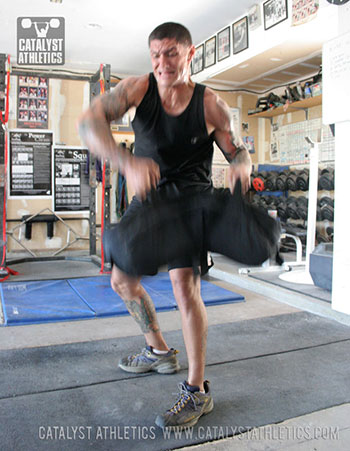 Please
login
to access our training programs.
Registration is FREE!
Questions? Get answers here or post in comments.
18 Comments
Please login to comment!
Emily
2008-12-23
Hey, if one is overweight should one be scaling down the percentages?

I'm 183 but should be about 30# less (working on it). Right now, I've been basing my percentages off of 180-185 and gamely trying to get the weight as close to them as possible without slowing the metcon to a crawl. Is this a pretty good way to do it?
Greg Everett
2008-12-23
Emily - Yes, scale it down - there should be no crawling during the metCons - only following. They should be pretty brief (ideally less than 10 min) - so try to scale either weight and/or reps initially to get in there.
Jonathan
2008-12-24
3 days worth of workouts in 12 hours...

Front Squat: 175x3; 190x1; 180x3; 185x1; 182.5x3
Snatch Pulls: 185 x3x3
Rack Jerk: not there this AM...175; 155x2
Calf Press: 500x15x3
1 Arm BBL curl: 45x8x1
3 rds for time: 46# Half moons x10 and clap push ups x10 (no claps last rd): 3:28.

Merry Christmas everyone!
Trevor
2008-12-24
slighty off topic but if someone performs split snatch and they wanted to do the snatch balance exercise would they do it as is or drive under into the split position?
I am a relatively new 47y/o lifter and finding that I can get under the load quicker with the split snatch.
Thanks and Merry Christmas
Johnny Davis
2008-12-24
Greg.

Out of Curiosity, where do the percentage #'s come from and why do they go all over the place sometimes. Also, I don't have enough small weights for the subtle changes, any suggestions? If there is an article or something you recommend to go with your answer please let me know that as well.

On my second week now of CA WOD and knees feel a little stressed and fatigued from everything. I'm assuming they will come back around. I felt really strong at the end of the first week but struggling a little so far this week. Could be nutrition or basketball on Sunday, not sure. What is typical of newbies?

Johnny
Ashley
2008-12-24
Okay so like seriously, headbands rock. I have this new cool Adidas one courtesy of UCLA women's volleyball...haha. I get all pumped now!
Minh Tran
2008-12-24
Greg,

Does Josh (Everett) do similar training cycles and workouts that you post here?
Minh Tran
2008-12-24
Greg,

Let me restate my question, do you know if the other white Everett does similar training cycles with the olympic liftes and short metcons you have here? I've never talk to the guy and was just wondering since you two are olympic lifting crossfit guys if you knew. Thanks
Greg Everett
2008-12-24
Trevor - Yes - start the same way and just drive yourself down into the split position.
Greg Everett
2008-12-24
Johnny - The %s come from what is necessary to produce the effect we're after in combination with the reps/sets. That comes from finding over time what kind of weights are possible to handle at given rep/set numbers and times in a cycle. No real solid rules.
Greg Everett
2008-12-24
Minh - Josh does heavy strength/oly lifts, sprints and short CF-style metCons. He has done these workouts a bit in the past, but not long term - he does his own thing, and I don't know how long he plans into the future. I guess you could say he trains similarly to this WOD, but definitely lower volume. He wrote an article about his preparation for the CF Games in the PM, but it's disappointing to most people (not the article, the fact that he didn't have some amazing training program).
Minh/M/25/5\'9/170/WY
2008-12-24
FrSq: 200x3, 215x1, 205x3, 210x1, 210x3
Sn Pull: 215x3x3
Rack Jerk: 270x1, 245x1, 230x1x2

Metcon: As Rx'd with 24kg KB (was suppose to use 19.5kg but didn't have that weight).

2:20
Jordan
2008-12-24
FS: 82.5x 3, 90x 1, 85x 3, 90x 1, 87.5x 3
Snatch pull: 72.5 (103% of snatch)x 3 x 3
Rack jerk - 80 (heavy single); 72.5 (90%) x 1, 65 (85%) x 1 x 2

Changed the metcon- 2 reasons, 1- no sandbag, 2- I ran out of time and did the metcon I did with my crossfit class

6 rounds, resting 30 seconds between each round:

5 tire flips #325
5 burpees
5 wall ball #20
5 box jump 30"

1- 0:58
2: 1:04
3: 1:05
4: 0:59
5: 1:00
6: 0:58
Veronica
2008-12-24
F/29/125 lbs


(weights in lbs)
FS: 115x3, 125x1, 120x3, 125x1, 125x3
Snatch Pull: 75 x 3 x 3
Rack Jerk: Heavy Single 105 lbs (PR), 95x1, 90x1x2

Metcon:
Subbed 20 lbs ball for sandbag. All clapping push-ups were strict.
Time - 5:01
Jon C
2008-12-24
Greg,

How much would I negatively affect my results if I am forced to do Friday's CA WOD Thursday, and Saturday's ME workout on Friday this week? I guess a better question might be is it better to take the one rest day tomorrow and the other Sunday, or take both back to back on Sat and Sun, or does it matter? I'm guessing it depends on how my body works. Just thought I would ask for your input. Thanks.
Greg Everett
2008-12-24
Jon - Should be fine. You'll be a bit more tired on Friday, but you won't be snatching/CJing super heavy anyway.
donna d
2008-12-25
f/44/145

FS 100x3, 95x1, 100x3, 95x1, 100x3
Snatch Pull: 110# 3x3 (my snatch is weak, so i added #'s)
Rack Jerk: HS 100# 90x1 85x1 x 2

Metcon: subbed 12kg KB for sandbag, push ups, no clapping was involved. 2:24.

just getting back to PM workouts. working to get more confident in my heavy lifts.
Nick B
2008-12-26
Front Squat: 225x3, 245x1, 230x3, 240x1, 240x3
Snatch Pull: 180
Rack Jerk: 185; 165, 155
Metcon: 2:46
Get the App!
Catalyst Athletics programs are available through our exercise.com app. Unlimited access to all programs for only $10/month, or purchase programs individually for only $10 each!
Join the Group
Buy Programs
---
Tag Us!
Tag us on social media when you post videos and photos of your workouts!
#catalystathletics
Instagram: @catalystathletics
Twitter: @cathletics
Facebook: @catalystpm
---
Workouts Menu
Workouts Home
Read This First!
Workouts Help & Info
Exercise Library
Training Programs
Starter Program
Tomorrow's Workout
Text Only
Custom Program Design
Get the App
---
---