Friday December 26 2008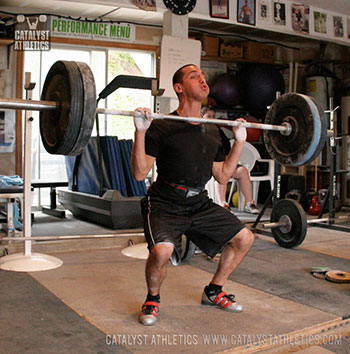 Please
login
to access our training programs.
Registration is FREE!
Questions? Get answers here or post in comments.
20 Comments
Please login to comment!
Veronica Davis
2008-12-26
F/29/125 lbs

Power Cleans: 80 lbs
OHS: Heavy Single 85 (PR), then 70 lbs
Metcon: Subbed 100m row for sprint... Time 5:50


Greg - I'll be at the Oly Cert in DC. Can we bring cameras to video our form?
Stephan - CF Broward
2008-12-26
Power Cleans - 205lb x2x3
OHS - 225x1x1, 195x2x2

Metcon - sub'd 150m Row for sprint,6:00
Greg Everett
2008-12-26
Veronica - Of course.
Richard Vanmeerbeek
2008-12-26
PC - 77.5kg
OHS - 110kg PR


Ed H.
2008-12-26
Power Cleans 135x3, 155x3, 170x3x3
OHS Still working on form with low weight.

Any tips to increase flexibility for this exercise? I keep falling forward.
Greg Everett
2008-12-26
Ed - Stretch the living shit out of your ankles and get weightlifting shoes if you don't have them. After that, keep working hip flexibility, upper back and shoulder mobility - lying hamstring stretches with both straight and bent knees (don't lose your lower back arch); lunge/death stretch; upper back foam rolling; shoulder dislocates, bar kips; and of course, more overhead squatting.At this point when you OHS, stay down at the bottom each rep for a few seconds and really sit into it.
donna d
2008-12-26
PC 80#
OHS 90# PR
met con 4 rounds 5:24 (because my husband thought it was 4 rounds)

@veronica, we are pretty close for starting weights. keep posting, it helps motivate me. last time i followed pm there weren't any women posting to compare weight/time. great work!

I went to the oly seminar in August and it was a huge help.


Veronica D.
2008-12-26
@Donna... I sure will. Great work to you too!!!
Jesse Woody
2008-12-26
PCln. 205 x 2 x 3
OHS: 235, 10#PR, 2 x 2 @ 190.5
Nick B
2008-12-26
I did what I could at my work's gym on break.

Power Clean: 195
Overhead Squat: Didn't have time.
Metcon: subbing 160 m for 100 m - 3:30

Minh/M/25/5'9/170/WY
2008-12-26
PwrCl: 185x2x3
OHS: (didn't know max) 205x2, 215x2
Bench Press: 235x5x5 (still weird)

Metcon: As Rx'd (we have an indoor track but one lap is 160M, so I ran about 3/4 of a lap, roughly 100M or slightly greater)

Time: 2:42 (Afterward my throat, lats and forearms burned for about 30 mins, I laid on the floor for about 10... It has been over 5 hours since I finished my workout and I'm still coughing, Joy!)
Yoon
2008-12-26
Greg,
Regarding yesterday's video: How often do you incorporate pulls from a deficit and at what % of max snatch/clean?

Thanks in advance!
Jonathan
2008-12-26
Power Clean: 175# x2x3
OHS: 150#; 120# x2x2
Dips: BW (198#) x10, 9, 5
3 rounds for time: 150m sprint and 15 KPU: 3:51
Stephan - CF Broward
2008-12-26
Greg - if we want someone to check out our technique with any of the lifts, where do you suggest we post the video/video link?
saulj
2008-12-26
All weights in KG
Power clean - 65 x 2 x 3
Overhead squat - 80 (PR) - 65 x 2 x 2

3 rounds for time of:
100 m sprint (no sprinting, no time, this is my first day running, still recovering from ankle issue)
15 kipping pull-ups
ken c
2008-12-26
power cleans: 195
bench press 5x5: 215

metcon: 2:46

did bench press instead of ohs because i'm doing ohs with my gym wod tomorrow. metcon runs were done on a 100m track at the globorama. slowed me down a bit.
Greg Everett
2008-12-26
Yoon - Not very often. Maybe for a week or two every few months. Those were programmed by Coach Burgener. Loading is usually 90-100% or so of snatch/clean.
Greg Everett
2008-12-26
Stephan - You can post links in the comments here, or you can post in the weightlifting forum. The former will get more attention from me, and the latter will get more attention from multiple people. If you post in the comments, be prepared to have the video and my critique appear on the front page here.
Jordan
2008-12-26
Power Cleans: 65kg x2 x2
Overhead Squat: 80kg Heavy Single
65kg x2 x2

Metcon: 4:07
100m sprint was just estimated distance
tom a
2008-12-27
PC 170x2x2
OHS 175; 140x2x2

Metcon 6:20

Running with a treadmill made this one pretty much worthless.
Get the App!
Catalyst Athletics programs are available through our exercise.com app. Unlimited access to all programs for only $10/month, or purchase programs individually for only $10 each!
Join the Group
Buy Programs
---
Tag Us!
Tag us on social media when you post videos and photos of your workouts!
#catalystathletics
Instagram: @catalystathletics
Twitter: @cathletics
Facebook: @catalystpm
---
Workouts Menu
Workouts Home
Read This First!
Workouts Help & Info
Exercise Library
Training Programs
Starter Program
Tomorrow's Workout
Text Only
Custom Program Design
Get the App
---
---