Monday December 29 2008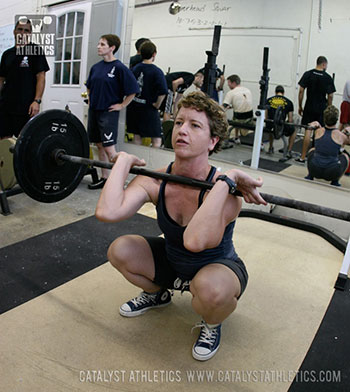 Please
login
to access our training programs.
Registration is FREE!
Questions? Get answers here or post in comments.
22 Comments
Please login to comment!
Matt Dyson
2008-12-28
Checkout Lisbeth on CrossFit Radio (http://radio.crossfit.com) on Sunday Dec 28th(11am-12pm EST) as she talks about blogging and CrossFit. The show will also be available on the CrossFit Journal (http://journal.crossfit.com/). Really enjoying being back on the PM program, thanks Greg and Aimee.
David Osorio
2008-12-28
Yeah, Lisbeth!!
Mike Cundiff
2008-12-28
m/215/6-4/26

Did this workout late tonight...First time posting my numbers. All weights in lbs.

BS: 2x4 @ 290
SN: Dead 2x3 @ 215
PP: 4x5 @ 185 (couldn't lock out last rep on last set)
Bent Row: 6x3 @ 155
Leg Lifts

4x400M sprints

Ive been doing the WODs here for about a month. Really enjoying the Olympic Weightlifting and what it is adding to my fitness. I just reserved my spot for the seminar in Oakville....I cant wait. Thanks for everything.
Bo
2008-12-29
Hey Greg

I read the article you referred to the other day, and it was a great read. Very well written and informative. I still have a few questions though:

How late is it okay to eat a meal consisting of only protein/fats to not reduce the effects of hGH during sleep?

How well does IF fit together with the workout posted here?

What would you, personally, think would be the optimal weight for a 16 year old teenager (me) who is 5 feet 7 inches (170cm) tall? I currently weigh 137 lbs, 8% bodyfat. Should I gain weight? If yes, can you say how much? My goal is to perform as good as possible on the cathletics routine.

Would it beneficial to be in the Zone during off days or should I completely trash the idea of "being in the Zone"?

Thank you so much for an indispensible site.
Veronica D.
2008-12-29
Still feeling the effects of Saturday. LOL. Mainly my hip flexors. I foam rolled after my workout and plan to foam roll tonight.

BS: 165 lbs (which is actually 85%) only did 3 sets, b/c of hips
Snatch DL: 95 lbs
Push Press: 75 lbs
Bent Row: 110 lbs
Hanging Leg Raises
Richard Vanmeerbeek
2008-12-29
BS - 115kg x 3 x 4
Sn dl - 100kg
Press - 62.5kg x 3 x 4
Bent row - 80kg
HLR - 2 x 15

ran out of time quickly today
Keith Fine
2008-12-29
What is a snatch deadlift?
Duke
2008-12-29
I just registered for the seminar in DC and am really looking forward to it!!! I am a self-taught lifter (with a major assist from Greg's book) and cannot wait for some professional feedback.
Greg Everett
2008-12-29
Keith - Check out the exercise demos/descriptions here.
Greg Everett
2008-12-29
Bo - I'd probably want to get you to 69 kg (152 lbs) if possible. As far as late meal goes.... Kind of depends on when you're going to bed. If you're trying to gain weight, I'd rather see you eat something closer to bedtime than to worry much about possibly reducing gH release... You're not going to see anything dramatic anyway. That said, once you're at a good bodyweight, IF is great, and with it you can usually manage to cram your food into the afternoon to early evening (maybe 12-6pm) range and go to bed on a fairly empty stomach. So yes, IF would work fine with these workouts - but it will make gaining weight tough. The Zone is great if you're a CrossFitter - but for weightlifting, it's too many carbs, not enough protein, and not enough calories in my opinion. Stick with your basic Paleo approach - high protein and fat - and only bump up the carbs if you need to in order to gain weight.
Eric Brandom
2008-12-29
BS - 330
SnDL - 265
PP - 225
BRow - 225
HLR - +10#

50 ballslams @ 30# - 1:12
Stephan - CF Broward
2008-12-29
BS - 355lbx2x1 failed on the second rep of the first set. Dropped to 345lbx2x3

SNDL - 275lbx2x3
PP - 205x4x5, failed on the last rep of last set
BRow - 195x6x3, too light
GHD Sit-ups since I did not have access to pull-up bars 3x15

Greg - the 118% for the SNDL seems to be easy. Is it ok to increase the weight or is it necessary to stay within the rx'd percentages? Also, I feel as though my strength is decreasing since the middle of last week...especially when it comes to the snatch and cj. I know there are an infinite number of variables that can cause this. Prior to the new cycle, I was following the beginners program in your book along with some CrossFit wods. Any suggestions or input.
Minh/M/25/170/WY
2008-12-29
BS-265x2x4
SnDL-245x2x3
PP-190x4x5 (also failed on last rep of last set.)
BentRow- 190x8x3 (wrote an 8 instead of 6)
Leg Raises-bwx15x3
Jonathan
2008-12-29
BS: 260 x2x4
SNDL: 230 x2x3
PP: 165 x4x2, 165x3x1, 165 x2x1, 145 x5x1
BO Row: 175 x6x3
HLR: 3x10
Rotator cuff exercises x 7 sets x 15 reps (shoulders are flaring up again).
Greg Everett
2008-12-29
Stephan - Because your snatch/CJ are limited more by technique than strength, those %s will be a little too light. Bump it up a little heavier, but never heavier than what allows you the correct pulling position/posture, i.e. if it's so heavy that you can't maintain your back arch or can't keep your back angle, you need to back off.Your snatch/CJ should be suffering right now - you're in a strength cycle. You'll feel better at the end of next week, and during the following 4 week cycle.
tom a
2008-12-29
Back Squat 300x2x2
Snatch Deadlift 160x2x3
Push Press 175x4x5
Bent Row 165x6x3
Hanging Leg Raise 15, 15, 12

Felt like crap; too many cups of holiday cheer...
Jordan
2008-12-29
Back Squat 120kg x2x4
Snatch Deadlift 82.5kg x2x3
Push Press 52.5kg x4x5
Bent Row 55kg x6x3
Hanging Leg Raise 10, 10, 10, 10, 5

Josh S.
2008-12-29
BS: 235x2x4
SNDL: 190x2x3
PP: 145x4x5
BB Row: 140x6x3
LR: 3x15 bw

Hey Greg,

I'm new to olympic lifting and just started with the new cycle a couple of weeks ago. I Have a strong strength base, and was wondering if I should try to drop down a weight class if right now I weigh 148 pounds at 5'3". I'm 16 years old and only about 8% bf so I have been debating whether I should try and lose the weight or just to maintain which is very easy. Looking for an oppinion on that.

Another question I have is about using a hook grip. My Hands don't seem to fit around the bar and my thumb constantly just slips out from under my fingers. Is this normal or should I use a standard grip?


donna d
2008-12-29
BS: 150#
SNDL: 110#
PP: 80#
BB Row: 100#
LR: 3x15 my best attempt,


Greg Everett
2008-12-29
Josh - If you feel good and can move quickly at that weight, stay. If you feel slow or don't feel good, consider dropping a bit. Short + strong = great weightlifter.How long have you really been using the hook grip? Give it some time, and make sure you're doing it correctly. Most people don't find it feels very strong initially, but over time get accustomed to it and will never go back.
Jason Y.
2008-12-29
BS: 196x2x3
SD: 160x2x3
PP: 140x4x5
BR: 110x6x3
Abs

First workout in almost a week. Been sick. Felt good.
Ed H
2008-12-30
Friend wanted to do cf wod

press 5 sets of 1 135/155/185/195/195
push press 5 sets of 3 185/195/195/195/195
split jerk 5 sets of 5 155/185/185/185/185

Felt real good but didnt want to push it. Been having some back issues.
Get the App!
Catalyst Athletics programs are available through our exercise.com app. Unlimited access to all programs for only $10/month, or purchase programs individually for only $10 each!
Join the Group
Buy Programs
---
Tag Us!
Tag us on social media when you post videos and photos of your workouts!
#catalystathletics
Instagram: @catalystathletics
Twitter: @cathletics
Facebook: @catalystpm
---
Workouts Menu
Workouts Home
Read This First!
Workouts Help & Info
Exercise Library
Training Programs
Starter Program
Tomorrow's Workout
Text Only
Custom Program Design
Get the App
---
---