Tuesday December 30 2008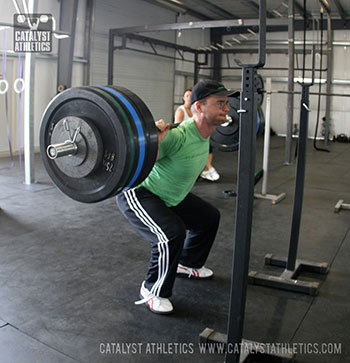 Please
login
to access our training programs.
Registration is FREE!
Questions? Get answers here or post in comments.
20 Comments
Please login to comment!
tom a
2008-12-29
Thatta boy Robb.
Robb Wolf
2008-12-29
I look chubby in green. Oh, wait...I AM chubby...
Veronica D.
2008-12-30
Muscle Snatch: 45 lbs
Power Clean + Clean + Jerk: 70 lbs

Metcon - KB swings used a 45 lbs DB, Time 7:04....
I lost a lot of time on the pull-ups. I had the worse discomfort in my right forearm and I could barely string together 2 in a row (usually I can string together 8-10).
Minh/25/M/5'9/170/FE Warren AFB,WY
2008-12-30
MuSn: 105x3x3
PwrCl+Cl+Jrk: 165x4

Metcon with 60lb Db...3:16

Nose was running the entire workout and during metcon I was coughing up stuff.Needless to say, I'm getting sick...
Eric Brandom
2008-12-30
MS - 110
PC+C&J - 185

Metcon: 2 pood
2:42

Then...
5min Cindy with 40#vest
6 rounds at 4:45
Jordan
2008-12-30
Muscle Snatch: 30kg x3 x3
Power Clean (I added in a jerk here) + Clean + jerk 60kg x4
Metcon:
4:07
24kg KB


Mike Cundiff
2008-12-30
m/26/215/6-4

MuSn: 120 3x3
PwCl Cl Jrk : 175 x 4


Johnny Davis
2008-12-30
Hey Greg,

Sorry to keep bugging you with questions. I have read the "info" pages twice and kind of understand how to scale but still not sure if I need to. Basically my knees, hips, etc... are killing me at various times but seem to be fine once warmed up and in the WOD. My strength is definitely going up and I love the program, but after reading the "info" I'm kind of scared. It says the next cycle is where it really gets bad. Will this soreness eventually subside or what. I video and have others watching my technique so I don't think I have any major flaws that would be causing the pain. I am 37 6'3" 195. (Clean and Jerk PR is 205# and Snatch is 165#. Both are limited by technique. Not sure if this helps or not.)
Please help, I really don't want to lose the gains I'm making but don't want to go backwards either.
Greg Everett
2008-12-30
Johnny -

If you feel good once you're warm, I would just keep going as RXed and ice your joints after every workout, and as many other times a day as you can manage until it eases up. It will get better as you get conditioned, but get on the ice now to prevent any tendonitis or anything more serious. Best bet is an ice bath after training.
ken c
2008-12-30
speaking of the wolf...

http://www.youtube.com/watch?v=g4UeHWPeOrA&feature=related

ken c
2008-12-30
well shit. the link didn't go through. oh well, i guess it wasn't all that funny.
tom a
2008-12-30
MuSn 90x3x3
PCl + Cl + J 135x4

MetCon 25-15-10 @ 28kg 5:57

Knew I wrote that down wrong. I wish my gym had a decent pull-up bar.
Richard Vanmeerbeek
2008-12-30
BS - 120kg x 2 x 3
SP - 65 x 2 x 3
M sn - 50kg
C&j complex - 72.5kg

metcon with 30kg db - 2'55", my glasses dropped twice during the swings.
Johnny Davis
2008-12-30
MuSN 95#
PC, CL&J 145#
Metcon 70# KB 6:19
That really sucked on the grip. My Grip was def. the limiting factor. Not sure why, it used to be a strong point....
JOhnny Davis
2008-12-30
BTW, THANKS Greg!
Jonathan
2008-12-30
Muscle Snatch: 110# x3x3
PC + CL + J: 155# x4
3 rds for time: 20-15-10 reps of 65# DB Swings and KPU: 4:35.
Leo S.
2008-12-30
Looking good, Robb.

Greg - I haven't forgot about Danny, lots of work before the new years and he had to go abroad with one of the US Junior teams I believe. I'll get you what I promised asap.
Donna D
2008-12-30
MS: 55#
PC+CL+J:65#
KB Fran: 44# KPU 20-15-10 7:02
Stephan - CF Broward
2008-12-31
Sorry, I am day behind.

Muscle SN: 145lb x 3 x 3
PC+CL+Jerk: 175 x 4

No Metcon today...slacking
Chris Bullard
2008-12-31
MS: 115
PC+C+J: 155

7 OHS + 7 L-PU
11rds in 20 min.

Get the App!
Catalyst Athletics programs are available through our exercise.com app. Unlimited access to all programs for only $10/month, or purchase programs individually for only $10 each!
Join the Group
Buy Programs
---
Tag Us!
Tag us on social media when you post videos and photos of your workouts!
#catalystathletics
Instagram: @catalystathletics
Twitter: @cathletics
Facebook: @catalystpm
---
Workouts Menu
Workouts Home
Read This First!
Workouts Help & Info
Exercise Library
Training Programs
Starter Program
Tomorrow's Workout
Text Only
Custom Program Design
Get the App
---
---