Wednesday December 31 2008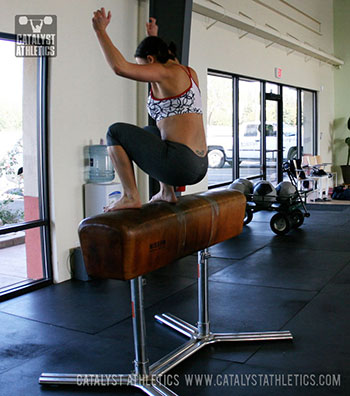 Please
login
to access our training programs.
Registration is FREE!
Questions? Get answers here or post in comments.
16 Comments
Please login to comment!
Bo
2008-12-30
I don't mean to bring up a cliche, but I've been reading about wine lately. The following is something that has brought it to my attention:
"If you give resveratrol to a normal mouse, it can run twice as far because it has many more mitochondria, he said. Seven-time Tour de France winner Lance Armstrong has extra mitochondria that power his endurance abilities, Sinclair said."
Since wine has resveratrol, maybe it would be performance enhancing by drinking (only) 1 or 2 glasses a day? 1 glass equals 4 ounces, or 115 ml.

So I guess my question is: How will 1-2 glasses of red wine each day affect performance?

Two major studies* have shown that if wine consumption is reduced to 2 glasses a day it can effectively help ward off colds. Personally, I've caught quite a few colds; this could make a training period fluent instead of broken up into pieces by colds (of course other factors also play an important part, but this could help with overall health).

Being on the topic of colds, should one be training at normal intensity (if possible) during a cold, only doing light activity or complete rest?

Besides wine, cocoa is credited for a lot of healthy stuff: reducing the instance of blood clots, lowering blood pressure, and helping prevent cancer. Dark chocolate (70% and above) is a good source of this, however, it contains a small amount of sugar; how will this affect performance, if even at all? If the sugar could be avoided, i.e. finding unsweetened chocolate (100% cocoa), how would that affect performance?

I'm sorry if I'm ranting. If I should reduce my post lengths in the future, please say so :).

Happy New Year!

Cheers
Bo

*Source: http://www.lime.com/blog/savasthi/2007/12/21/catching_cold_open_bottle_wine
Greg Everett
2008-12-30
My perspective on the whole wine/chocolate/whatever deal is that it's just convenient excuses to eat/drink shit and make yourself feel like you're doing something beneficial. Chocolate has antioxidants? Rad, so do vegetables. I have a very difficult time assigning any merit to these studies because A) I think they're silly from the start because of the above and B) how many other things (e.g. whole grains) have tons of research demonstrating their health benefits. Finally, as I recall, the amount of wine you'd need to drink in order to get a therapeutic dose of resveratrol would be well beyond anything that could possibly be considered healthy. I of course could have recalled that incorrectly. Robb Wolf is a much better source for such matters. So. Bottom line - Eat meat, fat, veggies/fruits and quit searching out new novelty items that promise some amazing health benefit - I'm quite certain they don't exist. Health/performance is a matter of total nutrition, lifestyle, and training synergy, not the magic of a couple little things like wine and chocolate.
Eric Brandom
2008-12-31
FS - 240
SnPu- 235
RJ - 277.5

Metcon: 44" box jump
8:27
Mike Cundiff
2008-12-31
FS: 225
Sn Pull: 215
Rack Jerk: 235

10 Rounds:
5 pull ups
10 push ups
15 Squats

6:15
Jordan
2008-12-31
FS: 92.5kg x3 x5
Sn Pull: 75kg x2 x3
Rack Jerk: 80kg

Metcon:
11:11
24'box jump

tom a
2008-12-31
FS 225x3x5
SnP 145x2x3
RJ 215 PR

MetCon 12:47, 28" box
B Dallas
2008-12-31
I feel pretty weak looking at all these heavy lifts :(

24/m/190

FS 110#
Sn Pull 100#
Rack Jerk 125#

Didn't complete MetCon, 1 round in 1:40 (sub 25 x 45# SDHP for rows)

Is the expectation that we do both? Alternate? Choose according to our goals?
B Dallas
2008-12-31
Clarification:

Is the expectation that we do both strength and met con workouts daily?
Josh S.
2008-12-31
B Dallas,

The Expectation is for us to perform both the MetCon and the strength workouts on perscribed days. Greg recommends a separation of 4 hours in between, but most people do them back to back due to lack of time, ect.
B Dallas
2008-12-31
Thank you for the reply.

I'll try splitting them and see if I can stick to it.
ken c
2008-12-31
day behind. did tuesday's wod plus some back squat.

muscle snatch 135
pc+clean and jerk 185
5x5 back squat 315

20 15 10
2 pood kb swing
pull ups
3:42

happy new year everyone.
Veronica D.
2008-12-31
FS: 125#
Snatch Pull: 85#
Rack Jerk: 95# (couldn't lock out 105#)
Metcon: Time 12:25; used 22" box
Chris Bullard
2008-12-31
FS:220x3x5, 235x3
Clean Shrug x5: 235,280,305
Snatch Pull: 195
Minh/M/25/5'9/170/WY
2008-12-31
FrSq: 210x3x5
SnDL: 220x2x3
Rack Jerk: 275x1 (PR) Finally feel comforable with these. I got my position with the bar on my shoulders right and 275 flew up so easy it scared me.

Bench Press: 245x5x5
GHD situps: 15x3

No metcon because I'm sick...

Stephan - CF Broward
2009-01-01
Completed Wednesday's workout on Thursday to catch up

FS: 265lb x 3 x 5
SNDL: 245x2x3
RJ: 235

Still having issues with the RJ. I can push press almost as much as the RJ. It seems that as soon as I go over 200lbs I cannot get my split correct. Next jerk day I will video and post for suggestions.
Jonathan
2009-01-01

Front squat - 185# x 3 x 5
Snatch pull - 185# x 2 x 3
Rack jerk - heavy single - 185#
3 rounds for time of: UGLY
400 m run
30 sit-ups
10 box jumps 30"
12:42
Get the App!
Catalyst Athletics programs are available through our exercise.com app. Unlimited access to all programs for only $10/month, or purchase programs individually for only $10 each!
Join the Group
Buy Programs
---
Tag Us!
Tag us on social media when you post videos and photos of your workouts!
#catalystathletics
Instagram: @catalystathletics
Twitter: @cathletics
Facebook: @catalystpm
---
Workouts Menu
Workouts Home
Read This First!
Workouts Help & Info
Exercise Library
Training Programs
Starter Program
Tomorrow's Workout
Text Only
Custom Program Design
Get the App
---
---