Saturday January 3 2009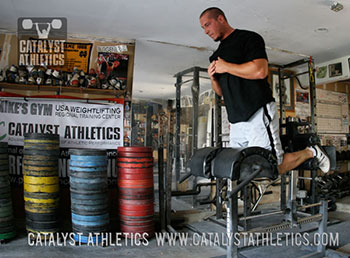 Please
login
to access our training programs.
Registration is FREE!
Questions? Get answers here or post in comments.
19 Comments
Please login to comment!
Steve Owens
2009-01-03
Sn- 135#
Clean & jerk- Only did jerks due to wrist pain in the rack position 175#
BS- 265#
GH raises- 3 x 15
Ab work- Planks/Turkish get-up sit-ups w/40# dumbell
ec
2009-01-03
sn - 120# (~88%), failed at 125# 3x
c&j - 145# w/ sq clean (88%), 155# pwr clean (94%)
fs - to 155# (97%), failed at 160# [did bs last wk, so reversed this wk]
went with rdls - 5 x 5 @ 195#. piriformis wasnt enjoying ghr.

generally bleh.


zach even - esh
2009-01-03
that's my kind of workout

need to head to mike's place 1 day 2 learn the o lifts!

dig that gym, looks like garage heaven!

--z--
tom a
2009-01-03
Sn 135#
C+J 205
BS 305
Back Ext 35x3x15
Various Ab Wheel and KB Slashers

It's obvious my snatch is limited technically by my catching ability, since I essentially power snatched my PR today but failed to make anything heavier. Should I simply work on snatch balances and tall snatches to improve this? I welcome any and all suggestions.
donna d
2009-01-03
sn 60#
c&j 80#
bs 155#

felt like poo today. had no strength and was so tight. ugggg. looking forward to a rest day.
Stephan - CF Broward
2009-01-03
Snatch: 210lbs, missed 215lb twice! Hoping to get 225lb by the end of the cycle. BW, 242, would be nice.

C&J: 225lbs - although I have done this weight before, it is the first time it felt fluid. Definitely need to go up next time.

BS: skipped due to lower back not feeling up to speed

GHD Raises: first time trying them. Lower back felt ok, therefore, I completed 3x10
GHD sit-ups: 3x15, did not bother lowerback if I lowered to parallel.
Minh/M/25/5'9/170/WY
2009-01-03
SN: 214(PR)
C&J: 265(120kg, PR)
BS: 335 (low bar)

Unbelievable day, I didn't miss one lift! 1.) For the Snatch I really focused on keeping my back arched during the deadlift portion and the rest fell into place perfectly. 2.) The jerk portion was the killer on my C&J before but after discovering the right bar postion from the previous rack jerk day, 265 just flew up. I need to catch up my cleans now.




Minh/M/25/5'9/170/WY
2009-01-03
Stephan,

I'm just curious, how tall are you?
Stephan - CF Broward
2009-01-03
Minh,

I am 6'2"....why do you ask?
Veronica D.
2009-01-03
Snatch: 65#
C&J: 95 #
Squat: stopped at 175#
GHD Raises: 3x15
Ab wheel: 3x10


Greg - I'm attending the Cert next weekend. Should I take Thurs and Fri as rest days?
Minh/M/25/5'9/170/WY
2009-01-03
Stephan,

At 242lbs you're a big guy.
Jordan
2009-01-03
Snatch: 67.5kg
C&J: 90kg
BS: 130kg
GHD Raises: 3x15
Hanging leg raises: 3x10
Stephan - CF Broward
2009-01-03
Minh - lately it seems my size is a disadvantage. You are posting some big numbers...have you been at this for a while?
Minh Tran/M/25/5'9/170/WY
2009-01-04
This is my first cycle, I've been olympic lifting for about 3 months. My biggest advantage I think is having a good powerlifting base. I use to be a competitive powerlifter before I started crossfit. About a year and a half ago I use to weight 215 lbs, bench 475 (single ply shirt), squat 550 (knee wraps), and deadlift 600 (conventional). Since switching to crossfit and losing some weight I've never felt comfortable with the olympic lifts so I found this site and decided to try out a cycle to improve my form. It has worked out great so far, I've learned something new every week.
Stephan - CF Broward
2009-01-04
Pretty damn impressive #'s. Even at my best years ago I never benched over 435, DL over 525, and and squat over 500. I have been to both Greg's cert and Coach B's cert, but shortly after I tore my ACL and menisucs. By the way, they are both great and I would highly recommend both. I have become more interested in Oly lifting than Crossfit, but still enjoy the wods. I am actually going to Coach B's cert again in February. Hopefully Greg gets another one in Florida...I will definitely go.

A few months ago, I started following Greg's beginner's program and when this new cycle started I decided to try it. It is cool to find others interested in the o-lifts. If you want to discuss training, can reach me at stephan@crossfitbroward.com.
Minh/M/25/5'9/170/WY
2009-01-04
I'm sorry to hear about your injuries. I remember when I pulled my hamstring a couple of years ago it took about a year to fully recover. I couldn't even imagine a tear... I'm looking to attend one of the oly certs too but I'm waiting until they come to Wyoming (not likely) or Colorado. Since I've started oly lifting I've found that I enjoy it much more than regular old lifts like squats and deadlifts. It's just more fun. There is only one other person on my base (F.E Warren AFB) that does oly lifting and that is because I convinced him to do crossfit and eventully learn the oly lifts. Since we have bumper plates and a platform on base I think most people here are just too scared to try oly lifting. That said, I like hearing from people who also are just getting started in it like me. It's awesome to see the progress we make week to week. I've got to get running, church day. I'll talk to you later, take care.
Greg Everett
2009-01-04
tom a - If the issue is strength/position, throw in more snatch balances and overhead squats. If it's more an issue of making yourself get under the bar, more tall and hang snatches (and snatch balances). And ideally, you can work in plenty of all of them until you're doing better. Pick one to work each day during your warm-up - nothing heavy - maybe 70% at most - and get in a few reps before your workout.
Greg Everett
2009-01-04
Veronica -Unless you're really tired, I'd say go ahead with Thursday's workout.
Mike Cundiff
2009-01-04
Sn - 165
CJ - 225
SQ - 335

Did back ext. and sit ups.

Greg,

Both my SN and CJ today were about 20 pounds off my PR (I did Fight Gone Bad Yesterday and my shoulders and back are a little sore). I felt really out of balance with the Snatch, unable to fully squat with the weight. I was strong enough to get it over my head but only at a moderate squat. Hope I didnt develop a bad habit. What is usually the cause of this?
Get the App!
Catalyst Athletics programs are available through our exercise.com app. Unlimited access to all programs for only $10/month, or purchase programs individually for only $10 each!
Join the Group
Buy Programs
---
Tag Us!
Tag us on social media when you post videos and photos of your workouts!
#catalystathletics
Instagram: @catalystathletics
Twitter: @cathletics
Facebook: @catalystpm
---
Workouts Menu
Workouts Home
Read This First!
Workouts Help & Info
Exercise Library
Training Programs
Starter Program
Tomorrow's Workout
Text Only
Custom Program Design
Get the App
---
---