Tuesday January 6 2009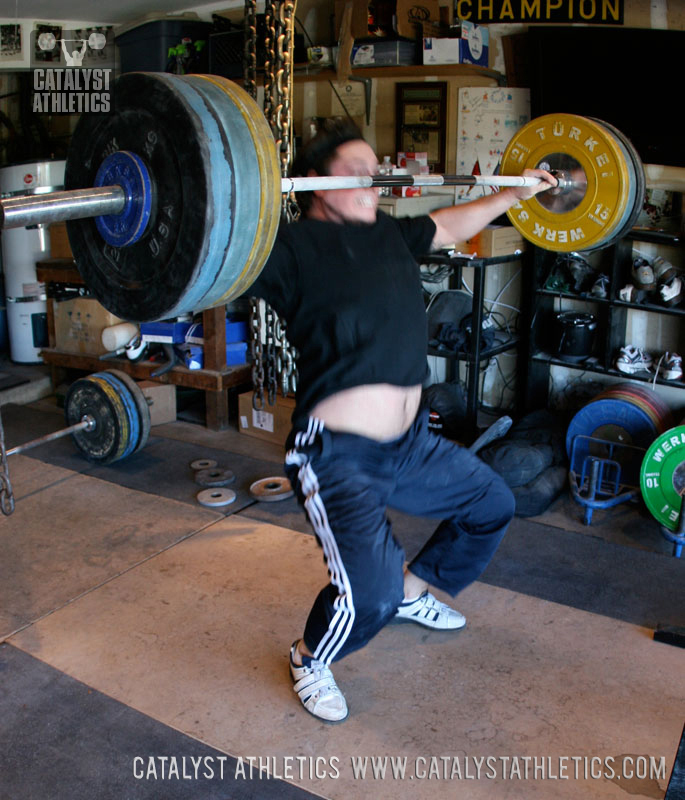 Muscle snatch - 70% x 3 x 3
Clean + push jerk + hang clean + jerk - 60% x 3 sets
3 rounds for time of:
200 m sprint
20 kipping pull-ups
Questions? Get answers here or post in comments.
16 Comments
Steve Owens
2009-01-06
MS- 105#
CL+PJ+HC+J- 115#

Metcon- 3 rounds for time: Unknown time, watch stopped sometime during.
200m row
20 Pu

35M/5'6''/168#
Chris Bullard
2009-01-06
Snatch: 110x1x5, 120x1x3
M-Snatch: 130x3x3
Clean: 145x1+2PJ x 5
Clean: 155x2+1PJ x 3
Clean/P-Jerk/Hang Clean: 145x1x3

5 rounds:
10 Power Clean 155#
15 Push Ups

8:35

37M/5'9"/175
Júlíus Magnússon
2009-01-06
Just have to comment on the pic; awesome.
Dale Ryan Thompson
2009-01-06
Muscle Snatch 135x3x3
CL+PJ+HCL+J 185#

Greg,

This is Dale from CF BWI. You help my friend John and I back in June at Mike's Gym.

I am going to compete in the 2009 Baltimore Open and was wondering if there was any advice you could give before.

I have been following this site from the start of the strength cycle. The meet is the 17th of this month.

Right now:

Snatch 210#
C & J 285#
Minh/M/25/5'9/170/WY 6300ft
2009-01-06
MuSn: 110x3x3
Cl+PJ+HCL+J: 160x3

Metcon: (first metcon in a little over a week)

As Rx'd: 4:12, had to stop three times on pull ups.
Minh Tran
2009-01-06
Greg,

Is the muscle snatch percentage based on our one rep max for muscle snatch or regular snatch?
Greg Everett
2009-01-06
Minh - % of muscle snatch - always the associated exercise unless otherwise noted.
Greg Everett
2009-01-06
Dale - Email me
Stephan - CF Broward
2009-01-06
Muscle Sn: 155x3x3 -
CL+PJ+HCL+J: 145x3 - should have gone a bit heavier on this one

Metcon - No running due to knee issues. Torn meniscus and ACL, therefore, I sub'd GI Jane, 100 Burpees+Pull-ups, for the metcon. Time = 13:42. It is funny that I can squat, CJ, and Snatch with no problem. As soon as I run 400m my knee swells up and I have discomfort for 2-3 days.
Jordan
2009-01-06
M Sn: 40kg x3 x3
C&J complex 55kg x4

Metcon:4:45

the run is more then 200m
tom a
2009-01-06
MuSn: 95x3x3
Cl+PJ+HCl+J: 125x3

MetCon: Attempted to leave a treadmill running but it kept shutting off. After two rounds, I gave up and finished with 3x200m sprints for good measure. Next time, I'm braving the cold.
Eric Brandom
2009-01-06
MS - 120
C+J Complex - 185

Metcon: 4:26

Hang clean tech work after
donna d
2009-01-06
musn:45# 3x3 (added a ohs to each rep since i need help with that)
Cl+PJ+HCl+J:55# x4

No running here in MA, so i decided to jumprope, singles for 100
and pull ups: 7:34
Jonathan
2009-01-06
MS: 115# x3x3
CL + PJ + HC + Jerk: 125# x3 sets
Metcon: 2 rds for time: 20 KPU and 8 135# Bench Press: about 2:45...using clock on the wall to time.

Bench Press: 185# x3x1; 205 x1x1; 225# x1x1; 205# x2x1; 185# x3
Veronica D.
2009-01-07
Didn't get a chance to post yesterday

Muscle Snatch: 50#
CL + PJ + HC + Jerk: 70#

Metcon: Subbed row for running. Time 9:03
Mike Cundiff
2009-01-07
Muscle Sn: 135
Clean - pj - hang cl - J : 145

4 rounds:

400 m run
30 Pull ups
15 hspu

26:30
Workouts Menu
Workouts Home
Workouts Help
Exercise Library
Training Programs
Starter Program
Tomorrow's Workout
Text Only
Custom Program Design
---
---
Advertise With Us