Wednesday January 7 2009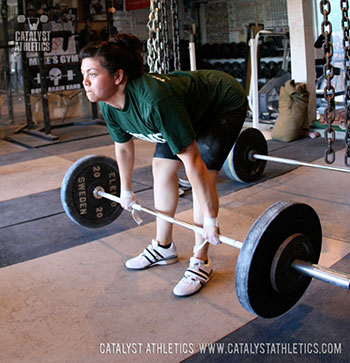 Please
login
to access our training programs.
Registration is FREE!
Questions? Get answers here or post in comments.
28 Comments
Please login to comment!
Matt Dyson
2009-01-06
Greg,

I hate to ask but is there something missing from the MetCon? A prescribed rest between rounds or something much worse?
Cheers
Matt
Greg Everett
2009-01-06
Yes, sorry about that.
Matt Dyson
2009-01-06
Thanks Greg, sorry everyone else. I guess we would all have been happy with just the rowing?
Cheers
Matt
tom a
2009-01-06
much better, i guess...
George
2009-01-07
Can't wait to do this today! My strength has been steadily increasing over these last 4 weeks. So impressed at the programming it goes without saying I'll be sticking to the CA WODs for as long as I can move weight.
Steve Owens
2009-01-07
FS- 225#
RJ- 155#

Metcon: 7:52

35M/5'6''/168#
LT Barnes
2009-01-07
I have just found this performance website today and I have a question or two. First, when it says heavy single what does that mean? is that like 1,1,1,1,1,1,1 on crossfit or is it like a HIT set where you just warm up until you reach your max? Second, what are the percentages out to the side? is that 90-95% of your 1RM? Any help would be great, thanks.

By the way im no noob to this, i have been cross fitting for a year this month and i am a strength and conditioning coach at a local high school and they all love crossfit and oly lifting. Im just looking for more ways to challenge myself in a more specificly athletic sense. Thanks and God bless.

22M/6'4"/215#
Greg Everett
2009-01-07
LT Barnes - RE heavy single, check out the "info" link at the top of the WOD. Yes, %s are of the exercise's 1RM (unless it's noted that they're of another exercise's 1RM, such as in the case of a snatch pull using a % of your snatch).
Minh/25/M/5'9/170/WY
2009-01-07
FS: 275x1x3 (initial record)
(first time ever front squatting to a single hvy, had more in me)

RJ: 225x1x3
(Using the lighter weight was just like snatch balance. Drive the bar up to hard and it would be still moving up when I tried to lower into lunge, pulling me off balance.)

DB flat bench press: 100x5x4, 125x3x1
(Haven't done db bench in awhile. Would have used bar but this morning was apparently national bench day.)

No Metcon- yesterdays metcon re-aggravated my cold. So I'm laying off the Metcon's until I'm 100% well.
Minh Tran
2009-01-07
Error in Front Squat post... I only did 275 once for one set.
Steve Liberati
2009-01-07
Age=29
BW=185

FS: 295
RJ: 185x1x3

metcon: 11:10.


tom a
2009-01-07
Snow today means skiing tomorrow, so I altered things a bit.

Tall Snatch 45x2x3
Snatch Balance + 2 OHS 95x3
Front Squat HS 275
Rack Jerk 175x1x3

Metcon: Half Tabata Clapping Push-ups
Jordan
2009-01-07
FS: 115kg
Rack Jerk: 70kg

Metcon:
8:10
30" box jump
saulj
2009-01-07
Combined this with Tuesday workout, too much going on. All weights in KG.
Muscle snatch - 50 x 3 x 3
Clean + push jerk + hang clean + jerk - 55 x 3 sets
Front squat - 95
Rack jerk - 72 x 1 x 3

3 rounds for time of:
400 m row
10 box jumps
5 clapping push-ups
9:40

Good to be back...
Zionna F 29 140lbs
2009-01-07
Greg,
Started yesterdays WOD, but had to stop half way through due to a migraine. What is your recommendation if a WOD is missed during this 16 week cycle. Should I make it up today or just go with today's posted WOD. Thank you in advance.

-Zionna
Stephan - CF Broward
2009-01-07
FS: 315lb
Rack Jerk: 225lb

Metcon: 9:20
donna d
2009-01-07
FS: 135#
RJ: 85#
met con: 9:13
Greg Everett
2009-01-07
Zionna -If it's a heavy squat/pull/press day, try to make it up the next day (instead of that day's w/o). If it's a lighter/tech day, just skip it. During the sn/cj/squat cycles, same idea - try to make up the heavy days the next day if possible. If you can't by then, skip it.
JP
2009-01-07
What up Greg & Aimee,

Hope your holidays and move up there were good. Catch you guys later.
Eric Brandom
2009-01-07
FS - 285 (95%) - missed 295
Jerk - 240

Metcpn: 30"box jumps
5:17
Zionna F 29 140#
2009-01-07
Thanks Greg

FS 100#
Sn Pull 75#
Rack Jerk 100#

I am a week behind on the cycle.

Metcon:
20-15-10
KB swings 24kg
bodyrows (sub for pullups do not have a bar)

3:27

Rossi
2009-01-07
FS 295lbs
Rack Jerk 215lbs

MetCon: 9:30 ran instead of row
ken c
2009-01-07
44/6'1"/190

front squat 305 pr
rack jerk 225

metcon 6:37

24" box jumps and slapping push ups. had it in my head wrong.
aimee
2009-01-07
Hi jp!
How are things?!
I hope training is going well!

chris bullard
2009-01-07
FSx3: 140/190/205/215/230
FSx1: 245/255
clean DL w/2" block x 5: 205/245/280/305
PP: 115x5/140x4/165x3x3
PJ: 195x1x3

metcon wod: 7:11
Duke
2009-01-07
I add the workouts to my calendar a day ahead, but unlike Matt, I did not pay any attention to what the workout was for today until I started doing it. I must have sat on the C2 scratching my head for at least two minutes trying to figure out how to do three rounds of 400m row. I finally ran upstairs and logged on to to see what I had missed. Too funny!

40/5'6"/145

FS 185#
RJ 145#

metcon: 8:21 (with the box jumps and clapping push ups)



Jason Y.
2009-01-07
FS: 185
RJ: 140

Metcon ~7min
chris bullard
2009-01-07
add to above
37m/175/5'9"
28" box jump
Get the App!
Catalyst Athletics programs are available through our exercise.com app. Unlimited access to all programs for only $10/month, or purchase programs individually for only $10 each!
Join the Group
Buy Programs
---
Tag Us!
Tag us on social media when you post videos and photos of your workouts!
#catalystathletics
Instagram: @catalystathletics
Twitter: @cathletics
Facebook: @catalystpm
---
Workouts Menu
Workouts Home
Read This First!
Workouts Help & Info
Exercise Library
Training Programs
Starter Program
Tomorrow's Workout
Text Only
Custom Program Design
Get the App
---
---